Sherlock
Benedict Cumberbatch and Martin Freeman return to BBC One in Sherlock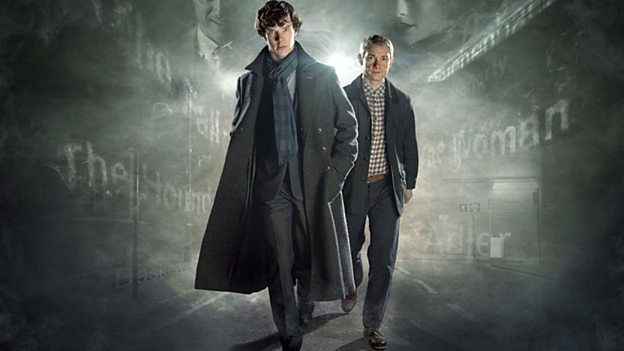 Benedict Cumberbatch and Martin Freeman return to BBC One in Sherlock
Sherlock
Date: 08.12.2011
Last updated: 25.03.2014 at 13.21
Sherlock, a contemporary re-imagining of the Arthur Conan Doyle classic, co-created by Steven Moffat and Mark Gatiss, caused a sensation last summer.
It was tweeted across the globe and mentioned in the House of Commons, delivering an audience of over nine million viewers, who tuned into watch Sherlock and John Watson navigate a maze of cryptic clues and lethal killers in three thrilling, action packed adventures.
Benedict Cumberbatch (Tinker Tailor Soldier Spy, War Horse) returns as Sherlock and is joined by Martin Freeman (The Hobbit, The Office) as Dr John Watson, Rupert Graves (Case Sensitive, Garrow's Law) as Inspector Lestrade and Una Stubbs (Worzel Gummidge, EastEnders) as Mrs Hudson.
Sherlock co-creators Steven Moffat and Mark Gatiss reveal that when it came to sharing the writing responsibilities, Steven chose to do the twisted love story (Scandal) whilst Mark chose the Gothic horror (Baskerville) and Stephen Thompson (Silk, Dr Who) wrote the thrilling finale (Reichenbach).
Commissioned by Ben Stephenson, BBC Drama Commissioning, and Danny Cohen, Controller BBC One, Sherlock is directed by Paul McGuigan (Monroe) whose style and inventiveness contributed to the success of the first series and Toby Haynes (Doctor Who, Being Human).
Sue Vertue (Sherlock, Coupling) produced A Scandal In Belgravia and The Hounds Of Baskerville and is executive producer on The Reichenbach Fall, which is produced by Elaine Cameron (Jekyll).
The executive producers are Beryl Vertue, Mark Gatiss and Steven Moffat. The executive producer for BBC Cymru Wales is Bethan Jones. It is a Hartswood Films Production for BBC Cymru Wales, co-produced with Masterpiece. The executive producer for Masterpiece is Rebecca Eaton.
GJ
Key cast
Benedict Cumberbatch is Sherlock Holmes
Martin Freeman is Dr John Watson
Mark Gatiss is Mycroft Holmes
Una Stubbs is Mrs Hudson
Rupert Graves is Detective Inspector Lestrade
Louise Brealey is Molly Hooper
Andrew Scott is Jim Moriarty
Episode 1: A Scandal In Belgravia
Compromising photographs and a case of blackmail threaten the very heart of the British establishment, but for Sherlock and John the game is on in more ways than one as they find themselves battling international terrorism, rogue CIA agents, and a secret conspiracy involving the British government.
But this case will cast a darker shadow over their lives than they could ever imagine, as the great detective begins a long duel of wits with an antagonist as cold and ruthless and brilliant as himself: to Sherlock Holmes, Irene Adler will always be THE woman.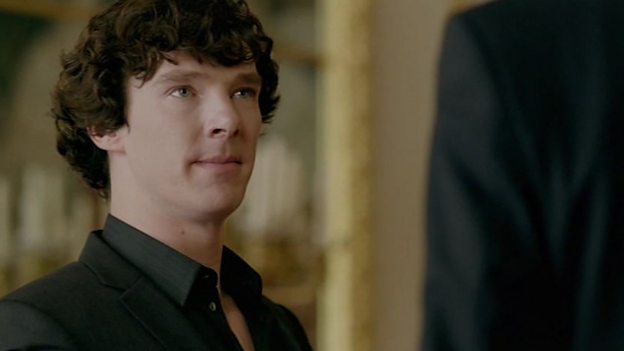 Benedict Cumberbatch and Martin Freeman return to BBC One in Sherlock
Search the site
Can't find what you need? Search here