In The Flesh
Dominic Mitchell's new zombie drama for BBC Three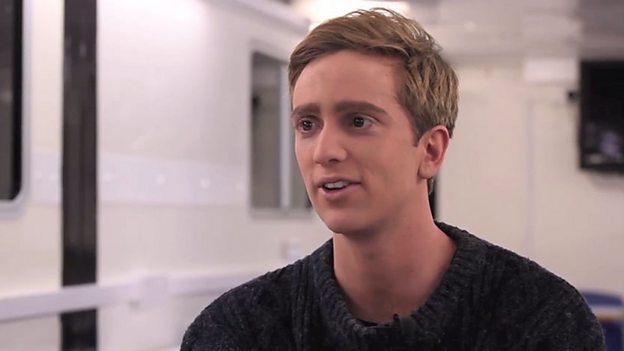 Cast interviews
Luke Newberry plays Kieren Walker
Kieren's a bit of a lost soul really, he's never really fitted in in the village of Roarton, he was always a bit of an outsider, a bit different to everyone else and the people in the village. Now he's come back as a PDS sufferer, he's even more detached from society and it's how he can integrate himself back into that society and try and live a normal life.
Trying to get your head around what Kieren might be feeling moment to moment because it's an unthinkable situation to be in really, so you can't really draw on… I don't have personal experience of coming back as a zombie, so you have to think 'how weird would this be?'
The zombie element is an element, it's one layer - it's about how he gets on with his parents, things he regrets about his life, decisions he's made, the guilt he feels about what he's done in his untreated state, his relationship with Rick and Amy and his sister, and his relationship with all the people he's surrounded by in the village.
Kieren and Rick were childhood friends, did everything together, hung out together, and I think it's a mystery, but they were very close and meant a lot to each other, and I think it was a friendship that spilled into something more than that.
Amy terrifies Kieren at first, because they hunted together and she is linked to my horrendous memory of that, so I spend all of my time running away from her and telling her to get lost, but then this bizarre friendship forms. She's slightly in love with me, and I'm not sure… she really annoys me, but I sort of love her at the same time and this crazy bond forms.
This is the ultimate script that I'd hoped to get and Dominic's just written the perfect part that I would always love to play.
I was in London, I couldn't get to Manchester so I did a few scenes on tape for Jonny (Director), and then got a call a couple of days later saying that Jonny wanted to meet me, which was great. Then I went down to meet Jonny and Annie (Producer), and David (Rick Macy) and Emily (Amy Dyer) came in and did some scenes with me, and spent an hour or so in the room. I found out a couple of mornings later that I'd been offered In The Flesh… I was just dancing for ages, it was brilliant!
It's a very human story about overcoming obstacles that you don't think you can overcome, and facing reality, and learning to live through traumatic events.
Emily Bevan plays Amy Dyer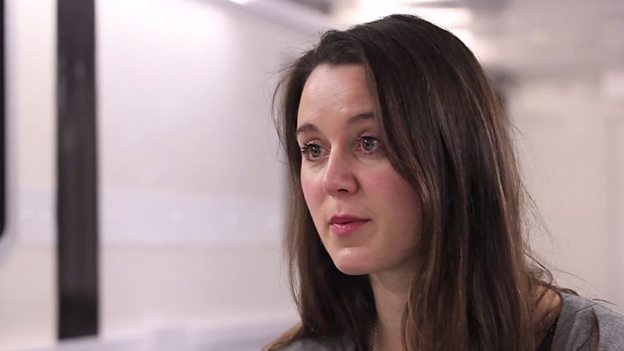 Amy is a PDS sufferer like Kieren, also living in Roarton, but she's got a huge spirit and an amazing sense of fun. She had died from leukemia and so this is her second shot of life and she is literally going for it with absolutely everything she can! So she's great fun to play, quite mischievous, quite silly. She was brought up by her Grandmother, which gives her this quite old fashioned sense of what's right and wrong, so she feels quite passionately about the way that often the zombies are treated quite badly.
It's such a beautiful script, I think Dominic is so clever and as soon as I read it I had a very strong sense of her and her character, and I think I connected with it in a way because she's quite loveable because she's quite lonely, she doesn't have anyone in the world. She's living all alone in this community, where zombies are really hated, and killed if they're found out. So, if she can't make friends with people, she's living in a very isolated way and I think her journey and meeting Kieren - he's the first friend she's had probably since she came out of the PDS centre.
She really doesn't care about what people think at all - like when they're at the fairground, she's making a massive racket, she's going on the rides and booing and screaming and you're like 'shut up, what are you doing?' and she's like 'I just don't care!'… she just doesn't care, she just thinks 'why do you worry?' - she's obviously spent her whole previous life, I think, worrying about what people thought and now she's just like 'what does it matter?" and I think Kieren is that sort of osmosis… he is lifted by her I think. But also she recognizes in him a good person, she latches onto him and doesn't let him go and I think she feels that he's just a really good person, a really solid person, despite the fact that he's coming to terms with himself and what he's done.
Kieren is a person who's not comfortable with his identity at all, he's conflicted with his sexuality, he's somebody who's coming back into a rural community, a very sinister community, having committed quite a major psychotic act - you could look at it like that – he's had a breakdown, a psychotic breakdown…
What's quite nice about Amy is that I have quite a few different 'states', I have her medicated state - her 'au naturale' - she's very pale, her veins are showing, but because she's medicated, she's essentially like a normal person, she behaves like a normal person, even though she looks very different. But there were things that I thought about  - she doesn't feel pain, she doesn't get cold or little details like that that were quite useful. 
I have to say, the make up team are incredible, and I did feel completely transformed into this absolutely hideous creature. They put cheeks on you to make you feel gaunt, and then I had this rubber forehead and I was covered, absolutely covered in stuff, brains and blood, and I had, gaping sores all over me and I felt so different. But, I think in terms of performance I just didn't hold anything back, I just went for it, and it was pretty hideous, you just feel caked in… just grossness!  But it was a lot of fun.
It's a very human story and obviously the flashbacks are important to set up where the characters are coming from, but I don't really think about it as being like 'horror' at all, I think it's a zombie drama with a heart. 
Harriet Cains plays Jem Walker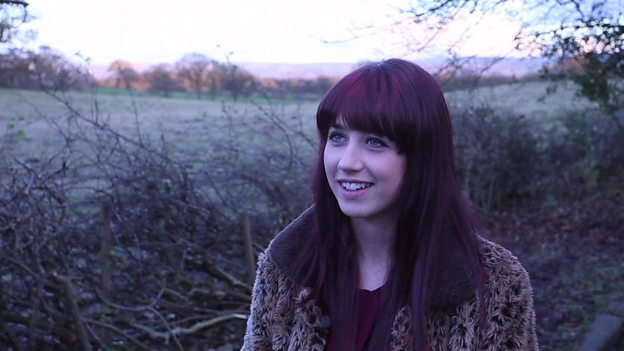 I go to the Television Workshop in Nottingham and I got the audition through them, and then I came up for an audition in Manchester and within a couple of days, I was penciled in. Then the day after, I got the part, so it was really quick, no re-calls or anything, it was quite a lot to get your head around, and to be honest I was still doubting it a week after - 'have I still got the part, is it still happening?', but it was great.
She's very feisty, she's a dab hand with a gun and she's been in the HVF for a few years now, since the rising happened, so she's ballsy, I like that.
It's such a beautifully written script, it's so well written and these characters and this story have been going around in Dom's head for years now, so all I thought when I read it was I want to do this justice, I want it to be good for him, because he's so talented, what he's done is amazing. I would say it's a really nice, well-written story of prejudice - prejudice is the main message in it.
I just hope it's like nothing else they've ever seen before and that it's hard-hitting, because I think it is.
Search the site
Can't find what you need? Search here