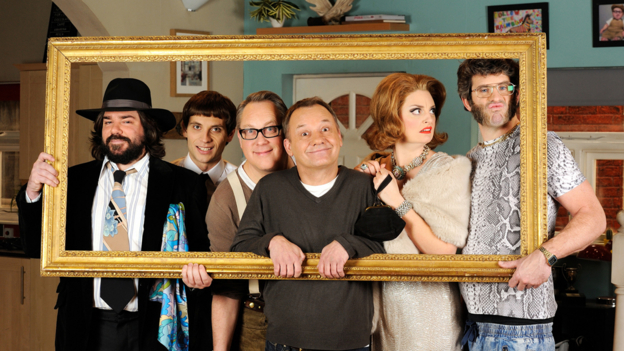 House Of Fools
Date: 13.12.2013
Last updated: 25.03.2014 at 13.21
Iconic comics Vic Reeves and Bob Mortimer are back on BBC Two, fronting a stellar cast in the warm and wonderfully original sitcom House Of Fools.
Introduction
Set in Bob Mortimer's home, every episode of House Of Fools sees Bob frustrated by his uninvited lodgers, visitors and guests who constantly fill his house. Led by Vic - Beef, Bosh and Julie knit together each week to wreak havoc on Bob.
Vic Reeves is the long term and mostly unwanted guest in Bob's house, always treating the place like his own, with little regard for Bob's wishes. Living alongside them is Bob's Norwegian son, Erik, (Daniel Simonsen) who has absolutely no time at all for his 'moron' father and next door is Julie (Morgana Robinson), who lives in a haze of imagined fantasies. Adding to the chaos is a constant stream of unwelcome visitors to Vic and Bob's flat. Amongst them is Beef (Matt Berry) a lady-obsessed lothario, not to be confused with Bosh (Dan Skinner), a Geordie ex-con, who has designs on moving in as well.
Just as Vic and Bob bent the rules of the panel show format, House Of Fools does the same to the studio sitcom. House Of Fools is half an hour of unadulterated Reeves & Mortimer, anarchic japes, unimaginable props and impossible situations.
CM2
PI for episodes 1
Episode 1 - Pilot: The Conan Affair
With the help of his friend Beef, Bob has a hot date lined-up. All he needs now is to get rid of all his unwanted house guests, so he and his new lady can watch Conan The Barbarian in peace. Unfortunately, Vic has broken the telly, and Bob tasks him with finding another one, or he risks being chucked out of the flat for good. As a last resort Vic may have to ask his randy neighbour Julie for help.
When Vic's brother Bosh - newly out of Prison - turns up, Bob is still nowhere near having things perfect for his upcoming date. With a break-in, a gas leak, some crisp chardonnay and the Hindenburg Stretch maybe they will find a way to stop Bob from having to cancel the date.
Beef is played by Matt Berry, Julie is played by Morgana Robinson and Bosh is played by Dan Skinner.
Episode 2- The Pork Pie Affair
Julie entrusts Vic and Bob with the safety of her prize pork pie, which she plans on offering to Bruce Willis to persuade him to star in a film based on her best-selling novel. Together with Bosh and Beef, the boys can't resist the temptation, however, to sample the delicious pie.
After realising their mistake they set about, with the help of Erik, to try and replace it. When the only option left is to steal a replacement pie from Ben Gunn's Pork Emporium, Bosh reveals it's owned by a maniac – his ex-cell mate Ben Gunn. They'll have to be extra careful to get away with this one unscathed, and if they don't, they'll have to suffer Julie's wrath too.
Julie is played by Morgana Robinson, Bosh is played by Dan Skinner, Beef is played by Matt Berry, Erik is played by Daniel Simonsen and Ben Gunn is played by Frank Harper (Lock Stock And Two Smoking Barrels, This Is England).
Search the site
Can't find what you need? Search here