Horrible Histories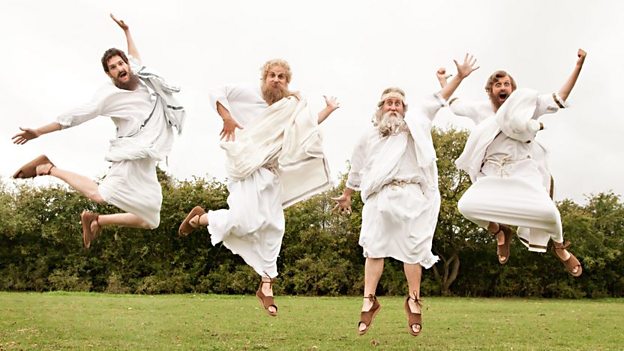 I'm delighted that Horrible Histories is back on CBBC, it's an amazing show that is clever, hilarious and has real stand-out appeal."

Damian Kavanagh, Controller, CBBC
Date: 30.03.2012
Last updated: 25.03.2014 at 13.20
Multi-award winning comedy sketch show Horrible Histories returns to CBBC for a fourth series this April – packed to the rafters with fascinating facts, silly songs, popular pastiches and gruesome gags.
The brand new fourth series features performances from some of the UK's finest comedy talent - including special guest appearances from Chris Addison and Sarah Hadland, and League Of Gentlemen stars Mark Gatiss, Reece Shearsmith and Steve Pemberton - as well as Horrible Histories regulars Mathew Baynton (Spy; Gavin And Stacey), Simon Farnaby (Your Highness; The Mighty Boosh), Martha Howe-Douglas (The Armstrong And Miller Show), Jim Howick (Reggie Perrin; Peep Show; The Armstrong And Miller Show), Laurence Rickard (Balls Of Steel) and Ben Willbond (Rev; The Thick )f It).
In series four, viewers find out how historical figures such as Dick Whittington and Robert the Bruce get on pitching movies about their life story, and which Historical Apprentice teams will find out they're fired.
There are also more magnificent musical interludes including Victoria and Albert's love ballad, Charles Darwin with a Bowie-esque rock tune, and a new Battle of Britain RAF Pilots boy band.
Each episode features a mirthful mix of sketches from across the ages, from Slimy Stuarts to Rotten Romans, and is hosted by Rattus Rattus the talking rat. Death returns to quiz the recently deceased on the manner of their demise in Stupid Deaths, and King Henry VIII has a go at raising some much needed funds by taking part in a daytime TV show Cash in the Abbey.
Damian Kavanagh, Controller, CBBC, says: "I'm delighted that Horrible Histories is back on CBBC, it's an amazing show that is clever, hilarious and has real stand-out appeal. The new series has surpassed even it's own high standards with fabulous new sketches, top class comedy writing and truly memorable performances.
"Horrible Histories succeeds in engaging kids with stories from history and really gets them excited about facts from the past. The fact it is loved as much by adults as children is testament to the real quality of the programme."
Based on the best-selling books written by Terry Deary and illustrated by Martin Brown, Horrible Histories is made by Lion TV in association with Citrus TV.
Caroline Norris is series producer and Melissa Hardinge is executive producer for CBBC. Richard Bradley is executive producer for Lion TV.
CB2
Search the site
Can't find what you need? Search here