The Eurovision Song Contest 2013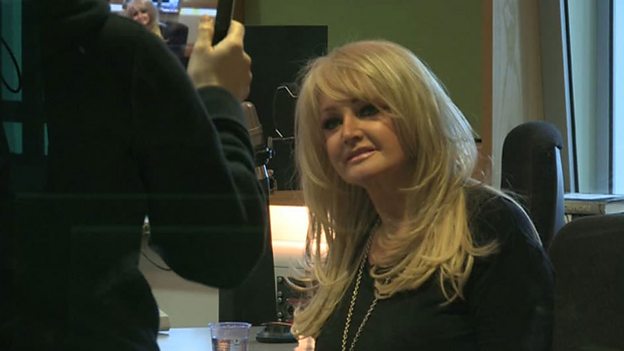 I am truly honoured and delighted to be able to represent the United Kingdom at Eurovision, and especially with such a fabulous song. I promise to give this everything that I've got for the UK!"

Bonnie Tyler
Date: 24.04.2013
Last updated: 25.03.2014 at 13.20
The United Kingdom has long been holding out for a Eurovision hero, and now the wait could be over: international musical legend Bonnie Tyler will represent the UK in the 2013 Eurovision Song Contest on Saturday 18 May.
With a career spanning four decades and a voice instantly identifiable the world over, Bonnie is the international first lady of rock. She will be flying the flag for the United Kingdom at the 58th Eurovision Song Contest in Malmö, Sweden, in front of an estimated global audience of over 120 million viewers.
Bonnie says: "I am truly honoured and delighted to be able to represent the United Kingdom at Eurovision, and especially with such a fabulous song. I promise to give this everything that I've got for the UK!"
She will be performing the song Believe In Me, which was written by Desmond Child, Lauren Christy and Christopher Braide, and produced by David Huff. It was recorded at Blackbird Studios, Nashville, Tennessee and mixed at Eargasm Studios, Santa Monica California by Justin Niebank.
Katie Taylor, Controller, BBC Entertainment and Events, says: "Bonnie Tyler is truly a global superstar with a fantastic voice and we are delighted she will be flying the flag for the UK in Malmö."
Lewis Carnie, BBC Head of Special Projects, says: "Bonnie is an artist with an international reputation and I am delighted that she has chosen to represent the UK in this year's contest. It is a great song and a truly wonderful performance that I am sure will do the nation proud."
The Eurovision Song Competition will take place on Saturday 18 May in Malmö, Sweden, broadcast live on BBC One and BBC One HD, with commentary by Graham Norton and live on BBC Radio 2 with commentary from Ken Bruce.
The semi-finals will be held on Tuesday 14 and Thursday 16 May, broadcast on BBC Three and hosted by Scott Mills and, making her Eurovision debut, Scissor Sisters star Ana Matronic.
EB
Believe In Me - music video
Radio 2 coverage
This year, BBC Radio 2 presenter Ken Bruce celebrates his 25th anniversary broadcasting the Eurovision Song Contest.
To mark this special occasion we have launched a poll to find the Radio 2 Listeners' Favourite Top 20 UK Eurovision entries.
Listeners will be able to go to the Radio 2 website until midday on Friday 26 April  and select their most memorable Eurovision songs that have represented the UK over the past 50 years. From Bucks Fizz to Blue, and Gina G to Jemini, listeners will be able to choose from every UK entry since 1957.
The results of the top 20 will be broadcast ahead of the contest - starting on Monday 13 May when Ken Bruce will play the results in his daily show (9.30am), running through a collection of British songs from the past and present.
The Top Ten will be revealed in a special Eurovision show presented by Ken live from Malmö, Sweden on Friday 17 May. The show will be packed with Eurovision content, including interviews with Bonnie Tyler, last year's winner Loreen as well as contributions from former UK contestants. Swedish songstress Emilia Mitiku will be performing live and there will be a special Eurovision edition of PopMaster. In it, Ken himself will be under the spotlight as he will be the one to face the questions.
In addition, there will be comprehensive coverage of this year's contest on Radio 2, with presenter Graham Norton broadcasting his Saturday morning show live from Sweden – that will also include an interview with Bonnie Tyler.
Ken will also be broadcasting live on the Saturday evening as he hosts the Radio 2 coverage of the Eurovision Song Contest.
Once the contest has finished, Sara Cox will be slipping on her Eurovision party hat to host Radio 2's first Eurovision After Party. She will be joined by a wide range of Eurovision alumni who will be giving their opinions on how the 2013 contest compared with their personal experiences of representing the UK. The programme will be the 'go to' place for Eurovision junkies who want to carry on the Euro conversation after the official TV and radio coverage has finished.
Search the site
Can't find what you need? Search here
Related Media Centre Links