Drama on CBeebies
Katie Morag and Topsy And Tim - two new dramas for CBeebies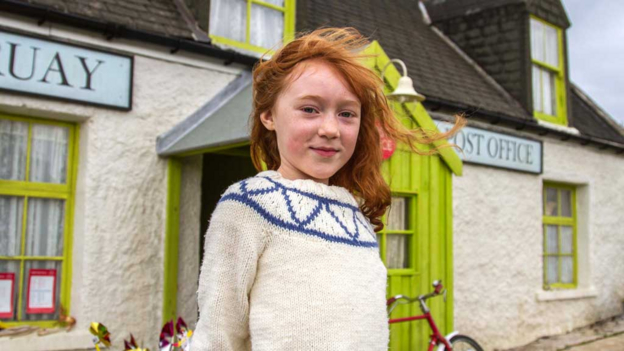 CBeebies drama: Katie Morag and Topsy And Tim
Date: 09.10.2013
Last updated: 25.03.2014 at 13.20
From the Scottish Highlands to a small English town, this autumn sees two brand-new live-action dramas premiere on CBeebies: Katie Morag and Topsy And Tim.
Katie Morag is based on the hugely popular series of books created by author and illustrator Mairi Hedderwick. Katie Morag is a small red-headed girl who lives with her family on the fictional Scottish island of Struay. Although she lives in a fairly unique setting, her stories portray some of the enduring themes of childhood.
The stories celebrate the intrinsic sense of community, the preciousness of the environment and the universal tensions and joys of family life. Katie Morag is a feisty character who has been known to get herself into scrapes but who generally emerges from them (usually with some assistance from one or other of her Grandmothers) in a funny and endearing way.
Katie Morag was filmed on the Isle of Lewis and is a Move on Up production. The series is directed by Don Coutts and produced by Margaret Matheson. The Executive Producers are Lindy Cameron for Move on Up and Sara Harkins and Michael Towner for CBeebies. The series has also received support from BBC Scotland, Creative Scotland and Highlands and Islands Enterprise.
Topsy And Tim draws on the legacy of the books by Jean and Gareth Adamson, with a focus on big drama inspired by the small stuff in little people's lives. Each episode will feature a vibrant, charming insight into family life from the point of view of 5-year-old twins, Topsy and Tim. Whether it's washing the car with Dad; learning to ride a bike with Mum; or finding a lost cat, each story is full of warmth, humour and above all authenticity. Topsy And Tim is a series that all families can recognise a part of themselves in.
Topsy And Tim is a Darrall Macqueen production and is produced by Fiona Robinson. The executive producers are Maddy Darrall and Billy Macqueen for Darrall Macqueen, Heather Crossley for Penguin and Michael Towner for CBeebies.
Kay Benbow, Controller of CBeebies said: "Our young viewers are in for a treat with two fantastic, and very different, new dramas launching in the same month. Children (and adults!) will be able to lose themselves in the magic and beauty of the Isle of Struay as they follow Katie Morag's amazing adventures. While the stories of Topsy And Tim are told and shot from the perspective of the five year old characters as they capture everyday childhood experiences. I hope audiences will enjoy and identify with both dramas."
There will also be some fantastic content on the CBeebies website to accompany the Topsy And Tim TV series.
Topsy And Tim's Fun In The House game immerses children into the world of Topsy And Tim. Children can explore the house (inside and out!) and learn about real world experiences through play. The game will give children the chance to explore some of Topsy and Tim's everyday experiences such as getting ready for bed, brushing their teeth, baking cakes and looking after Wiggles.
Both Katie Morag and Topsy And Tim can be seen on CBeebies in November.
KW
Search the site
Can't find what you need? Search here