Iggy Pop Show returns to 6 Music on Sunday afternoons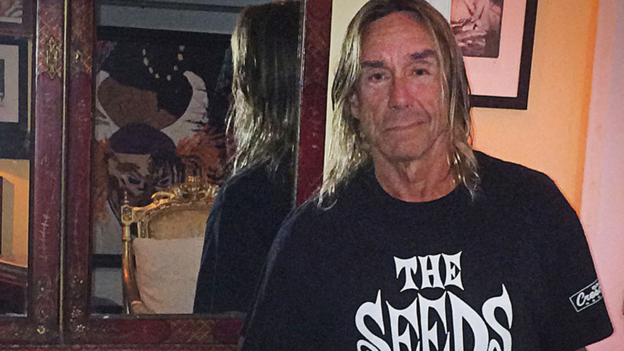 Iggy's previous BBC Radio 6 Music shows gave us a glimpse into his phenomenal musical repertoire and charismatic storytelling. He clearly struck a chord with the station's audience so it's great that we can offer listeners the chance to hear him on a regular basis."

Paul Rodgers, Head of Programmes, BBC Radio 6 Music
Date: 23.02.2014
Last updated: 18.03.2014 at 17.53
Following the success of his Christmas and New Year programmes on BBC Radio 6 Music, today the network announces that the 'godfather of punk', Iggy Pop, is to return to the station.
This news comes in a very exciting week, as the network prepares to host the first ever BBC Radio 6 Music Festival this Friday and Saturday in Manchester.
From Sunday 16 March 2014 until the end of the year, Iggy Pop will present a weekly programme from 4pm to 6pm on Sundays. The show will occupy the slot vacated by Jarvis Cocker, who is taking a year-long sabbatical from the show.
Iggy Pop says: "I had a great experience doing the shows for BBC Radio 6 Music over the holidays. To be honest, commerce, critics, crooks, and creeps have conspired over time to knock the stuffing out of my soul as I become ever more removed from the joys of feeling music. The act of revisiting my library and memories to share the tunes I have treasured with a radio audience has relit a flame for me. So I was kind of hoping the Beeb would ask me to do some more. So I guess I did alright, because I'm gonna. Watch out for me."
And to launch Iggy's new show, Jarvis Cocker will himself return to present a one-off special on Iggy Pop, exploring his life and work through the treasures within BBC's unique music archive. It will be broadcast on Sunday 9 March, 4pm to 6pm.
Bob Shennan, Controller of BBC Radio 2, 6 Music, Asian Network and Popular Music, says: "BBC Radio 6 Music is incredibly proud to welcome Iggy Pop to the network, an artist who is renowned the world over for breaking the rules and providing an alternative soundtrack to people's lives. I'd like to welcome him to Sunday afternoons on 6 Music, where he will be a valuable and hugely exciting addition to the station's array of trusted music guides."
During Iggy's visit to Radio 6 Music over the festive season, he electrified listeners with two programmes where he explored the themes of Rockin' Rebels and Heartbreak and Heartaches. His new show promises to deliver even more eclectic and exciting music choices, delving into his personal record collection to give listeners an exclusive insight into the mind of one of the most influential rock stars of the last 40 years.
Fans of the show will be able to explore Iggy's weekly musical choices using BBC Playlister. BBC Playlister lets you add music you hear on the BBC, along with recommendations from favourite DJs and presenters to a list - which can be easily exported to hear in full using Spotify, YouTube and Deezer.
Paul Rodgers, Head of Programmes for BBC Radio 6 Music, says: "Iggy's previous BBC Radio 6 Music shows gave us a glimpse into his phenomenal musical repertoire and charismatic storytelling. He clearly struck a chord with the station's audience so it's great that we can offer listeners the chance to hear him on a regular basis."
Considered by many to be one of the pioneers of punk and metal rock music, Iggy's musical legacy has inspired and energised rock and roll's alternative spirit since the late Sixties, and his bare-chested stage antics have marked him as a truly iconic frontman. His early musical career began when he played drums with local band the Iguanas as a teen. After dropping out of University in 1966, he went to Chicago, where he listened to urban blues on the South Side. He returned to Detroit as Iggy Stooge and, inspired by a Doors concert, formed the Stooges.
And following Iggy's first show on Sunday 16 March, from 6pm to 8pm, the Sony Gold-winning social media-driven show Now Playing @6Music will invite listeners to create a very special two-hour Iggy Pop-inspired playlist.
Hosted by Tom Robinson, 6 Music's pioneering interactive show will offer the audience the opportunity to control the music live during broadcast, as they pick their all-time favourite tracks and share their stories via different platforms – creating a unique celebration of this music icon.
Tom Robinson says: "The original Wild Man Of Rock has also made some of its most memorable music. A man who, in my view, singlehandedly invented punk rock, was hugely influential on Bowie's career, and remains the most mesmerising live performer I've ever seen. For once the overused epithet 'legend' genuinely applies."
The Iggy Pop show is a joint production made by BBC Radio 6 Music and Gimme Sugar Ltd. Now Playing @6Music is a Somethin' Else production.
Note to Editors
BBC Radio 6 Music is an interactive digital radio station that celebrates the alternative spirit of music and culture, bringing together the cutting-edge music of today and the iconic and ground-breaking sounds of the past 40 years. The network currently has a weekly reach of 1.96 million listeners and is home to respected music presenters including Shaun Keaveny, Lauren Laverne, Mark Radcliffe, Stuart Maconie, Steve Lamacq, Tom Robinson, Huey Morgan, Cerys Matthews, Don Letts, Guy Garvey and Craig Charles.
BBC Playlister lets viewers and listeners add music they hear on the BBC, along with recommendations from their favourite DJs and presenters, to a list which can be easily exported to hear in full using Spotify, YouTube and Deezer.
AF2
Search the site
Can't find what you need? Search here
Related Media Centre Links