Springwatch 2013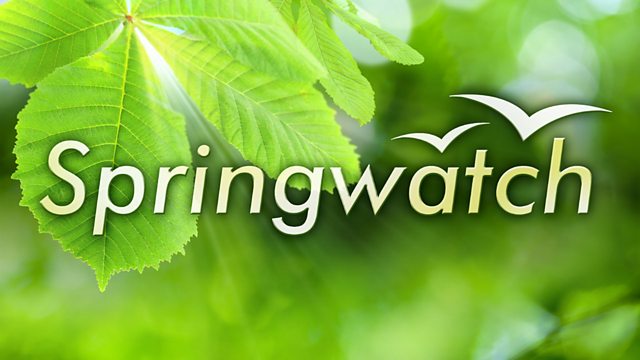 Date: 08.05.2013
Last updated: 18.03.2014 at 17.52
BBC Two's Springwatch returns for a new series. For three weeks, Chris Packham, Michaela Strachan and Martin Hughes-Games follow stories of survival in spring, a critical time for wildlife. As well as capturing the action on live cameras, the series will reveal the beauty and drama of this exciting season.
The new series of Springwatch will reveal:
The unfolding drama in the world of animals. Covering the lives of animal families in real time, with specialist cameras and new technology to reveal every angle.
Reports on the strange spring of 2013, and the wildlife issues making the headlines: Some plants are delayed by up to four weeks; migrants like swallows and cuckoos are arriving late; and some animals, like hedgehogs and barn owls, are struggling with a lack of food. Springwatch will look at the impact this remarkable spring has had on wildlife across the UK.
A celebration of the beauty of the UK's wild places from the stunning Welsh hills, to wild and rugged Lundy Island, and the spectacle of an English orchard in bloom.
New science and new behaviour - Springwatch takes a look at the fascinating behaviour of animals from dolphins hunting salmon in Aberdeen harbour to plunge-diving gannets in ultra-slow motion, and the extraordinary story of long-tailed tits, where relatives come together to raise one nest of chicks.
A chance to meet the UK's wildlife experts and amateur naturalists, including a man who has captured astonishing moments in the lives of secretive wild boar and a woman who has helped unravel the science of how bumblebees pollinate flowers by sensing electrical fields.
Springwatch kicks off BBC's Summer Of Wildlife season
Springwatch 2013 is proud to kick off the Summer Of Wildlife season - a special season of BBC programmes, showcase events and web content available throughout summer 2013. Working with BBC Learning and a host of wildlife organisations, the season will celebrate the UK's amazing, fascinating and beautiful wildlife. As part of this exciting season, there will also be a new Springwatch Daytime and Learning co-commission, Springwatch In The Afternoon, presented by naturalist Nick Baker. The show will air live on BBC Two across the first two weeks of Springwatch and encourage viewers to get off their sofa and enjoy UK wildlife for themselves this spring and summer.
With its unique position on the planet, its complex geological history and varied weather systems, the UK boasts a huge range of thrilling and inspiring wildlife with so much to be proud of, from the country's wildest corners to our natural neighbours living among us in our gardens and parks.
Summer Of Wildlife is encouraging the UK public to get out and enjoy our wildlife for themselves, inspired by a huge range BBC programmes throughout summer 2013, and taking us right through to Autumnwatch.
RSPB Ynys-hir nature reserve
BBC Springwatch returns to the remote and breathtakingly beautiful RSPB Ynys-hir nature reserve in mid-Wales again this year, and there's even more to see. A new area of the reserve is being covered by the live Springwatch cameras for the first time.
RSPB Ynys-hir is a 700-hectare reserve set in a stunning location at the top of the Dyfi Estuary surrounded by the Cambrian Mountains. This wildlife haven offers a huge variety of different habitats to explore - oak woodland, wet grassland and saltmarsh, reed beds, heathland, rivers and ponds. And it's home to a fantastic diversity of animals and plants, from otters to orchids and barn owls to bumblebees.
At the heart of Springwatch is a network of more than 30 high-definition remote cameras filming the whole nature reserve from leaf litter on the ground to the highest tree tops. Connected by nearly 40 miles of fibre-optic cables, all the action will also be streamed live on the web and on BBC Red Button, giving viewers a chance to catch all the wildlife action day and night.
As the UK experiences the latest spring for decades, the cameras will also capture the dramatic effect this has had on the reserve, as well as revealing how the wildlife is rising to the challenge.
Other intimate, exclusive views will include:
The daily dramas from our nest-cams, following our favourite bird families, like the barn owls and the Wildlife Trusts' Dyfi Osprey Project
The exploration of exciting new areas: this year Springwatch reveals the new wet woodland, reedbed, and rare bog areas of the reserve, with the chance of following the lives of lapwing, redshank, teal, reed bunting, sedge warbler and, with luck, stonechat and bullfinch
Footage from our new waterfall area that could reveal action from the nests of a dipper and a grey wagtail for the first time
Farmyard stake out: cameras placed around a new farmyard site aiming to catch nesting jackdaws, swallows and house sparrows
As well as trademark remote cameras and nest cams, the team are shipping in more cutting-edge technology to explore the reserve in more detail.
For the first time ever, Springwatch introduces the new micro-world of super-close-up cameras that will follow the high drama in the astonishing world of tiny creatures in three key local habitats - pond, bog and woodland. These high-tech techniques will reveal sundews catching flies and worms dragging leaves underground, as well as the aggressive behaviour of dragon fly larvae, and life in an ant colony.
High-speed (super-slow-mo) cameras will also reveal the extraordinary behaviour of wildlife, which the human eye simply can't see.
The best of the UK's wildlife drama
Springwatch reveals the secret lives of some of the UK's favourite animals, from red kites, ospreys and long tailed tits, to a family of foxes, following them through this unusual spring. Springwatch uncovers the triumphs and the tragedies of these wildlife families trying to raise their young after the toughest start to the breeding season for decades.
Springwatch reports on the strange spring of 2013
Springwatch will report on the big wildlife issues that are affecting the whole of the UK.
The cold weather, which dominated March and April, has resulted in the latest spring for decades, which has been hitting the headlines. Springwatch reveals what triggers spring, asking what prompts the flowering of bluebells and the bud burst of the horse chestnut - the traditional indicators of the start of spring, and why has it all been different this year.
With real concerns for hedgehogs, bats and hibernating animals, Springwatch will look at how UK wildlife is coping with the extended cold weather and their surprising survival strategies. The late spring has even affected the migration of millions of birds en route to the UK to start breeding. Martin Hughes-Games heads to Portland Bird Observatory to investigate.
Martin visits beautiful Kimmeridge Bay in Dorset with marine biologist Maya Plass, where they discover that strandlines are proving to be a lifeline for birds like robins and wrens this spring.
Ash trees are under serious threat and have made the news in 2013. To help understand why it is such an important tree in the UK's countryside, Springwatch celebrates the life of an ancient ash tree in the Slade Valley, Gloucestershire. Stunning photography and carefully placed microphones capture the essence of the ash and the wildlife in, on and around it.
Hovering kestrels were once a common and uplifting sight on long car journeys but today they are in decline. With a lifelong passion for kestrels, Chris Packham investigates what's happening to one of the UK's most iconic birds.
Springwatch - live, roving and reactive
Springwatch has a dedicated team who will react to story leads from viewers, and follow them up live, as they unfold during the series.
Wildlife expert Iolo Williams will provide live updates and in-depth coverage of our red kites nesting in a garden, our urban foxes and our city roof-top gulls.
Michaela Strachan will be out and about encountering some intriguing wildlife in mid-Wales, including a nocturnal mission to uncover the secret life of rock pools, taking a closer look at exquisite orchids, and catching up with the Dyfi ospreys.
As ever, the audience will be invited to share any unusual or remarkable wildlife footage they capture. If there's an unusual garden visitor, or a wildlife mystery that needs solving, Springwatch wants to hear about it.
New science and new behaviour
Springwatch takes a look at the fascinating behaviour of animals, from dolphins hunting salmon in Aberdeen harbour to plunge-diving gannets in ultra-slow motion, and the extraordinary story of long-tailed tits, where relatives come together to raise one nest of chicks.
Springwatch - people with a passion for nature
Springwatch meets top naturalists, nature enthusiasts and scientists from around the country who are dedicating their time to observing and helping wildlife.
Capturing a wild boar sow with piglets on camera is an extremely tough challenge but photographer Ben Locke has done just that. Springwatch joins him on the trail of wild boar near his home in the Forest of Dean, as Ben shares his knowledge and wonderful images of this secretive forest creature.
An ordinary town has become one of the best places in the UK to watch wild otters. Two young otters appear to show little fear of people as they display some extraordinary behaviour – playing and eating, and a rarely captured fight with a rival male otter.
Every spring for over 50 years, Alistair Duncan has watched a growing number of oystercatcher nests in a surprising location - the rooftops of his hometown, Aberdeen. The retired school teacher explains what's making Aberdeen's rooftops so appealing to these brightly coloured coastal birds.
Springwatch returns to Kate MacRae's beautiful wildlife garden in Staffordshire, which she's rigged with cameras to capture some new behaviour for this year – revealing how hedgehogs are coping with the cold spring, and the surprising world of the brown rat.
The summer of wildlife – remarkable wildlife on your doorstep
As part of the launch of the BBC's Summer of Wildlife, Springwatch presents a whole range of inspirations and information to get you closer to the wildlife around you. Viewers will be given the skills to find and watch the UK's favourite animals – many are more accessible than anyone might imagine.
Fieldcraft tips
Martin Hughes-Games reveals some tricks of the trade.
Out in the New Forest, Martin is on the trail of secretive roe and fallow deer, discovering their tracks and signs, and working out when, where and how best to watch them. The reward is an intimate glimpse of their lives without disturbing them.
Martin explores the dying art of nest-finding at Nunnery Lakes in Norfolk, and learns from British Trusts for Ornithology's senior scientist, David Leech, why the information gathered when finding nests could be vital in helping them build a picture of bird populations across the UK.
Escape to the garden
Chris Packham reveals just how vital the back garden is for wildlife.
Every flower border, pond and compost heap replicates a wild habitat, and provides a home for creatures great and small - a functioning, living ecosystem which is vital for the UK's wildlife.
Specialist filming techniques transform a modest garden into the backdrop for real drama, revealing the extraordinary lives of seemingly ordinary creatures.
The humble garden snail is easily overlooked as a pest, but after seeing their elaborate courtship and bizarre reproductive technique, featuring 'love darts,' they take on a whole new perspective. Theirs is a dangerous life of running the gauntlet of song thrushes and never knowing who might devour their eggs.
The flight of the great white butterfly, filmed in exquisite close-ups, is a wonder to behold. Time-lapse shots of their caterpillars munching through cabbages reveal their voracious appetites. But like a scene from a horror film, the great white faces a real challenge when a parasitic wasp comes to town.
UK nature needs you to get involved in 'citizen science' surveys
The BBC's Summer of Wildlife will be inspiring viewers to get involved in cutting-edge research about the UK's wildlife, by taking part in some of our partners' latest surveys:
The Springwatch Garden BioBlitz - Chris, Martin and Michaela race to find as many species as possible in one garden. This entertaining challenge showcases the incredible variety of species living on our doorsteps – and after watching, the nation will be ready to take part in the Garden BioBlitz taking place across the country from the 1 to 2 June 2013.
Kestrel Count – working with the Hawk Conservancy, Springwatch will try to build a picture of how kestrels are faring across the country.
Tree Health Survey is being launched by the Open Air Laboratories to help scientists better understand the distribution of tree pests and diseases around the country.
Springwatch - a whole family of shows for 2013
Springwatch Unsprung 
Every Wednesday each week, Springwatch Unsprung will follow the main show, hosted by Martin Hughes-Games. Unsprung continues the conversation about spring with viewers, with special guests, audience questions and surprise wild visitors to the studio. Episode one looks at some of our most intelligent birds and shares the discovery, made by one viewer, of an unusual ménage a trois.
Springwatch In The Afternoon
The newest member of the Springwatch family of TV shows and websites, playing out during BBC Two daytime schedule, is Springwatch In The Afternoon, also part of BBC Learning's Summer Of Wildlife season. The shows will be hosted by renowned naturalist and regular Springwatch guest Nick Baker, who will be encouraging viewers to get off their sofas and enjoy UK wildlife this spring and summer.
Our famous website, webcams and Springwatch Extra show
Recently nominated for a new-media BAFTA, bbc.co.uk/springwatch will once again keep viewers updated 24/7 with our live cameras from around the RSPB Ynys-hir nature reserve.
On the web, tablets, phones and BBC Red Button, live webcams will be streaming the best wildlife stories, complete with rolling commentary.
After Springwatch each night, Euan McIlwraith and guests will host Springwatch Extra, for quizzes, questions, chat, your photos and checking out the latest on the live cameras.
Join thousands of others talking about UK wildlife on Twitter and Facebook. facebook.com/BBCSpringwatch @BBC_Springwatch
Over 200,000 photos have been shared on the official SPRINGWATCH Flickr group. flickr.com/groups/bbcspringwatch.
Notes to editors
Springwatch
Series Editor - Kate Broome
Executive Producer – Tim Scoones
ED2
Search the site
Can't find what you need? Search here
Related Media Centre Links