Stephen Fry talks about filming his new BBC Two series Out There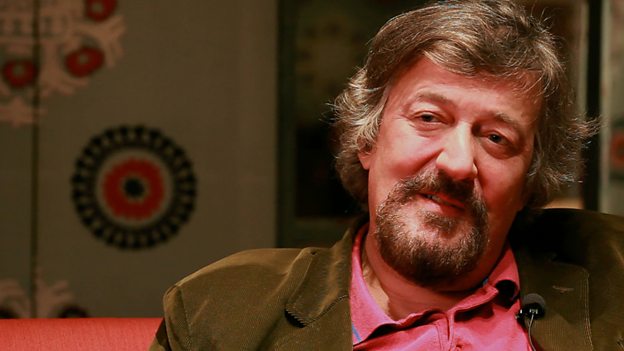 I know some people might watch this and go, 'Why does he have to go on about being gay? Who cares!' and that is my ideal position in the world. When the day comes when everyone says, 'who cares!' that would be just bliss."

Stephen Fry
Date: 11.10.2013
Last updated: 24.10.2014 at 12.19
On Monday 14 October and Wednesday 16 October, BBC Two will air Stephen Fry: Out There, a two-part documentary series exploring first-hand how the lives of men and women in vastly different communities across the globe have been impacted by their sexuality.
Contemplating his own experience as a gay man in the spotlight, Stephen sets out to explore what lies beneath people's prejudices and why some people feel so threatened by homosexuality.
Stephen travels to Brazil, Russia, Uganda, India and the US to see what the state of homophobia is really like
As well as meeting with public figures who vehemently oppose gay rights, Stephen also hears from the gay men, women and transgender people trying to live their lives in the face of such opposition
In a specially filmed interview for the BBC Media Centre, Stephen reflects on his experience meeting the outspoken public figures who support legislation preventing the advancement of gay rights. Stephen also reveals why he wanted to make a series about being out and gay around the world – and who he hopes the series will reach out to:
"I know some people might watch this and go, 'Why does he have to go on about being gay? Who cares!' and that is my ideal position in the world. When the day comes when everyone says, 'who cares!' that would be just bliss. I wish people didn't care."

Director and Series Producer, Fergus O'Brien, also talks about making Out There, and what he set out to achieve: "The thing that I wanted to come out was not necessarily that this was a film or a series about gay rights, I wanted it to be a film about human rights, and I think there's a difference there in language but it's an important distinction..."
Production credits
Stephen Fry: Out There was commissioned by Janice Hadlow, Controllerof BBC Two, and Charlotte Moore, Commissioning Editor, Documentaries(now Controller, BBC One).
It is a Maverick Television/Sprout Pictures production for the BBC, executive produced by Mark Downie for Maverick Television, Gina Carter for Sprout and Charlotte Moore for the BBC.
Stephen Fry: Out There was co-produced with the Open University.
Interviews
The interviews featured on this page were conducted by Matt Munday, produced by Dualtagh Herr and commissioned by Ben Murray, Editor, BBC Media Centre.
SH6
Search the site
Can't find what you need? Search here