Ewan McGregor narrates BBC Scotland's Hebrides – Islands On The Edge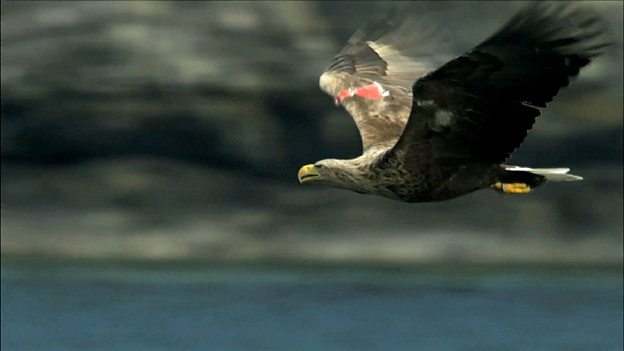 Date: 11.04.2013
Last updated: 18.03.2014 at 17.56
An amazing pass-the-parcel 'food chain' has been captured on film for the new BBC Scotland series Hebrides – Islands On The Edge.
Super fast currents between Glenelg on the mainland and the isle of Skye have become the site of a fanastic 'floor show' of aquatic and aeronautic displays from the local wild life… which can be easily watched from the local car ferry.
Masses of mackerel are swept to the surface by the currents at Kylerhea Narrows, and plundered by canny seals. However, local gulls watch for the seals to go into action and swoop down to snatch the fish from them. But there is another watching the gulls go by – a white-tailed eagle which dramatically and majestically dives in to take the prize catches.
Hebrides narrator, Ewan McGregor, describes the action: "The eagle puts on a show… he's realised he needn't hunt for his own mackerel.
"As soon as a seal catches a fish, the gulls dive. And the eagle spots his chance. The gull has the mackerel in its throat… but the eagle's determined to win the prize."
According to the local ferry service, which is run by a community group, tourists are opting to take the ferry – which itself has to battle with the currents – rather than the Skye bridge just to catch 'the show'.
Ferryman Donnie Macdonald says of the eagle, which locals have dubbed Victor: "Keeps us busy all day, good entertainment for us as well and the tourists just love him, completely love him."
The BBC Scotland series is due to transmit in early May, and preview screenings of Hebrides – Islands On The Edge are being held in the islands and West Coast area.
Series producer, Nigel Pope, said: "It was a terrific sequence to have caught on camera – going right through from the flurry of fish-snacking seals to the aerodynamics of the gulls and then the breathtaking majesty and drama of the eagle – the largest predatory bird in Britain – coming in to take the trophy."
The four-part Scottish wildlife series has already been acclaimed as "one of the most beautiful films I've seen" by narrator Ewan MGregor.
Created by some of the key talent behind award-winning series like Big Cat Diary, it has been produced for BBC Scotland by Maramedia in association with Otter Films.
Hebrides – Islands On The Edge, which will go out on BBC One Scotland in May, is part of BBC Scotland's Wild Scotland season.
HM
Search the site
Can't find what you need? Search here
Related Media Centre Links