BBC Children's unveils host of entertaining super-science shows for 2013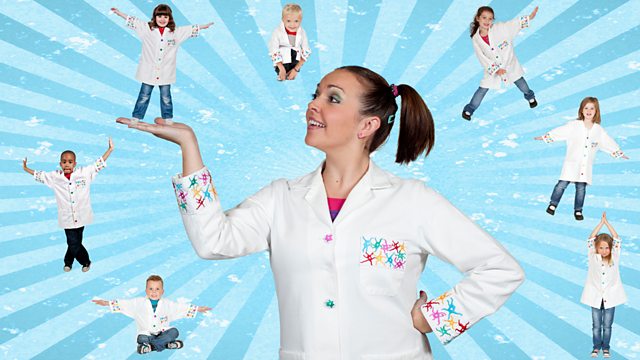 The best children's programmes educate and inform kids without them even realising! I hope our new raft of science-themed shows will not only entertain children but inspire the next generation of scientists and inventors."

Joe Godwin, Director of BBC Children's
Date: 12.01.2013
Last updated: 18.03.2014 at 17.53
Proving to kids that science definitely isn't boring, CBBC and CBeebies today reveal their brand new science shows for 2013, featuring established BBC children's stars and introducing new presenting talent.
Dick and Dom investigate the lives of people whose genius ideas have helped shape the modern world in Absolute Genius; Fierce Earth examines the true power of planet Earth and a new series of Nina And The Neurons explores amazing feats of engineering.
Director of BBC Children's, Joe Godwin, says: "The best children's programmes educate and inform kids without them even realising! I hope our new raft of science-themed shows will not only entertain children but inspire the next generation of scientists and inventors."
Absolute Genius with Dick and Dom takes the CBBC audience on a fun, irreverent, fact-laden, explosion-filled journey to explore the work of some of the most important inventors and scientists in history. From da Vinci to Watt and Archimedes, this series will fuse thrilling experiments and animation to explore the theories and inventions that have shaped the world we live in.
CBBC's Fierce Earth explores the true power of planet Earth. Shot on location, and combining archive footage, experiments, experts and personal stories, each episode sees the Fierce Earth team travel the globe to tell the stories and science behind incredible and awesome natural phenomenon from hurricanes to earthquakes and tsunamis to lightening strikes.
Also on CBBC, presenter Tim Fitzhigham searches the world for people with real life super powers in Super Human Challenge. With the aid of the Mission Doctor, Dr Megan John, he pits himself against them to find out just how super they really are. Using animation, science and technology this show astounds viewers with just how amazing the human body is and what it can achieve. These are real life Super Human that defy science with super strength, extraordinary stamina and other unbelievable physical abilities.
Junior Vets is a brand new CBBC show that gives six ordinary school children the chance to become the first ever juniors to enrol at Edinburgh University's super high-tech Vet School. They'll work alongside the school's top vets, treating poorly pets, wounded wildlife and farm animals that are feeling unwell.
And, new for CBBC, Deadly Mission: Madagascar takes eight young teenagers to the front line of conservation to discover for themselves the issues faced there, and work directly with the scientists and conservationists at the forefront of research. They'll meet endangered wildlife from Humpback Whales to Bamboo Lemurs, plus get to know the generation of kids growing up in rural Madagascar.
For our youngest viewers, Nina And The Neurons returns to CBeebies with a new series investigating some amazing feats of engineering. Nina And The Neurons: Go Engineering sees super scientist Nina (Katrina Bryan) and her young Engineers travel the UK in search of engineering wonders from towering skyscrapers to really long bridges. With the help of Nina's five animated sense Neurons, they explain how things work and discover how science and engineering have built the world around us.
Continuing CBeebies mission of learning through play, Mr Bloom returns with Mr Bloom's Nursery: Get Set, Grow! Mr Bloom packs up his Compo Car and head out across the country to set up a travelling village fete for thousands of Tiddlers. Mr Bloom is, of course, joined by his loveable team of Veggies who are thrilled to discover about life outside the Nursery from a hydroponics farm to an amazing maize maze.
And, finally, this Spring, one of CBeebies' most popular shows, Octonauts, is back with a host of new adventures. The animated adventure heroes go on a journey of discovery through the world's oceans looking at marine biology, exploring incredible underwater worlds and rescuing amazing sea creatures.
Notes to Editors
CBeebies is dedicated to delighting and surprising its young audience and it remains the UK's most watched and most loved channel for the under-sixes.
Half of the target audience tune in every week (parents and carers with children aged 0-3 and four- to six-year-olds in digital homes) with 57% saying it is one of their favourite channels. Our reach is almost three times that of our nearest competitor.
Our most popular shows include In The Night Garden, Something Special, Octonauts, Justin's House and Waybuloo. New shows this year include Andy's Wild Adventures and Tree Fu Tom together with new episodes of the popular series Mr Bloom's Nursery and Rastamouse.
The CBeebies website is also hugely popular with our young audience and their parents and helps extend the 'learning through play' philosophy. Last year it averaged over 830k unique users per week.
CBeebies is Freesat's Channel of the Year and was previously crowned BAFTA's Children's Channel of the Year in 2010 and 2011.
CBBC is the BBC's multiplatform offering for 6-12 year olds bringing the very best drama, entertainment and factual programmes to its young viewers.
CBBC is the most-loved and most-watched channel of children in its target age group. Almost a third of children (6-12) consider it one of their favourites and over a third tune into the CBBC channel each week.
CBBC aims to encourage children to find out more about existing interests and inspire them to develop new ones; helps them understand the world around them and provides an entertaining watch when they just want to relax.
The majority of our output is UK-made, reflecting children's lives in the UK today. Popular programmes on the channel include Horrible Histories, Deadly 60, The Sarah Jane Adventures and Tracy Beaker Returns as well as long-running favourites Blue Peter and Newsround.
Last year, the CBBC website attracted over 890k weekly unique users.
CR
Search the site
Can't find what you need? Search here