David Harewood, Amy Nuttall and Nick Moran guest star in BBC One's By Any Means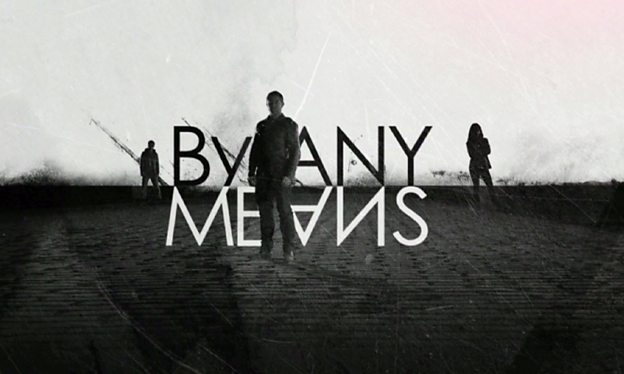 I'm so excited to be part of this gripping new drama. Being on set with the fantastic cast and crew was really fun."

Amy Nuttall
Date: 16.08.2013
Last updated: 18.03.2014 at 18.00
As filming comes to an end for BBC One and Red Planet Pictures' brand new drama series, By Any Means, it has been announced that the main cast will be joined by a number of stellar guest stars, including David Harewood (Homeland), Amy Nuttall (Downton Abbey), Nick Moran (Mr Selfridge) and Honor Blackman (Goldfinger).
The high-profile names will join the original drama's ensemble cast, made up of Warren Brown (Luther), Shelley Conn (Mistresses), Andrew-Lee Potts (Primeval), Gina McKee (The Borgias) and Elliot Knight (Sinbad) in the new series following a clandestine unit living on the edge and playing the criminal elite at their own game.
Other artists to feature in the crime drama include Keith Allen (Robin Hood), Neil Maskell (Utopia), Kate Dickie (Game Of Thrones), Michael Maloney (The White Queen), John Henshaw (South Riding) and Harriet Walter (Little Dorrit).
Commenting on her role in the new series, Amy Nuttall says: "I'm so excited to be part of this gripping new drama. Being on set with the fantastic cast and crew was really fun. My character is a hard-hitting journalist – very different from some of the other characters I've played – which was lots of fun!"
Living in the shadows and treading the fine line of the law, By Any Means' maverick team bridge the grey area between the letter of the law and true justice, stopping at nothing to fight fire with fire.
Belinda Campbell, Executive Producer for Red Planet Pictures, says: "We're delighted to welcome such an extensive and talented list of guest stars to By Any Means, accompanying our wonderful main cast. There are some brilliantly crafty and manipulative characters throughout the series, which have been expertly brought to life by these gifted actors and actresses."
By Any Means is a Red Planet Pictures production for the BBC. The series was penned by a writing team comprising Tony Jordan, Richard Zajdlic, James Payne, Jeff Povey and Richard Lazarus, whose combined credits include Strike Back, New Tricks, This Life, Silent Witness, EastEnders and Ashes To Ashes among other projects.
Tony Jordan and Belinda Campbell are executive producers for Red Planet Pictures and Polly Hill for BBC One. Lead director for the series is Charles Palmer (Doctor Who); it is produced by Tim Key (Death In Paradise) and commissioned by Danny Cohen, then Controller of BBC One and Ben Stephenson, Controller of BBC Drama Commissioning.
For further information please contact:
Ruth Bray, Premier, Tel. 0207 292 8348 / 07841 817 652 / ruth.bray@premiercomms.com
Katy Ardagh, Premier, Tel. 020 7292 7373 / katy.ardagh@premiercomms.com
Cast interviews
Warren Brown plays Jack Quinn
"I play Jack Quinn, who is in charge of this little rabble. He's very hands-on and wants to get the job done, getting stuck in and not afraid to slap people about. I think they all use underhand methods because they've got to get the job done, whatever it takes.
"There are good guys and bad guys, just like in the movies. What we do is we go after the bad guys. Is what we're doing legal? Are we real police? Well, that's kind of open for discussion, but if we're getting the job done, the end has justified the means.
"Shelley Conn plays Jessica Jones, who is kind of the second in command. Straight-talking, sexy, sassy - she's gorgeous, but isn't a girly-girl. She gets stuck in and isn't afraid to use her fists if she needs to.
"It's definitely a contemporary piece. There are storylines each week that are not based on anything in particular but audiences may draw comparisons with real life events.  It's very current and now.
"I think it's got a bit of everything. It deals with some serious issues, but is fun and doesn't take itself too seriously. There are twists and turns along the way, and the audience don't know how they're going to get the job done at the start. I suppose the team don't know either. It's got a bit of everything: action, sexy ladies, computer nerds and dashing new members of the team!"
Shelley Conn plays Jessica Jones

"By Any Means is an action crime drama which focuses on a skilful team who operate in London, and their job is to put away the criminal elite of London that have somehow slipped through the loopholes of the law.
"It is set in London and I suppose it's an underground London. We work out of a warehouse which is literally underground. It runs alongside the tube, under the arches. The whole thing is a very clandestine operation, so we're completely anonymous. You're not supposed to know who we are, where we've come from or where we're going and that's reflected in this warehouse set. It's kind of a gritty urban feel, it's not a glossy touristy view of London, and it's pretty streetwise.
"As a person, I think Jessica's moral compass is dead-set, but she really enjoys the morally ambiguous way that they capture these criminals and relishes the moment when they are finally brought down. She's determined and hard-nosed and direct in her aims. She's kind of like, 'why are we messing around? Let's just go for it!'
"I think that the uniqueness of the series comes from the dynamic within the cast. It almost feels like we are all from different shows, each bringing very unique qualities together. From that, you have a lovely banter between the four of us. That's what attracted me to the show. Plus, you know, we're really cool. It's nothing you can put your finger on, but there is a definite sense of identity that the characters bring and that in itself is unique."
Andrew-Lee Potts plays Thomas (Tom Tom) Tomkins
"Tom Tom - which is what everybody calls him - is a professional computer hacker and very good at what he does. I like to think he's maybe like the Banksy of the technology world! Fundamentally, he's an ex-criminal who has been given an option to change his life and do what he does for the greater good. He loves technology and he's super intelligent. He's a likeable character, has a good heart and is a very integral person in the team.
"Warren Brown, who plays Jack Quinn, is kick-ass, no messing about. He's the salt of the earth, speaks the truth, knows what's right and wrong and wants to do the right thing. I think he cares about the team a lot more than he probably lets on sometimes, but I wouldn't mess with him."
Tony Jordan (Head Writer)
"By Any Means was an idea that came to me on a plane. It was just the idea of a super crook – the mafia bosses and the Teflon Dons who manage to evade the law, either because of who they've paid off or their contacts – that the law can't touch them. By Any Means is basically what it says on the tin: a group of people that go after these super criminals and take them off the street, by any means.
"I wanted the show to look current, like a show that was set in 2013, as if it was happening now, in London. There's part of me that wishes that a team like this existed for real - that there was a team focusing on those really bad guys and going after them. Where the law had failed, where everyone else has failed, they're the people who would come and take the bad guys off the streets, so that I can sleep safely at night. Everybody's always looking for a hero.
"I think Warren Brown was perfect for Jack Quinn. The moment we saw him, we knew he was perfect because we always talk about Jack Quinn with a real edge. We wanted someone who looks like they could take you outside and give you a good hiding and when we looked at Warren and talked to him - realising soon after that he was actually a world-champion kick boxer – we saw that he could very literally take you outside and give you a pasting! However, on the other side of the coin we wanted a wit, panache and a humour, and we got both of those things from Warren. That's quite rare in actors."
Search the site
Can't find what you need? Search here