Radio 2's short story writing competition 500 WORDS returns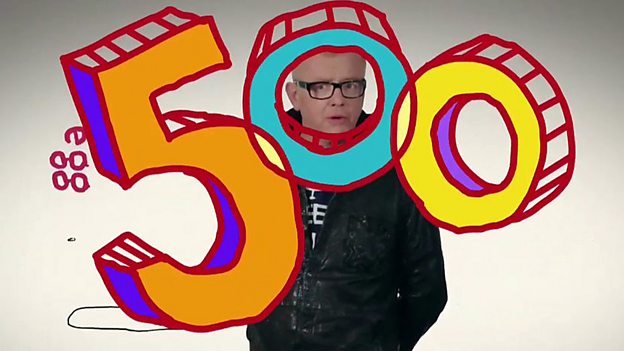 When we launched 500 WORDS in 2011, we hoped to inspire young minds around the UK, and we were just astonished by the imagination and talent leaping off the page of the stories that flooded in. Last year's competition saw a staggering 74,000 entries - more than twice the number of year one, so we have very high hopes for 2013."

Chris Evans
Date: 21.01.2013
Last updated: 18.03.2014 at 17.58
BBC Radio 2 presenter Chris Evans today announced that 500 WORDS, Radio 2's short story writing competition for children aged 13 and under, is back for 2013.
He also announced that a number of new famous faces are set to join the competition judging panel - including CBBC and Top Gear presenter Richard Hammond, who takes up the mantle of head judge.
Also joining the panel are international children's literature heavyweights Frank Cottrell-Boyce, the award-winning novelist and screenwriter, who scripted the Opening Ceremony for the London 2012 Games, and made Chitty Chitty Bang Bang fly once again for young readers; and Malorie Blackman, whose literature and television drama credits include the Noughts And Crosses series. They will be joining the panel that consists of returning judges Dame Jaqueline Wilson and Charlie Higson, who will pick their favourite stories from a shortlist of 50, drawn from two age groups: children aged nine and under, and those aged between 10 and 13.
As part of the competition, entrants have to compose an original work of fiction using no more than 500 words. Hopefuls should apply via the Radio 2 website, where there are top writing tips from best-selling authors and celebrities like Daniel Radcliffe, as well as a free activity pack for teachers and librarians – something brand new for 2013.
500 WORDS was first launched in 2011, in association with Hay Fever, the children's programme of the Hay Festival of Literature and Arts. To find out more about Hay Festival please visit www.hayfestival.org.
Last year's competition attracted over 74,000 entries, with famous people such as Justin Bieber, Prince William, Wayne Rooney, and Radio 2's own Chris Evans making repeated appearances in the stories, alongside made-up mythical creatures like the sharkbaragator (part shark, part bear and part alligator) and chocolateosaurus. And for the second consecutive year, the millions of words used by the young writers will be analysed by Oxford University Press to help shine a light on children's use of language today.
The writers of the top 50 stories will be invited to attend a broadcast of The Chris Evans Breakfast Show that will be broadcast live from the Hay Festival on Friday 31 May, 2013.
The six lucky winners will be announced live on air and will get to hear their stories read out by a famous narrator.
Chris Evans says: "When we launched 500 WORDS in 2011, we hoped to inspire young minds around the UK, and we were just astonished by the imagination and talent leaping off the page of the stories that flooded in. Last year's competition saw a staggering 74,000 entries - more than twice the number of year one, so we have very high hopes for 2013. Let the creativity commence!"
Richard Hammond says: "It's a great honour to be heading the judging panel for 500 WORDS. I'm really thrilled and excited by it. It's a fantastic competition that demonstrates there's a huge reserve of creativity out there. I saw that when I came and read a winner's story at the first 500 WORDS live final in 2011. The energy that young writers have and that preparedness to just say; 'this is a really good idea, I'm going to run with it!' that's what I'm really excited about seeing again."
Frank Cottrell-Boyce says: "I am unbelievably excited to be one of the judges for 500 WORDS. Writing should be about launching yourself into the unknown - which is exactly what I did when I was writing the Olympics Opening Ceremony! I really believe that anybody can be a writer, which is why I want as many children as possible to get involved."
Malorie Blackman says: "I am so thrilled to be joining the judges for this year's BBC Radio 2 500 WORDS competition. I'm more than happy to support any idea that gets children writing and using their imaginations. My advice would be to write from the heart as well as the head and most importantly whilst you're doing it, HAVE FUN! I can't wait to get stuck in to reading all the fabulous stories that will be submitted this year. Good luck everyone."
Charlie Higson says: "'I was blown away by the standard of the stories last year. Choosing the winners was really hard. It was a shame we couldn't give everyone a prize. It proves the moaners wrong - British kids are interested in reading and writing and telling stories. I am delighted to be back on the judging panel again this year - if only to read some more fantastic stories."
Dame Jaqueline Wilson says: "I'm very much looking forward to judging this year's 500 WORDS competition. The standard of entries is always impressively high and it always pleases me that so many children obviously enjoy writing stories. This is just the sort of competition that I would have loved when I was a child."
The 2013 competition will run until Friday 22 February. Details about how to enter are available on the 500 WORDS website.
Notes to Editors
Oxford University Press is a department of the University of Oxford. Its children's dictionary team will collect and analyse all the words in the stories entered into the competition, allowing them to explore the way children use language today; pick out their favourite words, discover new words, and even look at how they use punctuation for dramatic effect!
The Oxford Children's Corpus is a large electronic database of real, authentic children's language. The Oxford Children's Corpus provides evidence for language theorists and practitioners of how children's language behaves and identifies patterns in language, looking specifically at grammatical structures, child-related vocabulary and is an ideal resource for statistical frequency analysis of words. To find out more visit the website.
AF2
Search the site
Can't find what you need? Search here