BBC Scottish Symphony Orchestra announces new season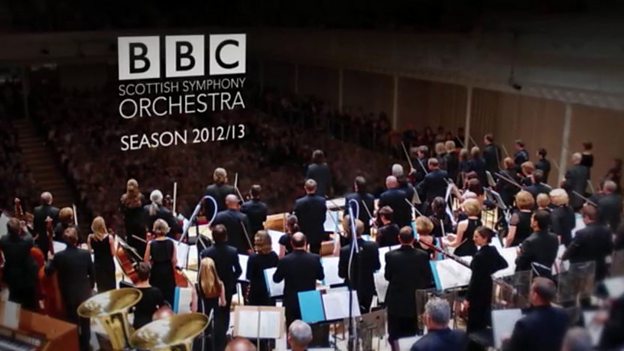 The 2012/13 BBC Scottish Symphony Orchestra plans are very exciting. The orchestra is in fine form and the season offers a really distinctive set of programmes. I am delighted that they will be able to be heard by millions of listeners on Radio 3."

Roger Wright, Director, BBC Proms and Controller, BBC Radio 3
Date: 22.03.2012
Last updated: 18.03.2014 at 18.02
The BBC Scottish Symphony Orchestra has announced its 2012-13 season, presenting a wide ranging and ambitious series of concerts and broadcasts.
Donald Runnicles opens his fourth season as Chief Conductor with the first act of Wagner's Tristan and Isolde, launching the orchestra's celebration of the bicentenary of the composer's birth.
The BBC SSO's home base at Glasgow City Halls sits at the heart of its most significant projects, particularly major explorations of Polish composers, and a centenary celebration of Stravinsky's The Rite of Spring with music inspired by and created for dancing.
Associate Guest Conductor Andrew Manze continues his cycle of Vaughan Williams Symphonies, and begins his cycle of Beethoven Piano Concertos, featuring Scottish pianist Steven Osborne.
Principal Guest Conductor Ilan Volkov will curate and conduct projects devoted to the Second Viennese School and innovators John Cage and John Zorn.
The orchestra is delighted to welcome distinguished international artists including soprano Nina Stemme, tenors Ian Storey and Robert Dean Smith and violinist Julian Rachlin.
Following his acclaimed Prokofiev Piano Concerto cycle last season, the orchestra welcomes back Russian Denis Kozhukhin to play Rachmaninov, and the distinguished artists Angela Hewitt and Garrick Ohlsson perform the two piano concertos by Chopin.
Scottish artists include Nicola Benedetti, who performs Szymanowski's First Violin Concerto, the work with which she won the BBC Young Musician of the Year in 2004: and the outstanding young Scottish guitarist Sean Shibe plays Rodrigo's Guitar Concerto.
The orchestra will also be joined by the BBC Singers, the Men of the RSNO Chorus and guest conductors, Andrew Litton, Thomas Dausgaard and Martyn Brabbins.
The BBC SSO continues to be an integral part of BBC Scotland's broadcast output, contributing to programmes on BBC Radio 3 and BBC Radio Scotland as well as performances from the BBC Proms.
Roger Wright, Director, BBC Proms and Controller, BBC Radio 3, said: "The 2012/13 BBC Scottish Symphony Orchestra plans are very exciting. The orchestra is in fine form and the season offers a really distinctive set of programmes. I am delighted that they will be able to be heard by millions of listeners on Radio 3."
TRISTAN AND ISOLDE
Celebrating the bicentenary of Wagner's birth in 2013, the BBC Scottish Symphony Orchestra and Donald Runnicles will bring some of the world's greatest singers to Scotland to perform Richard Wagner's epic opera Tristan and Isolde. Staged over three concerts between September 2012 and April 2013 at both Edinburgh's Usher Hall and Glasgow's City Halls, the casts are spearheaded by Swedish soprano Nina Stemme, who has sung the role across the world and recorded it with Plácido Domingo, and the English tenor Ian Storey who was rocketed to operatic stardom when he sang the part of Tristan at La Scala, Milan. Peter Rose and Matthew Best will sing King Mark, Bayreuth's current Tristan, Robert Dean Smith performs the heroic third act, and Petra Maria Schnitzer brings the opera to its ecstatic close with Isolde's famous aria, the Liebestod or 'Love Death.'
Donald Runnicles said: "These concerts bring the orchestra and I back to the roots of our relationship together, in 2001, in concert performances of opera. That was when I fell in love with this orchestra - the musicians were so extraordinary and enthusiastic that I have been genuinely impatient for many years to bring this Tristan project to Scotland."
MUZYKA POLSKA – CITY HALLS, GLASGOW
Poland's musical heritage is rich in folk melody and creative artists, and this season the BBC SSO celebrates a distinctive group of Polish composers who helped give voice to a nation that suffered under successive regimes. Chopin is a touchstone of this survival instinct, and is represented by his two piano concertos, composed before he fled Poland in 1831. The series also includes post-romantic visionaries including Karłowicz, Lutosławski, Bacewicz and Szymanowski whose first Violin Concerto has found an able champion in Scottish virtuoso Nicola Benedetti. Post-war modernism is represented by Krzysztof Penderecki, whose 1961 Polymorphia was later used to great effect in horror films such as The Exorcist and The Shining.
AN INVITATION TO THE DANCE – CITY HALLS, GLASGOW
The BBC SSO explores the rhythmic influence of dance music, from the waltzes of Johann Strauss to the jazz-inspired rhythms of Bernstein's West Side Story. The series also includes Turina's Danzas Fantásticas, the suite from Bartok's ballet The Miraculous Mandarin and the swirling rhythms of Beethoven's Seventh Symphony. This series, and the season, culminate in a centenary celebration of Stravinsky's riot-inducing ballet score The Rite of Spring, and the UK Premiere of a special companion piece composed and conducted by the BBC SSO's Artist-in-Association Matthias Pintscher.
PRELUDES AND CODAS
Thursday Night Concerts at Glasgow City Halls are once again enhanced with pre-concert preludes and post-concert codas. This season, Codas include performances from Donald Runnicles, Angela Hewitt, and Julian Rachlin, as well as from members of the orchestra. For the first time, Preludes will also be presented in Edinburgh prior to each act of Tristan and Isolde and will be given by writer A.L. Kennedy, Opera Director Graham Vick and BBC Broadcaster James Naughtie. Other Prelude speakers include award-winning poet Don Patterson, broadcaster Stephen Johnson, composer Colin Matthews, conductors Ilan Volkov and Andrew Manze and members of the orchestra.
ACROSS SCOTLAND
In addition to the orchestra's home season at Glasgow City Halls, the orchestra also presents a full series of six concerts at the Music Hall in Aberdeen, all three Acts of Tristan and Isolde at the Usher Hall Edinburgh, as well as appearances at the Edinburgh International Festival. The orchestra will also perform as part of the Ayr Concert Series, The Scottish Orchestra's Series at Perth Concert Hall, the Eden Court Theatre in Inverness and at the Lammermuir Festival in Haddington.
NEW MUSIC
Regarded as one of the world's foremost contemporary music ensembles, the BBC SSO continues its support for new music, particularly under the baton of two world-renowned new music practitioners, Principal Guest Conductor Ilan Volkov and Artist-in-Association Matthias Pintscher.
In May 2013, Ilan Volkov will conduct and curate Tectonics, a festival of New Music crossing genres and styles to include new orchestral and chamber music, electronic music, improvisation and sound installations. At the heart of these two days of concerts are collaborations with Scottish improvising musicians, music by British Experimentalists including Cornelius Cardew, and the World Premiere of BBC Commissions from Frank Denyer, Scottish composer Martin Suckling and Glasgow-based composers David Fennessy and John de Simone. Volkov will also conduct the music of John Cage as part of Glasgow's 2012 Merchant City Festival. The BBC SSO furthers its commitment to Scottish composers throughout the season with a World Premiere from Stuart MacRae, and works from Alasdair Nicolson and John Maxwell Geddes.
The Saturday night contemporary music series at Glasgow City Halls, Hear and Now, continues with music from European modernists Magnus Linderg and a 60th Birthday tribute to Kaija Sariaaho. The orchestra and Ilan Volkov will also present the first ever retrospective of the orchestral compositions of New York-based composer John Zorn.
The Glasgow concert season also includes a UK Premiere from Matthias Pintscher, commissioned to mark the centenary of Stravinsky's The Rite of Spring. Pintscher will also conduct the orchestra in two performances at the 2012 Huddersfield Contemporary Music Festival.
SECOND VIENNESE SCHOOL AT GLASGOW CITY HALLS
In collaboration with Glasgow Music, Ilan Volkov the BBC SSO and the Hebrides Ensemble present two nights of free concerts in May 2012 celebrating the audacious and revolutionary Second Viennese School, performing some of the most important works by Arnold Schoenberg, Anton Webern, and Alban Berg.
ANNIVERSARIES
As well as marking Wagner's bicentenary in 2013, the BBC SSO also marks some other significant musical anniversaries. Glasgow-wide celebrations of Britten's Centenary include performances from the BBC SSO, the Scottish Chamber Orchestra, Royal Scottish National Orchestra, Scottish Ensemble and others. There are centenary tributes to Lutosławski, including his Concerto for Orchestra, and the 50th Anniversary of the death of Paul Hindemith is marked with the UK Premiere of his Piano Concerto as part of the orchestra's Afternoon Performance Series.
EDINBURGH INTERNATIONAL FESTIVAL
The BBC SSO continues its long association with the Edinburgh International Festival with two festival performances at the Usher Hall. Renowned for his interpretations of the late Romantic repertoire, Donald Runnicles conducts Richard Strauss's massive Alpine Symphony, and Principal Guest Conductor Ilan Volkov conducts Tchaikovsky's complete ballet The Nutcracker in a concert performance featuring the National Youth Choir of Scotland.
FILM MUSIC
Increasingly acclaimed for its sophisticated and authentic interpretations of classic film scores, this season the BBC SSO celebrates the 70th anniversary of Casablanca, one of Hollywood's best-loved films, with a concert screening featuring Max Steiner's exotic score performed live. For its annual festive celebration of film music Christmas at the Movies, the orchestra celebrates songs and scores from Academy Award winners.
DONALD RUNNICLES WEEKEND
From 4 to 7 May 2012, Glasgow Life and the BBC SSO present a weekend of broadcasts, chamber recitals, film, interviews and concerts that celebrate Donald Runnicles's position as Scotland's greatest living conductor. Spanning a wide breadth of musical worlds, this is a chance to experience Runnicles and his passionate commitment to music making in Scotland as accompanist and chamber musician and interpreter of the great symphonic works, as well as hearing his thoughts and insights about music and performing in the world's great venues.
SD3
Search the site
Can't find what you need? Search here
Related Media Centre Links