BBC Cymru Wales and S4C renew strategic partnership agreement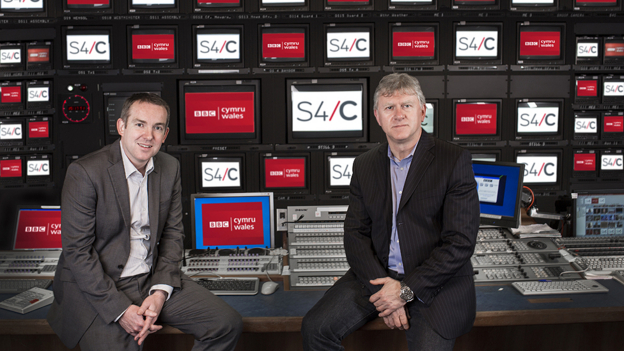 Date: 08.11.2012
Last updated: 18.03.2014 at 18.04
BBC Cymru Wales and S4C have reached agreement on a renewed partnership which will safeguard current levels of investment in programmes for S4C for the next four years.
The agreement, which guarantees the statutory minimum 520 hours of programming supplied to S4C each year by BBC Cymru Wales, has been signed off by the S4C Authority and the BBC Trust and welcomed by both broadcasters. It maintains the level of BBC Cymru Wales' investment in original Welsh language television programming produced free of charge for S4C. Both organisations are also collaborating on a number of recently announced creative projects.
Under the partnership, high quality, popular programmes including Pobol y Cwm, Y Clwb Rygbi, coverage of the Eisteddfod Genedlaethol and news and current affairs coverage, including the daily news service Newyddion, will remain at the heart of S4C's schedule.
The renewed strategic partnership is the third of its kind to date and will run until 2016/17.
BBC Cymru Wales Director Rhodri Talfan Davies said: "This renewed partnership underlines BBC Cymru Wales' commitment to Welsh language broadcasting. Crucially, we have made sure that - despite a challenging financial climate - our level of investment in popular Welsh language television programming supplied to S4C will be safeguarded for the next four years. Our partnership continues to strengthen as we look forward to even more creative collaboration ahead."
S4C Chief Executive Ian Jones said: "S4C is looking forward to continuing to work closely with the BBC on a wide range of programming and services with the renewal of our partnership agreement. We welcome the BBC's commitment to maintaining the programme expenditure for the ten hours per week the corporation provides for us. It will ensure that their top quality programming remains a cornerstone of our service.
"The partnership agreement has enabled both broadcasters to share talents and resources to create exciting, innovative programming and we aim to continue with this creative partnership to secure the best possible service for our audiences."
The full strategic partnership agreement is available here
For more information contact Kate Stokes Davies at BBC Cymru Wales on 029 2032 2131 or Owain Pennar at S4C on 029 2074 1416
Notes to Editors
This third strategic partnership agreement will run from 2013/14 through to 2016/17. Previous strategic partnerships were agreed in 2006 and 2010. The Strategic Partnership underpins the financial value and accountability arrangements of the programmes supplied by BBC Cymru Wales to S4C.
The long-standing partnership is entirely separate from the Operating Agreement between the broadcasters. The Operating Agreement sets out the financial and accountability arrangements for the Licence Fee funding provided by the BBC Trust to S4C from April 2013 onwards. The new funding arrangement formed part of the latest Licence Fee settlement introduced by the UK Government's Spending Review in October 2010. Under the terms of the Operating Agreement, S4C will directly receive £76.4 million per annum in 2013/2014 from the BBC Trust. This separate agreement runs until 2016/2017.
The creative collaboration between S4C and BBC Cymru Wales includes recently announced projects such as new comedy Portars with BBC Radio Cymru and an innovative digital cross-media project for Pobol y Cwm.
BBC Cymru Wales ac S4C yn adnewyddu eu partneriaeth strategol
Mae BBC Cymru Wales ac S4C wedi cyrraedd cytundeb i adnewyddu partneriaeth a fydd yn diogelu'r buddsoddiad mewn rhaglenni ar gyfer S4C ar y lefelau presennol am y pedair blynedd nesaf.
Mae'r cytundeb, sy'n gwarantu'r lleiafswm statudol o 520 awr o raglenni sy'n cael eu cyflenwi i S4C bob blwyddyn gan BBC Cymru Wales, wedi'i gymeradwyo gan Awdurdod S4C ac Ymddiriedolaeth y BBC, ac wedi'i groesawu gan y ddau ddarlledwr. Mae'n cynnal lefel buddsoddiad BBC Cymru Wales mewn rhaglenni teledu gwreiddiol sy'n cael ei gynhyrchu am ddim ar gyfer S4C. Mae'r ddau sefydliad hefyd yn cydweithio ar nifer o brosiectau creadigol sydd wedi'u cyhoeddi'n ddiweddar.
O dan y bartneriaeth, bydd rhaglenni poblogaidd o safon uchel, gan gynnwys Pobol y Cwm, Y Clwb Rygbi, rhaglenni'r Eisteddfod Genedlaethol a rhaglenni newyddion a materion cyfoes gan gynnwys y gwasanaeth newyddion dyddiol, yn aros wrth galon amserlen S4C.
Dyma'r drydedd bartneriaeth strategol hyd yma a bydd yn para tan 2016/17.
Meddai Cyfarwyddwr BBC Cymru Wales, Rhodri Talfan Davies: "Mae adnewyddu'r bartneriaeth strategol yma'n tanlinellu ymrwymiad BBC Cymru Wales i ddarlledu yn yr iaith Gymraeg. Yr hyn sy'n hollbwysig yw ein bod wedi sicrhau - er gwaethaf yr hinsawdd ariannol - y bydd lefel ein buddsoddiad mewn rhaglenni poblogaidd yn yr iaith Gymraeg ar S4C yn cael ei diogelu am y pedair blynedd nesaf. Mae ein partneriaeth yn dal i gryfhau wrth i ni edrych ymlaen at gydweithio mewn ffyrdd mwy creadigol fyth."
Meddai Prif Weithredwr S4C, Ian Jones: "Mae S4C yn edrych ymlaen at barhau i gydweithio'n agos gyda'r BBC ar ystod eang o raglenni a gwasanaethau wrth inni adnewyddu'n partneriaeth strategol. Rydyn ni'n croesawu ymrwymiad y BBC i gynnal ei wariant ar raglenni ar gyfer y deg awr o raglenni bob wythnos y mae'r gorfforaeth yn eu darparu i ni. Bydd yn sicrhau bod eu rhaglenni o ansawdd uchel yn parhau'n gonglfaen i'n gwasanaeth.
"Mae cytundeb y bartneriaeth yn galluogi'r ddau ddarlledwr i rannu talentau ac adnoddau i greu rhaglenni cyffrous ac arloesol, a thrwy'r bartneriaeth greadigol yma, rydyn ni'n bwriadu sicrhau'r gwasanaeth gorau posib i'n cynulleidfaoedd."
Ewch i bbc.co.uk/cymru/gwybodaeth/safle/rheolaeth/pages/s4c.shtml i ddarllen y cytundeb partneriaeth strategol yn llawn.
I gael rhagor o wybodaeth cysylltwch â Kate Stokes Davies o BBC Cymru Wales ar 029 2032 2131 neu Owain Pennar o S4C ar 029 2074 1416
Nodiadau
Bydd y trydydd cytundeb partneriaeth strategol yn rhedeg o 2013/14 i 2016/17. Cafodd partneriaethau strategol blaenorol eu cytuno yn 2006 a 2010. Mae'r Bartneriaeth Strategol wrth wraidd y gwerth ariannol a threfniadau atebolrwydd y rhaglenni sy'n cael eu cyflenwi i S4C gan BBC Cymru Wales.
Mae'r bartneriaeth hirdymor yma'n gytundeb ar wahân i'r Cytundeb Gweithredol rhwng y darlledwyr. Mae'r Cytundeb Gweithredol yn cynnwys y trefniadau ariannol ac atebolrwydd i gyllid y ffi drwydded sy'n cael ei ddarparu gan Ymddiriedolaeth y BBC i S4C o Fis Ebrill 2013 ymlaen. Mae'r trefniadau cyllido newydd yn ffurfio rhan o setliad diweddara'r Ffi Drwydded a gyflwynwyd gan Adolygiad Gwariant Llywodraeth y DU ym mis Hydref 2010. O dan amodau'r Cytundeb Gweithredol, bydd S4C yn derbyn £76.4 miliwn y flwyddyn yn uniongyrchol yn 2013/2014 gan Ymddiriedolaeth y BBC. Mae'r cytundeb yma, sydd yn un ar wahân i'r cytundeb uchod, yn para tan 2016/17.
Mae'r cydweithio creadigol rhwng S4C a BBC Cymru Wales yn cynnwys prosiectau sydd wedi'u cyhoeddi fel comedi newydd Portars gyda BBC Radio Cymru a phrosiect arloesol digidol traws-gyfrwng ar gyfer Pobol y Cwm.