Danny Cohen orders eight new episodes of Call The Midwife - BBC One's biggest new drama launch on record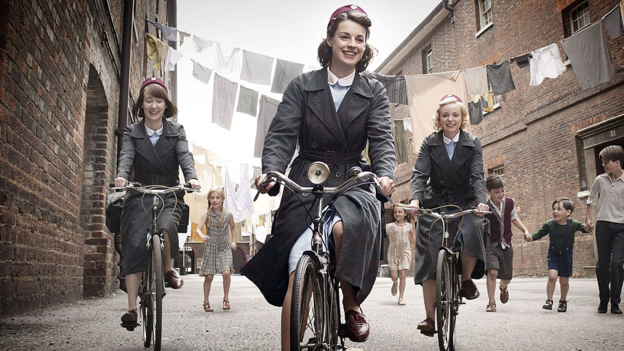 Date: 23.01.2012
Last updated: 18.03.2014 at 17.52
Following outstanding ratings BBC One Controller, Danny Cohen, announces Call The Midwife has been recommissioned for a second series from Neal Street Productions.
Call The Midwife has captured the hearts of audiences on Sunday nights at 8pm, the series opener last week consolidated at 9.8million viewers making it BBC One's highest launch episode of a new drama on record. With last night's episode averaging a massive 8.6 million as audiences tuned in to see Miranda Hart join the cast of nursing nuns.
Danny Cohen says: "Call The Midwife has had a huge impact with audiences. It's a very high-quality drama series from a brilliant team. It manages to be both hard-hitting and emotional, gritty and warm. I am already looking forward to the second series."
Ben Stephenson, Controller, BBC Drama Commissioning, adds: "Call The Midwife is a totally original mix of comedy, tears, babies and nuns and it is fantastic to see this distinctive piece of British drama win such high praise and ratings. We can't wait for the team to return next year and are very grateful to the vision of Jennifer Worth and Heidi Thomas."
Based on the best-selling memoirs of the late Jennifer Worth, adapted by Heidi Thomas and produced by Neal Street Productions, Call The Midwife is a moving, funny and colourful look at midwifery and family in 1950's East End London. The story follows Jenny, played by newcomer Jessica Raine, who joins an eccentric and loveable community of nursing nuns played by Jenny Agutter as Sister Julienne, Pam Ferris as Sister Evangelina, Miranda Hart as Chummy and Judy Parfitt (as Sister Monica Joan).
The series reveals their friendships and the extraordinary true stories they encounter, as they are drawn into the lives and homes of the women and families they treat.
Pippa Harris, Executive Producer, Neal Street Productions, says: "We are thrilled that viewers have taken Call The Midwife to their hearts. The re-commission is a fantastic tribute to Jennifer Worth and will ensure that her legacy lives on. We're very much looking forward to working with our tremendous cast and crew to revisit the residents of Nonnatus House."
Nicola Methven, The Daily Mirror - "New ratings champion is born at the BBC. New BBC Sunday night drama Call The Midwife has pushed harder than Downton Abbey when it comes to winning the ratings war."
Caitlin Moran, The Times - "frankly, off-the-scale ballsy… In a nutshell, Call The Midwife brought the full, visceral nature of human reproduction and sexuality to the screen in all its agonising, bloody, disturbing, exhausting, life-threatening glory, in a tea-time slot more usually occupied by pampered Pomeranians with a cough, or Last Of The Summer Wine."
AA Gill, Sunday Times - "Call The Midwife was utterly winning... it is properly family watching."
Adam Sherwin, Independent - "Midwives deliver ratings… Now the Royal College of Midwifes is braced for a rush of applicants after a BBC Drama that has placed medicine's 'unsung heroes' firmly in the spotlight."
MO
Search the site
Can't find what you need? Search here
Related Media Centre Links