BBC unveils The Matt Lucas Awards - coming this Spring to BBC One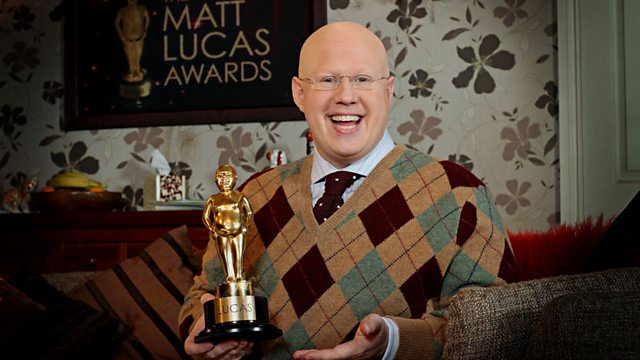 Writer, comedy actor, star of musicals & now host of his own show. Is there nothing Matt cannot do? He'll probably go and win a medal at the Olympics next."

Mark Freeland, BBC Head of Comedy
Date: 16.03.2012
Last updated: 18.03.2014 at 17.59
Matt Lucas (Little Britain, Come Fly With Me) is bringing his very own awards show to BBC One and BBC One HD.
Based on his radio series 'And The Winner Is...', as heard on BBC Radio 2, The Matt Lucas Awards is the show that gives out the awards that other shows don't, whether it's Smuggest Nation of People or Most More-ish Food. The nominations are provided each week by three celebrity guests before Matt finally decides the winner of the much-coveted and exquisitely-titled 'Lucas' statue – a golden miniature naked Matt Lucas!
Unlike other award shows, The Matt Lucas Awards doesn't come from a swanky hotel but takes place in Matt's flat where he is joined in the kitchen by his Mum (yes, his real mum) and on keyboards by the renowned film composer David Arnold, (best known for scoring five James Bond films as well as winning a Grammy for Independence Day) and a live studio audience.
Matt says: "I'm not dressed as a woman, there's no prosthetics and no swearing, so you probably won't recognise me. Oh, and my mum's in it."
Mark Freeland, BBC Head of Comedy, says: "Writer, comedy actor, star of musicals & now host of his own show. Is there nothing Matt cannot do? He'll probably go and win a medal at the Olympics next."
In episode one, the guests are comedian Jason Manford, former Goodie Graeme Garden and German stand-up Henning Wehn. Future guests include Ruth Jones, Louis Walsh, Johnny Vegas, David Baddiel, Griff Rhys Jones, Richard Madeley and Maureen Lipman.
The Matt Lucas Awards will make its debut on BBC One and BBC One HD this Spring.
Front Desk Publicity
Search the site
Can't find what you need? Search here