Mark Gatiss returns to BBC Four to tell story of European horror cinema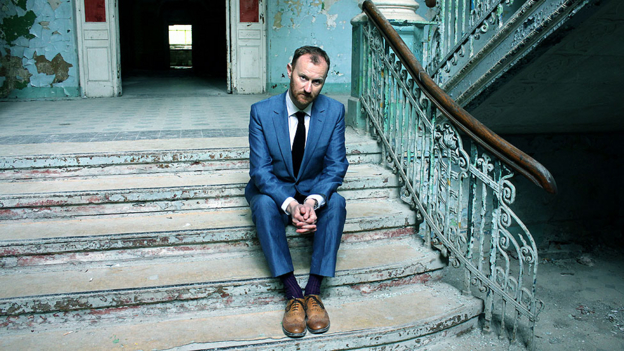 I'm going in search of the stories behind the classics of European horror cinema -and meeting the people from across the continent who created the films I most admire."

Mark Gatiss
Date: 04.10.2012
Last updated: 18.03.2014 at 18.07
This October, Mark Gatiss returns to BBC Four with a feature-length exploration of European horror cinema – Horror Europa With Mark Gatiss.
Following his acclaimed 2010 BBC Four series A History Of Horror, Mark turns to explore the story of European horror, looking at how the genre came to reflect the continent's turbulent 20th century.
Mark Gatiss said: "What fascinates me about the story of European Horror is its sheer diversity, the sense that there's a parallel, but entirely separate story to the English language one.
"Europe is so much the home of Horror, with its myths of vampires, werewolves, witchcraft and the undead, yet it's like those myths were exported to Hollywood, leaving Europe the room to develop a new tradition as a way of processing its traumas, particularly the two world wars.
"Now I'm going in search of the stories behind the classics of European horror cinema - and meeting the people from across the continent who created the films I most admire."
Mark Bell, BBC Commissioning Editor, Arts, said: "It is great to have Mark Gatiss back on BBC Four to complete his tour of the world of horror. He combines the enthusiasm of the fresh-faced fan with unparalleled knowledge and expertise. This film is ideal for anyone with curiosity, a strong constitution and a tongue in their cheek."
Mark's voyage takes him across Europe, from the castle in Slovakia where FW Murnau shot Nosferatu (1922), to the hotel in Ostend, Belgium where Harry Kümel filmed his erotic vampire classic, Daughters Of Darkness (1971).
Other highlights include a visit to Paris where Mark meets Edith Scob, the woman behind the mask in the extraordinary Eyes Without A Face (1960), while in Rome, Mark discusses Italy's distinctive brand of horror, the "Giallo" thriller, with master director Dario Argento.
In Madrid he has a rare interview with the godfather of Spanish horror, Narciso Ibáñez Serrador, before speaking with today's foremost exponent of Spanish-language horror, Guillermo del Toro.
Horror Europa With Mark Gatiss (1x90) was commissioned by Mark Bell, Commissioning Editor, Arts, and is executive produced by Michael Poole for BBC Bristol.
It will be shown on BBC Four at the end of October 2012.
SH6
Search the site
Can't find what you need? Search here