Fabrice Muamba talks to Jason Roberts in exclusive interview for Radio 5 live
Even though Fabrice and I are friends, this was the first time we'd spoken about his collapse. It was really emotional for me talking about the day and seeing how his perspective and outlook on life has changed."

Jason Roberts
Date: 02.11.2012
Last updated: 18.03.2014 at 17.55
In an exclusive interview to be broadcast on BBC Radio 5 live at 12.00pm on Sunday 4 November, ex-Bolton midfielder, Fabrice Muamba speaks to Reading striker and 606 presenter, Jason Roberts about the moment he collapsed on the pitch and how his life has been since waking up from the coma.
Together they sit through footage of the collapse, as Fabrice witnesses for the first time how the day was covered. Watching the events unfold, Fabrice comments: "To see it and hear the commentary of it right now, and see me in hospital, it's like a movie. It's still like I'm acting in a movie."
The moving interview also looks at Fabrice's family's faith, his son re-enacting his collapse and what he plans to do now he has retired from football.
Some interview highlights
Talking about his collapse:
FM: "The paramedic, the Spurs physio, they were heroes. That is what you call heroes. To give me all that kind of stuff to keep my body together when I was down. There was a doctor in the crowd, Dr Deaner, he's a great guy and thankfully he was there. They were an amazing team full of knowledge, and they gave me CPR and never gave up on me."
On his family's reaction to his collapse:
JR: "Back in Cheshire your wife Shauna and son Joshua were watching the game and when you collapsed Joshua shouted at the TV, 'Mummy, Daddy is frozen'. Have you spoken to Joshua about what he saw that day?"
FM: "When we talk he'll say, 'Daddy, you know when you were on the floor, I saw it' and I say 'Ok' and he always reminds me, he even does the action, you know, of how I was on the floor."
On the response from the footballing community when looking at pictures of high profile players like Messi wearing a t-shirt of support:
FM: "This event brought the whole football world together and I'm grateful for this, and the support was overwhelming. To see players like Messi, I know Messi, but I only know him as a footballer, I don't know him, so I'm just grateful for this and the whole football world for pulling the whole thing together."
Reflecting on what happened:
FB: "You don't appreciate life until you get to the other side. Like lying down in a bed, you can't carry your car with you, you can't carry your wallet with you, you can't carry the casual stuff, but family and God that is what's important.
"Money, cars, those are things that come and go. Everyone wants more money, bigger cars, but when I was there, I didn't see my car come and give me CPR. That's just impossible. I appreciate life more now because I've been to the other side."
Commenting after the interview, Jason said: "Even though Fabrice and I are friends, this was the first time we'd spoken about his collapse. It was really emotional for me talking about the day and seeing how his perspective and outlook on life has changed.
"As heart-breaking as what he's been through is, spending time speaking to Fabrice makes me realise not to take things for granted - my family, my football - and also brings home to me we are not footballers forever.
"Fabrice talking about his situation was so inspiring because I was getting emotional talking and listening to him and watching the footage of the day, but Fabrice just takes it all in his stride, and his humour and candour are amazing."
The full interview, 'Jason Roberts Meets Fabrice Muamba', will broadcast in 5 live Sport on 4 November at 12.00pm on BBC 5 live.
Fabrice and Jason are also lending their support to 5 live as the station teams-up with BBC Children in Need for their first Football Fundraiser. The project aims to raise awareness about the amazing work that organisations funded by BBC Children in Need do with disadvantaged children all over the UK - including groups that help children through football by providing fun, friendship, fitness and a sense of belonging to a team.
One of the groups the charity supports is the Invicta Valiants – a football club in Kent for children who are physically disabled or have learning difficulties. For the first time since his collapse, Fabrice pulled on his boots during a recent visit to the club where he and Jason joined in for a kick about with these inspirational kids and to capture some of the club's inspiring work.
BBC Radio 5 live broadcast a short feature about Fabrice's and Jason's visit to Invicta Valliants in October, and football grounds around the UK will also show a film about the visit on their big screens on match days through to the beginning of December, giving football supporters the chance to donate to BBC Children in Need.
BBC Children in Need supports a wide range of projects, right here in the UK, and every donation really makes a difference. To get involved in 5 live's Football Fundraiser by donating £5 to BBC Children in Need, please text the word FOOTBALL to 70705.
Text messages cost £5 plus your standard network charge and every penny of your £5 will go to BBC Children in Need, registered charity number 802052 (England and Wales) SC039557 (Scotland).
For full terms and conditions, please visit www.bbc.co.uk/pudsey. You must be over 16 and ask the bill payer's permission.
NC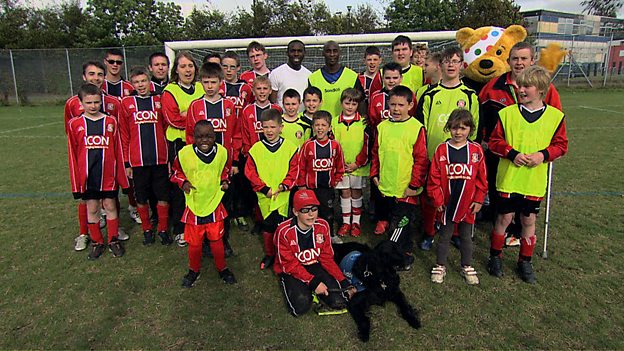 Football Fundraiser with Fabrice Muamba and Jason Roberts
Search the site
Can't find what you need? Search here