BBC Three Comedy Marathon from the Edinburgh Fringe - exclusively live on the Red Button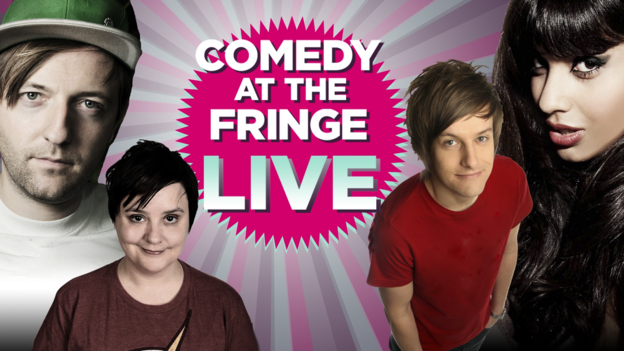 This is the Edinburgh Fringe, as you should see it - late, live and full of surprises."

Will Saunders, Executive Producer
Date: 14.08.2012
Last updated: 18.03.2014 at 18.04
In an Edinburgh Fringe and BBC first a mammoth night of live comedy is coming to the BBC Red Button on Friday 17 August, from 9pm until the small hours of Saturday morning.
This huge night of non-stop comedy features more than 40 Edinburgh Fringe Comedy Festival acts and will be hosted by an Englishman, Irishman and a Scot, as Chris Ramsey, Andrew Maxwell and Susan Calman share MC duties.
Radio 1's Jameela Jamil anchors the night's coverage from the second stage at the BBC's Fringe venue at Potterrow.
MC Chris Ramsey says: "It's going to be long and hard..."THAT'S WHAT SHE SAID!"...really funny too...she didn't say that."
BBC Three will be showing highlights in a series of special shows later in the month, plus there will be extra programmes for BBC Scotland and BBC Northern Ireland.
As well as watching, the audience can get fully involved by tweeting @bbccomedy on the night and their Tweets will be used to create unique content on the evening.
Susan Calman says: "I'm so excited to be part of the comedy marathon. Anything can and probably will happen. It'll be unmissable!"
Will Saunders, Executive Producer says: "This is the Edinburgh Fringe as you should see it - late, live and full of surprises."
The line-up includes:
Adam Hess, Adam Riches, Ben Target, Brett Domino, Cariad Lloyd, Carl Donnelly, Celia Pacquola, Dane Baptiste, Daniel Sloss, David Elms, Des Clarke, Ellie Taylor, Jamie Demetriou, Janey Godley, Jimeoin, Jimmy Cricket, Joel Dommett, Joey Page, Harriet Kelmsley, Mae Martin, Mark Nelson, Marlon Davis, Matthew Crosby, Matt Rees, Michael Legge, Naz Osmangoglu, Nick Mohammed, Nick Sun, Nina Conti, Paul Foot, Phil Kay, Rob Beckett , Romesh Ranganathan, Sam Simmons, Stephen Carlin, Thom Tuck, Tony Law and Totally Tom, with music from Petebox.
Notes to Editors
The BBC Three Comedy Marathon will contain 8 hours live on the Red Button on Friday 17 August, plus 2 x 30mins for BBC Scotland (TX later in August) 1 x 30 for BBC Northern Ireland and then 1 x 60 and 4 x 30 for BBC Three.
Standby tickets for all events at the BBC Fringe venue, with availability, will be released daily at 11am from the BBC Information Point at the site entrance on the corner of Potterrow and Marshall Street.
Follow @bbccomedy on Twitter for line ups and bbc.co.uk/bbcthree for the full schedule
Follow @bbcedfest on Twitter for the event line up and bbc.co.uk/edinburghfringe for the full schedule at Potterrow until 26 August.
CM2
Search the site
Can't find what you need? Search here