From Schubert to Adele, BBC Two to tell Howard Goodall's Story Of Music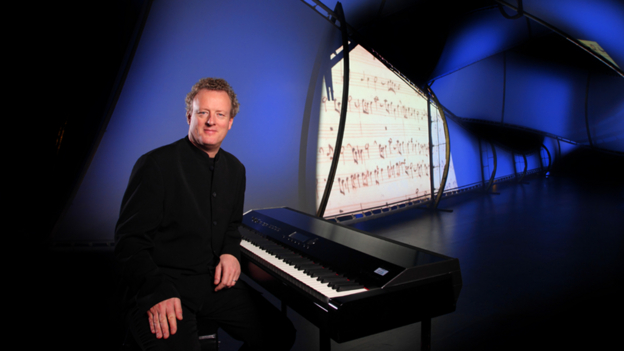 I'm delighted to welcome Howard Goodall back to BBC Two. As a talented communicator and musician he is the perfect person to present this fascinating look at the extraordinary development of music's history over thousands of years."

Janice Hadlow, Controller, BBC Two
Date: 12.12.2012
Last updated: 18.03.2014 at 18.03
This January, as part of the BBC's commitment to music programming, BBC Two presents Howard Goodall's Story Of Music, an epic overview of the development of western music - from Cave to Cantata, from Bach to Bowie - in a landmark 6x60' prime-time series, written and presented by award-winning broadcaster and composer, Howard Goodall.
With complementary programming on BBC Radio 3, including free downloads of introductions to 50 key musical works, and a BBC learning project to reach out to teachers and young people, the television series, produced by Tiger Aspect, presents Howard's personal view of musical invention from the Stone Age to the Digital Age, including the influence of classical music on the growth of popular music as well as the evolution of blues, jazz and world music.
Abandoning the traditional categories of 'Baroque', 'Classical' or 'Romantic', Howard instead reshapes the chronology into distinct 'ages', following the way music has shocked, challenged and entranced audiences across the centuries – the Age of Discovery, the Age of Invention, the Age of Elegance & Sensibility, the Age of Tragedy, the Age of Rebellion and the Popular Age.
Howard, himself an accomplished performer, arranger, composer and conductor will perform and demonstrate the techniques and theories encountered along the musical journey. He will also reflect on historical and social developments which have led to the bewildering musical exuberance of our own time, arguing that the perceived gap between classical and popular music is mostly an artificial one. The series will also feature specially recorded performance excerpts from, among others, violinist Nicola Benedetti, the Sacconi Quartet, singers Noah Stewart, Emma Williams, Meeta Raval and Nathan Vale, and the Maria Fidelis Convent School Gospel Choir, as well as a host of other performers.
Janice Hadlow, Controller of BBC Two says: "I'm delighted to welcome Howard Goodall back to BBC Two. As a talented communicator and musician he is the perfect person to present this fascinating look at the extraordinary development of music's history over thousands of years."
Howard Goodall's Story of Music is A Tiger Aspect Production for the BBC, commissioned by Jan Younghusband, Commissioning Editor for Music and Events for and on the behalf of Janice Hadlow, Controller of BBC Two.
To provide further depth and discussion, extracts of the series will be made available online by BBC Learning for Teachers and Schools in 2013 along with learning resources. BBC Learning is also filming young people creating their own compositions in response to some of the key works featured in the Story Of Music as part of a Learning Zone special about composition, featuring the BBC Philharmonic.
Howard Goodall will also join BBC Radio 3 presenter Suzy Klein for the Story Of Music in 50 pieces. Broadcast on weekdays in Essential Classics and In Tune, Howard and Suzy will discuss how 50 key works, chosen personally by Howard, contributed to the development of music. The features will be made available as free collectible downloads from the BBC Radio 3 website. From 28 January, Sue Perkins and Tom Service will also present Story Of Music Question Time. In the intervals of Live in Concert (starts from 7:30pm), Sue and Tom will answer audience questions on music's past, present and future in five weekly episodes.
Roger Wright, Controller BBC Radio 3 and Director, BBC Proms says: "We are delighted to reach out to our audiences on-air, and online with our free downloads of introductions to 50 key musical works, chosen by Howard, providing further context and discussion to BBC Two's remarkable series. As the home of classical music, Radio 3 looks forward to exploring many great works and discussing their place in history."
For a full description of the six episodes you can download the media pack here
AH/EH
Notes to editors
Howard Goodall is an EMMY, BRIT and BAFTA award-winning composer of choral music, stage musicals, film and TV scores, and a distinguished broadcaster. He was appointed Commander of the Order of the British Empire (CBE) in the 2011 New Year Honours for services to music education
David Jeffock is the Series Producer, Paul Sommers the Executive Producer, and Frances Hanly the Series Director
The BBC aims to provide the broadest range and depth of music and arts programmes across Television and Radio
The BBC aims to provide context through original, fresh discussion and perspectives
BBC Radio 3 is the home of classical music. The station also broadcasts a wide range of cultural programming including jazz, world music, arts and over 30 new drama programmes a year. BBC Radio 3 features more live classical music programming than any other station and is the home of the BBC Proms, broadcasting every Prom live and over 600 complete concerts a year. The station is also the most significant commissioner of new musical works in the world and is committed to supporting new talent, composers, writers and new young performers through schemes such as World Routes Academy, New Generation Artists and New Generation Thinkers.
Search the site
Can't find what you need? Search here