Commissioned by BBC Media Action and produced by BBC Urdu, Sachay Sawal was a special debate series broadcast in 2013 at the time of Pakistan's landmark general election.
In partnership with Express TV and Radio Pakistan, Sachay Sawal ('True Questions' in Urdu) ran for four episodes and toured Pakistan, airing the major concerns of audiences in Karachi, Islamabad and Lahore on both TV and radio.
Hosted by nationally renowned current and foreign affairs presenter, Sana Bucha, the show brought together political figures and audiences to debate the election's most pressing issues.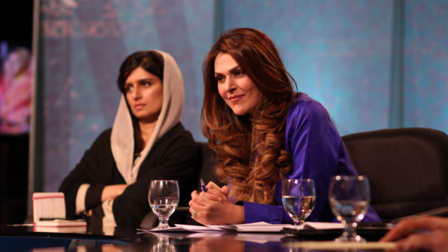 Hot topics
Panellists discussed and were questioned on the rise of extremism, dynastic politics, the economic impact of faltering law and order, and the future of democracy. Taboo subjects such as religious discrimination and the country's blasphemy laws, rarely touched on in Pakistani media, were also addressed.
"Those behind Hazara killings openly accept responsibility on social media. What has the government done in the last five years to stop them?" asked Fatima, a mother of two, of the panel in Islamabad, including former Foreign Minister, Hina Rabbani Khar of the Pakistan People's Party.
Landmark election
May 11 2013 marked a major milestone in the country's history with the first ever general election seeing a transfer of power from one democratically elected government to the next, after long periods of military rule since partition from India in 1947.
Nonetheless, the country remains affected by insecurity, breakdown of the rule of law and security, and high level corruption. Many Pakistanis are eager to question those in authority, broach taboos and hold to account those who will shape their futures.
Sachay Sawal was made with funding from the UK government's Department for International Development.
Related links:
Taboo subjects such as religious discrimination and the country's blasphemy laws were addressed