From 2012 to 2014, BBC Media Action is working on a radio project in Tanzania that aims to increase people's resilience to climate change and improve local government accountability.
Full-time mentors are embedded at three partner radio stations in the Morogoro and Dodoma regions – Abood FM, Dodoma FM and Ulanga FM.
The mentors provide training in editorial standards, programme making and management. With this support, the stations make their own local version of a programme called Nyakati Zinabadilika (which means "the times/winds are changing" in Kiswahili).
The shows explore topics such as "climate-smart" farming and livestock practices – for example, drought-resistant crops and terracing – and ways people can diversify their incomes through leather and honey production and chicken keeping.
Weekly live discussion programmes, meanwhile, connect listeners with leaders and experts in their communities, providing a platform for increased accountability.
As part of the project, Haba na Haba (Little By Little), BBC Media Action's national radio show broadcast five special programmes focusing on resilience-related issues such as deforestation.
Halfway through the project, more than 170 episodes of Nyakati Zinabadilika and 43 live discussion programmes had been produced. Our research findings showed that listeners were taking action as a result of listening to these shows.
One woman from Dodoma town said the programmes had given her valuable advice: "I have been able to learn what to cultivate when there is scant rainfall," she said. "And what to cultivate when the rains are heavy."
The show has also inspired people to demand more support from their government.
A listener from Ulanga town, told our researchers: "I formed a group as a result of the knowledge acquired from the programme. We decided to go our agricultural officer and asked him to advise us how we can succeed in agriculture although we have no capital."
"He helped us organise the group and we have already registered our group and opened a bank account. We are now planning on growing mangoes, coconuts and oranges."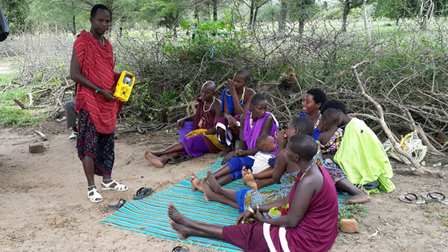 The project is also in partnership with 12 non-governmental-organisations and civil society organisations. These give the radio stations technical advice and facilitate discussion groups with their listeners. Events held at open days encourage collaboration between government, media and the NGO sector to improve people's resilience to climate change.
The project is funded by Accountability in Tanzania.


Related links:
BBC Media Action's work in Tanzania 
BBC Media Action's work on resilience
I have learned what to cultivate when there is scant rainfall