BBC Media Action is using radio drama and discussion to encourage political accountability in Nigeria.
People across the country can tune in to hear programmes which inform and trigger debate and action about how the country is governed, their rights and responsibilities as citizens, and how dialogue can be used to settle conflicts.
Radio soap Story Story and magazine show Talk Your Own - Make Naija Better (Make Nigeria Better) are broadcast in Pidgin English, spoken throughout the country but particularly in the south. Radio soap Gatanan Gatanan Ku (Telling a Story), which is modelled on Story Story, and its accompanying discussion format programme Mutattauna (Let's Discuss) is broadcast in Hausa, the most widely-spoken language in the country's north.
Story Story
BBC Media Action's radio output has played a role in improving people's knowledge of the democratic process in Nigeria since 2004 when radio soap Story Story first went on air.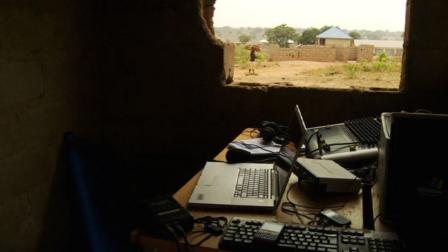 The drama - set in a market and the motor park next door - now reaches more than 13 million people in Nigeria. It is broadcast on 111 partner stations in Nigeria and by the BBC World Service, reaching audiences across Africa.
Real-life characters
Writer and actor Jab Adu says the production team makes sure their stories show the effect of corruption or a lack of accountability on real people.
"The characters express the frustrations ordinary Nigerians feel. They also give their views of what should be done," he says.
Joy James, a stall-holder from the Karshi district near Abuja, says she likes the drama because she can relate to the characters.
"It is so educative and I like the political dimension. [The character of] Madam Philo for instance manages a shop like me. She has shown me, as a business woman and as a mother that you need to be honest and humble with people."
"Drama works because there are those of us who don't like to read and others that are not so educated. Because Story Story uses Pidgin [English], this gets messages across simply. It offers much more than a newspaper."
Participation and accountability
BBC Media Action's research found many Nigerians lacked awareness of their rights and responsibilities as citizens and of mechanisms to hold their government officials to account. Story Story – and other BBC Media Action radio programmes in Nigeria, aims to improve the understanding of these key governance issues with the aim of increasing participation and accountability in Nigerian political life and encouraging greater dialogue throughout the country.
Make Naija Better
People like Joy can now tune into 30-minute weekly magazine programme Talk Your Own – Make Naija Better (Make Nigeria Better) which began broadcasting in Pidgin English in January 2013. It's formats include interviews, discussions, and walkabouts to hold leaders to account. Listeners are invited to participate through SMS message, its Facebook page and Twitter. It currently airs on 111 broadcast partner stations across Nigeria.
Focusing on issues like education, electricity, water and roads, the programme explores ways citizens can participate in governance decisions that affect their lives – through engagement with leaders and government institutions, public petitions, legal protest, etc.
For example, one show examined Nigeria's national policy of free education and revealed the many hidden costs such as examination fees, uniforms and classroom materials. The highlight of the programme came when a mother from Enugu questioned the State Commissioner of Education about the cost of sending her children to school.
Listeners feel the programme provides a platform for them to learn to question and engage their government. One listener, Josephine from Abambra said, "After listening, I realised I could petition a hospital which misdiagnosed my case through the Public Complaints Committee. I didn't know the PCC existed before now."
Telling a story
In northern Nigeria, meanwhile, radio drama Gatanan Gatanan Ku (Telling a Story) is broadcast on BBC Hausa and 12 partner stations. A 15-minute soap opera modelled on Story Story, it tackles political and social issues like service delivery, community involvement in governance issues, corruption and women's participation in community development from a northern Nigerian perspective.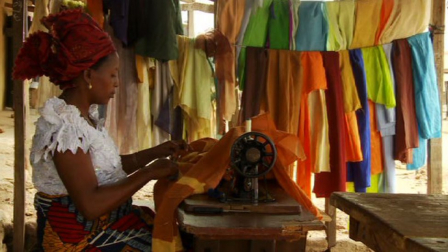 The themes of the drama are then discussed in Mutattauna (Let's Discuss), a 15-minute studio debate programme which explores how the drama's storylines relate to northern Nigerians' everyday experience. As with Story Story and Talk Your Own, Gatanan Gatanan Ku and Mutattauna aim to increase the audience's knowledge about the concrete steps they can take.
Significant unrest
Northern Nigeria suffers from significant unrest and some of the lowest levels of development and highest levels of poverty in the country.
Project Manager Damian Ihekoronye is enthusiastic about how Gatanan Gatanan Ku can help people in the area. "I like hearing what our audiences are saying about our governance programmes. It's great to know they don't just tune into our programmes to be entertained but also to learn things they then share and debate with their family and friends.''
Story Story, Talk Your Own – Make Naija Better,  and Mutattauna are currently produced with funding from the UK government's Department for International Development.
Related links:
Talk Your Own – Make Naija Better on Facebook
Gatanan Gatanan Ku on Facebook
BBC Media Action's work in Nigeria
The characters express the frustrations ordinary Nigerians feel. They also give their views of what should be done