Dramas from BBC Learning English
Intermediate and above level
The White Elephant: Episode 17: Timing
Episode 160401 / 01 Apr 2016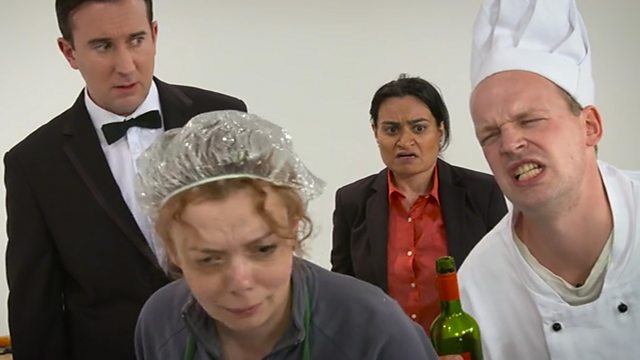 Ceilia
Something smells nice.
Gordon
Ah, that'll be my 'coq au vin' – I've created a superior dish to attract a better type of customer.
Ceilia
It's about time you did. I'm glad that we actually have got a customer, so make it snappy otherwise they'll escape.
Gordon
Ceilia, it can take all the time in the world to make something as special as this. Now, one for the pot… and one for me.
Peter
Customer on table four says they haven't got all day, so hurry up.
Ceilia
Give them this to keep them sweet.
Gordon
I'll take that thank you… for the food of course.
Ceilia
Come on Gordon, every second counts. Oh, thank goodness you're here Mary. Just in the nick of time. I think I'm going to need your help.
Gordon
Ah, lovely Mary… did I ever tell you, I love those rubbery gloves?
Ceilia
There's a customer out there who's waiting for his food and Gordon is in no fit state to cook.
Gordon
Mary, have you tried my coq au vin?
Mary
Hmm, right. Leave this to me.
Peter
The customer's not happy… he says he's only going to wait for five more minutes.
Ceilia
It's a race against time. Mary, can you do it?
Gordon
You smell lovely.
Mary
Made it – with seconds to spare!
Peter
That was a close one.
Gordon
Smells delicious… that's better!
Vocabulary
it's about time
you should have done this earlier

make it snappy
be quick
all the time in the world
lots of time available to do something
every second counts
don't waste any time
in the nick of time
at the last moment
it's a race against time
there's a limited amount of time to finish something
with seconds to spare
just in time
that was a close one
we just managed to avoid something bad happening
Credits
Gordon Grater: Neil Frost
Ceilia Spatula: Amina Zia
Peter Peppermill: Darren Benedict
Marigold Marcelo (Mary for short): Stacha Hicks
Written, produced and directed by: Rob Carter
įˆį‹µįˆ½ į"į‹µįŠ«įˆµį‰µį‰³į‰µ į‰°įˆ˜įˆįŠØį‰µ Dramas from BBC Learning English
įˆįˆ³įŠ¹įˆ į‰µįˆ›įˆįŠ"į‹Ž
Cancer survivor swims Channel four times non-stop

Follow our courses