บทเรียนย่อย

4

Welcome to The Teachers' Room. The show all about teaching practice. Grab a cup of coffee, pull up an armchair and relax. Learn something new, remember something fundamental or just have a giggle.
แบบฝึกหัด

1
The Teachers' Room
Top tips about intonation
Why are Sian and Dan so robotic all of a sudden? It must be time to talk about intonation.
รับชมวิดีโอพร้อมทำแบบฝีกหัด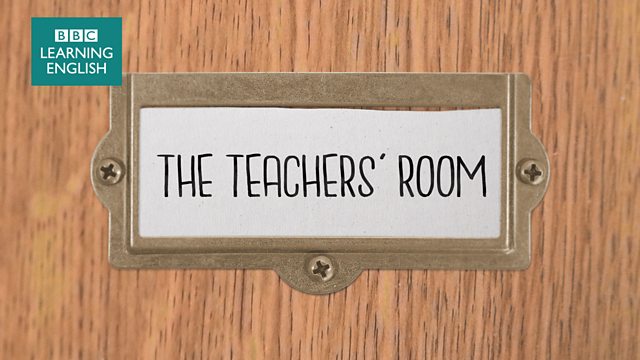 ___________________________________________________________________
Did you like that? Why not try these?
___________________________________________________________________________________________
3 Ideas for Intonation
Intonation is important. A lack of it will make your students seem rude, bored, uninterested or just boring!

Mix it in
Don't do whole lessons on intonation. It's better to mix it in where appropriate, such as when it has a specific grammar function (e.g. question tags) or whenever doing speaking practice.
Make it fun
There are lots of ways to teach intonation, but try and make it enjoyable and interesting. We suggest:
humming dialogues – students write short dialogues and practice the intonation of them through non-verbal humming.

one line emotional practice – Since intonation is linked to emotion and circumstance, have students practice saying the same things with different emotions. Note how it changes their intonation

role-plays – extend the above practice by doing role-plays and drama. Take a script or have students write their own script, thinking about how the character is feeling and how they show this in their intonation.

Contrastive stress
Contrastive stress is important when correcting wrong information and highlighting key words. Get students to play correct me, where one student deliberately changes what they have heard in order to allow the second student to correct it using their intonation. E.g.:
A: I bought a car yesterday
B: You bought a farm yesterday?
A: No, I bought a CAR yesterday.
B: Oh, you BROUGHT a car yesterday…
Rules of thumb
Remember that intonation depends on context and personality. Everyone's is slightly different. That's why it's better to avoid deep intonation theory. But you can teach general rules:

wh word questions have a falling intonation
yes no questions have a rising intonation
question tags can rise or fall depending on if you are asking or checking
lists generally go down except for the last item, which is rising.
To do
Try our quiz to see if you've picked up our tips.
The Teachers' Room Quiz
5 Questions
Check what you've learned by selecting the correct answer to each question.
แบบฝึกหัด
Check what you've learned by selecting the correct answer to each question.
คำใบ้
If someone sounds extremely flat, does it seem like they care what is happening?
How can a student who speaks with a lack of intonation sound to their listener?
a
Bored, rude or uninterested in the conversation
V2VsbCBEb25lLiBJbnRvbmF0aW9uIGdlbmVyYWxseSByaXNlcyBhbmQgZmFsbHMsIHRob3VnaCBlYWNoIHBlcnNvbuKAmXMgdmFyaWF0aW9uIGlzIGRpZmZlcmVudC4gV2hlbiBzb21lb25lIGJlY29tZXMgZXhjaXRlZCB0aGVpciBpbnRvbmF0aW9uIHBhdHRlcm4gd2lsbCByaXNlIGFuZCBmYWxsIHRvIGEgZ3JlYXRlciBkZWdyZWUuIEEgbGFjayBvbiBpbnRvbmF0aW9uIHRoZXJlZm9yZSBzZWVtcyBsaWtlIGEgcGVyc29uIGlzIHVuaW50ZXJlc3RlZCBpbiB0aGUgaW50ZXJhY3Rpb24gYW5kIGNhbiBzZWVtIHJ1ZGUu
b
Extremely interested in the conversation
U29ycnkuIEludG9uYXRpb24gZ2VuZXJhbGx5IHJpc2VzIGFuZCBmYWxscywgdGhvdWdoIGVhY2ggcGVyc29u4oCZcyB2YXJpYXRpb24gaXMgZGlmZmVyZW50LiBXaGVuIHNvbWVvbmUgYmVjb21lcyBleGNpdGVkIHRoZWlyIGludG9uYXRpb24gcGF0dGVybiB3aWxsIHJpc2UgYW5kIGZhbGwgdG8gYSBncmVhdGVyIGRlZ3JlZS4gQSBsYWNrIG9uIGludG9uYXRpb24gdGhlcmVmb3JlIHNlZW1zIGxpa2UgYSBwZXJzb24gaXMgdW5pbnRlcmVzdGVkIGluIHRoZSBpbnRlcmFjdGlvbiBhbmQgY2FuIHNlZW0gcnVkZS4=
c
Exciting and someone worth talking to
U29ycnkuIEludG9uYXRpb24gZ2VuZXJhbGx5IHJpc2VzIGFuZCBmYWxscywgdGhvdWdoIGVhY2ggcGVyc29u4oCZcyB2YXJpYXRpb24gaXMgZGlmZmVyZW50LiBXaGVuIHNvbWVvbmUgYmVjb21lcyBleGNpdGVkIHRoZWlyIGludG9uYXRpb24gcGF0dGVybiB3aWxsIHJpc2UgYW5kIGZhbGwgdG8gYSBncmVhdGVyIGRlZ3JlZS4gQSBsYWNrIG9uIGludG9uYXRpb24gdGhlcmVmb3JlIHNlZW1zIGxpa2UgYSBwZXJzb24gaXMgdW5pbnRlcmVzdGVkIGluIHRoZSBpbnRlcmFjdGlvbiBhbmQgY2FuIHNlZW0gcnVkZS4=
แบบฝึกหัด
Check what you've learned by selecting the correct answer to each question.
คำใบ้
Role-plays are a form of acting and in order to act well, actors must be able to show…?
How do role-plays help students practise their intonation?
a
Role-plays involve acting which makes students more self-confident, which will make their intonation bolder.
VGhhdOKAmXMgbm90IHJpZ2h0LiBCeSBwcmFjdGlzaW5nIGFuZCB2YXJ5aW5nIHRoZWlyIGludG9uYXRpb24gdGhyb3VnaCBlbW90aW9uYWwgdmFyaWV0eSBhbmQgcm9sZS1wbGF5LCBzdHVkZW50cyB3aWxsIGJlZ2luIHRvIGRldmVsb3AgYSBtb3JlIG5hdHVyYWwgZmVlbCB0byB0aGVpciBzcGVlY2ggYW5kIHdpbGwgYmUgYmV0dGVyIGFibGUgdG8gdXNlIHRoZWlyIG93biBpbnRvbmF0aW9uIHRvIHN1cHBvcnQgdGhlaXIgbWVhbmluZyBpbiBhIHJhbmdlIG9mIGNvbnRleHRzLCBpbmNsdWRpbmcgZW1vdGlvbmFsIG9uZXMu
b
Role-plays involve acting, allowing students to practise being in certain situations, such as at the doctors. This means they can memorise the intonation pattern for each dialogue.
VGhhdOKAmXMgbm90IHJpZ2h0LiBCeSBwcmFjdGlzaW5nIGFuZCB2YXJ5aW5nIHRoZWlyIGludG9uYXRpb24gdGhyb3VnaCBlbW90aW9uYWwgdmFyaWV0eSBhbmQgcm9sZS1wbGF5LCBzdHVkZW50cyB3aWxsIGJlZ2luIHRvIGRldmVsb3AgYSBtb3JlIG5hdHVyYWwgZmVlbCB0byB0aGVpciBzcGVlY2ggYW5kIHdpbGwgYmUgYmV0dGVyIGFibGUgdG8gdXNlIHRoZWlyIG93biBpbnRvbmF0aW9uIHRvIHN1cHBvcnQgdGhlaXIgbWVhbmluZyBpbiBhIHJhbmdlIG9mIGNvbnRleHRzLCBpbmNsdWRpbmcgZW1vdGlvbmFsIG9uZXMu
c
Role-plays involve acting which allows students to practise conveying emotion through their intonation.
R29vZCBKb2IhIEJ5IHByYWN0aXNpbmcgYW5kIHZhcnlpbmcgdGhlaXIgaW50b25hdGlvbiB0aHJvdWdoIGVtb3Rpb25hbCB2YXJpZXR5IGFuZCByb2xlLXBsYXkgc3R1ZGVudHMgd2lsbCBiZWdpbiB0byBkZXZlbG9wIGEgbW9yZSBuYXR1cmFsIGZlZWwgdG8gdGhlaXIgc3BlZWNoIGFuZCB3aWxsIGJlIGJldHRlciBhYmxlIHRvIHVzZSB0aGVpciBvd24gaW50b25hdGlvbiB0byBzdXBwb3J0IHRoZWlyIG1lYW5pbmcgaW4gYSByYW5nZSBvZiBjb250ZXh0cywgaW5jbHVkaW5nIGVtb3Rpb25hbCBvbmVzLg==
แบบฝึกหัด
Check what you've learned by selecting the correct answer to each question.
คำใบ้
Native speakers can use contrastive stress to politely correct wrong information. Why would this be a useful skill?
Why is contrastive stress useful to students?
a
It allows students to more naturally emulate a native speaker in correcting wrong information and highlight key words without explicitly saying so, which could be rude.
RXhjZWxsZW50LiBDb250cmFzdGl2ZSBzdHJlc3MgaXMgYSB2ZXJ5IG5hdHVyYWwgd2F5IHRvIGNvcnJlY3Qgd3JvbmcgaW5mb3JtYXRpb24gd2l0aG91dCBleHBsaWNpdGx5IHN0YXRpbmcgdGhhdCB0aGVyZSBoYXMgYmVlbiBhIG1pc3Rha2UuIElmIGRvbmUgY29ycmVjdGx5LCBpdCBzb3VuZHMgdmVyeSBuYXR1cmFsIGFuZCBjYW4gYmUgdmVyeSBwb2xpdGUsIG1ha2luZyBpdCBhIGdyZWF0IHNraWxsIHRvIGhhdmUsIGVzcGVjaWFsbHkgd2hlbiBtaXN1bmRlcnN0YW5kaW5ncyBvY2N1ci4=
b
It gets students better at being able to let people know that they are wrong, which makes the student feel good.
QmFkIGx1Y2shIENvbnRyYXN0aXZlIHN0cmVzcyBpcyBhIHZlcnkgbmF0dXJhbCB3YXkgdG8gY29ycmVjdCB3cm9uZyBpbmZvcm1hdGlvbiB3aXRob3V0IGV4cGxpY2l0bHkgc3RhdGluZyB0aGF0IHRoZXJlIGhhcyBiZWVuIGEgbWlzdGFrZS4gSWYgZG9uZSBjb3JyZWN0bHkgaXQgc291bmRzIHZlcnkgbmF0dXJhbCBhbmQgY2FuIGJlIHZlcnkgcG9saXRlLCBtYWtpbmcgaXQgYSBncmVhdCBza2lsbCB0byBoYXZlLCBlc3BlY2lhbGx5IHdoZW4gbWlzdW5kZXJzdGFuZGluZ3Mgb2NjdXIu
c
It gets students thinking about how to focus their intonation onto the single most important word in their sentences, that way, if their pronunciation is wrong, at least the key word will be understood.
QmFkIGx1Y2shIENvbnRyYXN0aXZlIHN0cmVzcyBpcyBhIHZlcnkgbmF0dXJhbCB3YXkgdG8gY29ycmVjdCB3cm9uZyBpbmZvcm1hdGlvbiB3aXRob3V0IGV4cGxpY2l0bHkgc3RhdGluZyB0aGF0IHRoZXJlIGhhcyBiZWVuIGEgbWlzdGFrZS4gSWYgZG9uZSBjb3JyZWN0bHksIGl0IHNvdW5kcyB2ZXJ5IG5hdHVyYWwgYW5kIGNhbiBiZSB2ZXJ5IHBvbGl0ZSwgbWFraW5nIGl0IGEgZ3JlYXQgc2tpbGwgdG8gaGF2ZSwgZXNwZWNpYWxseSB3aGVuIG1pc3VuZGVyc3RhbmRpbmdzIG9jY3VyLg==
แบบฝึกหัด
Check what you've learned by selecting the correct answer to each question.
คำใบ้
Is intonation the same for every person? Every circumstance?
Though not fully explained in the video, why is getting deeply into intonation theory not a good idea?
a
Students don't need to know any intonation rules, they just need to copy the teacher.
U29ycnkuIEludG9uYXRpb24gaXMsIHRvIHNvbWUgZGVncmVlLCBhcyBwZXJzb25hbCBhcyBhIGZpbmdlcnByaW50LiBJdCBhbHNvIGRlcGVuZHMgaGVhdmlseSBvbiBjb250ZXh0LiBJdCBpcyBiZXR0ZXIgdG8gdGVhY2ggc29tZSBiYXNpYyBydWxlcyBhbmQgYWxsb3cgc3R1ZGVudCB0byBuYXR1cmFsbHkgYWNxdWlyZSB0aGVpciBvd24gaW50b25hdGlvbiBzdHlsZSByYXRoZXIgdGhhbiBzcGVuZCB0aW1lIG9uIHRlYWNoaW5nIHNwZWNpZmljIGNvbXBsZXggcnVsZXMu
b
Intonation is like a fingerprint. It is somewhat personal to each individual.
R29vZCBmb3IgeW91ISBJbnRvbmF0aW9uIGlzLCB0byBzb21lIGRlZ3JlZSwgYXMgcGVyc29uYWwgYXMgYSBmaW5nZXJwcmludC4gSXQgYWxzbyBkZXBlbmRzIGhlYXZpbHkgb24gY29udGV4dC4gSXQgaXMgYmV0dGVyIHRvIHRlYWNoIHNvbWUgYmFzaWMgcnVsZXMgYW5kIGFsbG93IHN0dWRlbnQgdG8gbmF0dXJhbGx5IGFjcXVpcmUgdGhlaXIgb3duIGludG9uYXRpb24gc3R5bGUgcmF0aGVyIHRoYW4gc3BlbmQgdGltZSBvbiB0ZWFjaGluZyBzcGVjaWZpYyBjb21wbGV4IHJ1bGVzLg==
c
It takes too long to explain everything, which makes it a total waste of time.
U29ycnkuIEludG9uYXRpb24gaXMsIHRvIHNvbWUgZGVncmVlLCBhcyBwZXJzb25hbCBhcyBhIGZpbmdlcnByaW50LiBJdCBhbHNvIGRlcGVuZHMgaGVhdmlseSBvbiBjb250ZXh0LiBJdCBpcyBiZXR0ZXIgdG8gdGVhY2ggc29tZSBiYXNpYyBydWxlcyBhbmQgYWxsb3cgc3R1ZGVudCB0byBuYXR1cmFsbHkgYWNxdWlyZSB0aGVpciBvd24gaW50b25hdGlvbiBzdHlsZSByYXRoZXIgdGhhbiBzcGVuZCB0aW1lIG9uIHRlYWNoaW5nIHNwZWNpZmljIGNvbXBsZXggcnVsZXMu
แบบฝึกหัด
Check what you've learned by selecting the correct answer to each question.
คำใบ้
Question tags can both rise and fall, but which is which?
What are the rules for question tag intonation?
a
The question tag rises when we are asking for new information and falls when we are confirming something we think is true.
R3JlYXQgd29yayEgWW91IGtub3cgeW91ciBpbnRvbmF0aW9uIHJ1bGVzIQ==
b
The question tag rises when we are confirming something we think is true and falls when we are asking for new information.
U29ycnkhIFRoZSBxdWVzdGlvbiB0YWcgcmlzZXMgd2hlbiB3ZSBhcmUgYXNraW5nIGZvciBuZXcgaW5mb3JtYXRpb24gYW5kIGZhbGxzIHdoZW4gd2UgYXJlIGNvbmZpcm1pbmcgc29tZXRoaW5nIHdlIHRoaW5rIGlzIHRydWUu
c
Question tags neither rise nor fall, but are always spoken with a flat intonation.
U29ycnkhIFRoZSBxdWVzdGlvbiB0YWcgcmlzZXMgd2hlbiB3ZSBhcmUgYXNraW5nIGZvciBuZXcgaW5mb3JtYXRpb24gYW5kIGZhbGxzIHdoZW4gd2UgYXJlIGNvbmZpcm1pbmcgc29tZXRoaW5nIHdlIHRoaW5rIGlzIHRydWUu
ยินดีด้วยคุณทำแบบฝึกหัดเสร็จแล้ว
Excellent!
เยี่ยม!
แย่หน่อย!
คุณทำคะแนนได้
:
Excellent!
เยี่ยม!
แย่หน่อย!
คุณทำคะแนนได้
:
x

/

y
How can a student who speaks with a lack of intonation sound to their listener?
How do role-plays help students practise their intonation?
Why is contrastive stress useful to students?
Though not fully explained in the video, why is getting deeply into intonation theory not a good idea?
What are the rules for question tag intonation?
Get involved
Well, those were just a few ideas that we here at BBC Learning English had, but we know that you teachers out there have lots of fantastic ideas too, and we'd like you to share them with us and everybody else.
If you have a great tip or technique for teaching intonation, or anything else, please email us at learningenglish@bbc.co.uk. Your email could be posted here on this page, or may even be mentioned in our show.
We are also looking for video tips to include in the programme. In order to do this, please include whether or not you'd like to be included for video with your tip.

Ekaterina, Russia
I totally agree with the statement that students' answer to the question "Is it clear?" is almost always "Yeees". So I think it's very important to make sure they CAN actually ask their questions in English (especially if we speak about beginners). In our classroom we have "classroom language" always present on a small board and if students decide they need some more phrases, we just add them to the list. Thus, they always know how to ask "What does ... mean?" or "Can you say that again, please?", for example. It really helps to get rid of frustration and make them more active while giving instructions.
As for making acquaintance with a class, I like helping students to find English equivalents to their names, giving mine as an example (Ekaterina - Kate). They enjoy it a lot no matter what age or level they are. With small kids we also make a sun or a flower out of these names, so that every name is a ray or a petal. It helps me to learn their names and them to feel the belonging to the group.

Two very nice and simple tips, Ekaterina. Displaying classroom language is a good idea from Day 1 and good classroom management in low level classes. As for the icebreaker, it's something simple that can be done with almost no preparation, so it's always useful to have in a back pocket. Thank you for your contributions.
End of Session 4
Next up is Learners' Questions, our brand new series, where we choose one question sent in by an English language learner, and provide an answer. What will this week's question be? Join us in Session 5 to find out.
Session Vocabulary
3 ideas for intonation

Play games
Contrastive Stress
Teach general rules