Dramas from BBC Learning English
Intermediate and above level
The White Elephant: Episode 15: Sad
Episode 160318 / 18 Mar 2016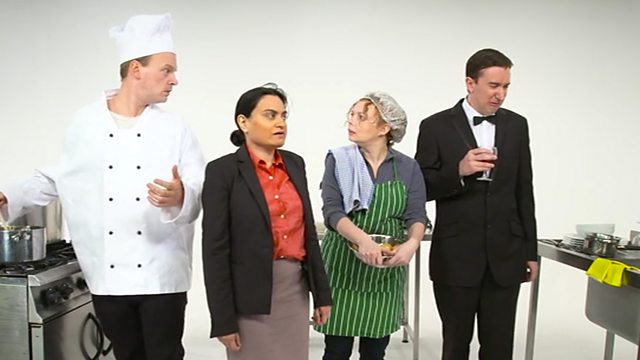 Gordon
Oh… you've got a face like a wet weekend. Keep it down will you, I'm trying to cook here.
Ceilia, it's Peter – he's feeling blue, sort him out will you?
Ceilia
Oh Peter, you seem down in the dumps.
Peter
Yes, it's Edith… She's dead.
Gordon
Who's Edith?
Ceilia
I'm not sure… but I think it's his mother.
Gordon
Sorry old chap. That's terrible news. I understand why you're so downhearted. Were you close to Edith?
Peter
Yes. I'd talk to her every day and watch her go round and round. She was a great swimmer.
Gordon
Oh. Don't cry your eyes out. Worse things happen at sea. Shall I get you a glass of wine?
Ceilia
This must be a very upsetting time for you. Would you like some time off?
Mary
What's going on? Is Peter ok?
Gordon
It's Peter - his mother's died. He's beside himself with grief. I've given him a glass of wine.
Peter
Edith! Edith!
Mary
Edith? Did he just say Edith?
Ceilia
Yes.
Mary
Edith is the name of his pet goldfish. Peter, has your goldfish died?
Peter
Yes.
Gordon
Great! You've got a dead fish, I could use it in my fish pie.
Mary
Gordon!
Vocabulary
a face like a wet weekend
a miserable and sad appearance
feeling blue
feeling sad
down in the dumps
feeling miserable or unhappy
downhearted
sad and having no hope
cry your eyes out
cry a lot
worse things happen at sea
don't worry too much about your own problems
beside himself with grief
very upset because someone has died
Credits
Gordon Grater: Neil Frost
Ceilia Spatula: Amina Zia
Peter Peppermill: Darren Benedict
Marigold Marcelo (Mary for short): Stacha Hicks
Written, produced and directed by: Rob Carter
THE DAILY VIDEO - Cake!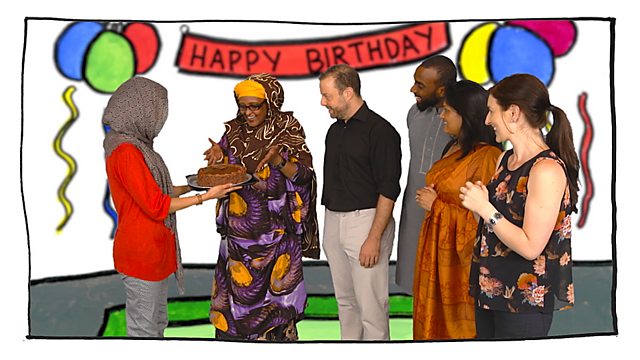 Follow our courses