Sesión

3

How high can we build? And how fast? After a skyscraper in China was built in under three weeks, we investigate the rise of the tall tower.
Actividad

1
The sky's the limit
Three storeys a day
In this session we look at a tower that was built in China at record-breaking speed. You'll read a story about it with lots of examples of comparatives and superlatives.
But first, take a look at this timelapse video of its construction. There's no language in it, it's just to show you how the tower was built, before you read the story.
Ver el video y completar la actividad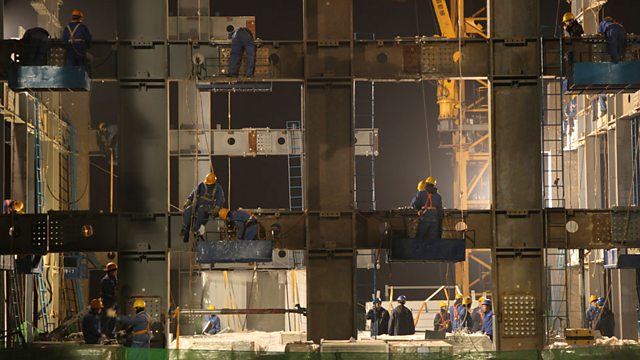 To do
Here's our article about the speedily built skyscraper. First, read it quickly and choose which of these statements is correct:

1. Broad Group say that environmental damage is the price you pay for tall towers
2. Broad Group say that tall towers are more environmentally friendly
3. Broad Group say safety is more important than environmental concerns
The story: Mini Sky City
Part 1
Mini Sky City isn't the tallest tower in China. It's only a third of the height of Shanghai's loftiest. But the speed at which it was built has been turning heads. The tower shot up at the speed of three storeys per day, reaching a height of 204 metres after only 19 days of construction.
Part 2
How did the company behind it, Broad Group, build it so fast? The answer is that it was made in a factory. The tower is assembled from steel parts made on a production line, which are then driven to the building site and slotted together like Lego. Broad Group says using steel parts makes their technique not only quicker, but also safer than conventional concrete buildings which are less flexible in earthquakes.
Part 3
And next on the company's list is an ambitious plan to build the world's tallest tower. Dubbed Sky City, they say it will be even taller than the 828m Burj Khalifa in Dubai. They say it will take only seven months to build a 'vertical city' using their modular technique, with homes, schools, offices and even hospitals and indoor farms for 30,000 people inside. They claim it would reduce the need for cars, and therefore would be more environmentally friendly than a normal city. Critics are not so sure. Some say it could be unsafe, others think it is a vanity project.
Part 4
And is higher necessarily better? A phrase in English is: the bigger they are, the harder they fall. One theory says that skyscrapers are always built before an economic crisis. Whatever happens, it looks like this trend will continue, as we build higher and higher. In Saudi Arabia, a tower is under construction that will have a height of over one kilometre when finished. The Kingdom Tower is expected to be completed in 2018. So, what do you think? Is this human desire to build ever higher just pie in the sky, or is it really true that the sky's the limit?
Which statement was correct?
The correct statement is 2. Broad Group say that tall towers are more environmentally friendly, because they reduce the need for cars.
To do
Now read the article again and answer these questions. They will test your understanding of the story and the grammar from this unit.
Higher and higher
6 Questions
How much did you understand? Test your comprehension of the story - and your knowledge of this week's grammar and vocabulary.
Actividad
How much did you understand? Test your comprehension of the story - and your knowledge of this week's grammar and vocabulary.
Dame una pista
Only one of these has been built.
Which is the highest building in the world at the moment?
a
The Burj Khalifa
VGhhdCdzIHJpZ2h0LiBUaGUgQnVyaiBLaGFsaWZhIGlzIHRoZSB3b3JsZCdzIHRhbGxlc3QgdG93ZXIuIEl0J3MgYWxzbyB0aGUgb25seSBvbmUgb2YgdGhlc2UgdGhhdCBoYXMgYmVlbiBidWlsdCBzbyBmYXIu
b
Kingdom Tower
VGhhdCdzIHdyb25nLiBUaGUgQnVyaiBLaGFsaWZhIGlzIHRoZSB3b3JsZCdzIHRhbGxlc3QgdG93ZXIuIFRoZSBLaW5nZG9tIFRvd2VyIGlzIG5vdCBmaW5pc2hlZCB5ZXQu
c
Sky City
VGhhdCdzIHdyb25nLiBUaGUgQnVyaiBLaGFsaWZhIGlzIHRoZSB3b3JsZCdzIHRhbGxlc3QgdG93ZXIuIFNreSBDaXR5IGhhcyBub3QgYmVlbiBidWlsdCB5ZXQu
Actividad
How much did you understand? Test your comprehension of the story - and your knowledge of this week's grammar and vocabulary.
Dame una pista
Mini Sky City is one third of its height.
How high is the tallest building in Shanghai?
a
Around 200m
VGhhdCdzIG5vdCByaWdodC4gTWluaSBTa3kgQ2l0eSBpcyAyMDRtIHRhbGwsIGFuZCBpcyAib25lIHRoaXJkIG9mIHRoZSBoZWlnaHQgb2YgU2hhbmdoYWkncyB0YWxsZXN0LiIgU28gU2hhbmdoYWkncyB0YWxsZXN0IGJ1aWxkaW5nIGlzIHRocmVlIHRpbWVzIHRhbGxlciB0aGFuIE1pbmkgU2t5IENpdHkgLSBhcm91bmQgNjAwbS4=
b
Around 600m
VGhhdCdzIHJpZ2h0LiBNaW5pIFNreSBDaXR5IGlzIDIwNG0gdGFsbCwgYW5kIGlzICJvbmUgdGhpcmQgb2YgdGhlIGhlaWdodCBvZiBTaGFuZ2hhaSdzIHRhbGxlc3QuIiBTbyBTaGFuZ2hhaSdzIHRhbGxlc3QgaXMgdGhyZWUgdGltZXMgdGFsbGVyIHRoYW4gTWluaSBTa3kgQ2l0eSAtIGFyb3VuZCA2MDBtLg==
c
Around 800m
VGhhdCdzIG5vdCByaWdodC4gTWluaSBTa3kgQ2l0eSBpcyAyMDRtIHRhbGwsIGFuZCBpcyAib25lIHRoaXJkIG9mIHRoZSBoZWlnaHQgb2YgU2hhbmdoYWkncyB0YWxsZXN0LiIgU28gU2hhbmdoYWkncyB0YWxsZXN0IGlzIHRocmVlIHRpbWVzIHRhbGxlciB0aGFuIE1pbmkgU2t5IENpdHkgLSBhcm91bmQgNjAwbS4=
Actividad
How much did you understand? Test your comprehension of the story - and your knowledge of this week's grammar and vocabulary.
Dame una pista
Why did it "turn heads"?
Why have people noticed Mini Sky City?
a
It's very tall
SXQgaXMgdGFsbCwgYnV0IG5vdCB2ZXJ5IHRhbGwuIFRoZSByZWFzb24gaXQgInR1cm5lZCBoZWFkcyIgaXMgYmVjYXVzZSBpdCB3YXMgYnVpbHQgdmVyeSBmYXN0Lg==
b
It will have indoor farms and hospitals
VGhlIHJlYXNvbiBNaW5pIFNreSBDaXR5ICJ0dXJuZWQgaGVhZHMiIGlzIGJlY2F1c2UgaXQgd2FzIGJ1aWx0IHZlcnkgZmFzdC4gSXQgaXMgU2t5IENpdHksIG5vdCBNaW5pIFNreSBDaXR5LCB0aGF0IHdpbGwgaGF2ZSBpbmRvb3IgZmFybXMgYW5kIGhvc3BpdGFscy4=
c
It was built very fast
VGhhdCdzIHJpZ2h0LiBNaW5pIFNreSBDaXR5ICJ0dXJuZWQgaGVhZHMiIGJlY2F1c2UgaXQgd2FzIGJ1aWx0IHZlcnkgZmFzdC4=
Actividad
How much did you understand? Test your comprehension of the story - and your knowledge of this week's grammar and vocabulary.
Dame una pista
Have another look at part 4.
Can you work out the meaning of 'ever higher' from the context?
a
Higher than ever before
VGhhdCdzIG5vdCByaWdodC4gVGhpcyBwaHJhc2UgbG9va3MgZm9yd2FyZCB0byB0aGUgZnV0dXJlLCBub3QgYmFja3dhcmRzIHRvIHRoZSBwYXN0Lg==
b
Higher than all the others
VGhhdCdzIG5vdCByaWdodC4gVGhpcyBwaHJhc2UgbG9va3MgZm9yd2FyZCB0byB0aGUgZnV0dXJlLCBub3QgYmFja3dhcmRzIHRvIHRoZSBwYXN0Lg==
c
Increasingly higher in the future
VGhhdCdzIHJpZ2h0LiBUaGlzIHBocmFzZSBsb29rcyBmb3J3YXJkIHRvIHRoZSBmdXR1cmUsIG5vdCBiYWNrd2FyZHMgdG8gdGhlIHBhc3Qu
Actividad
How much did you understand? Test your comprehension of the story - and your knowledge of this week's grammar and vocabulary.
Dame una pista
Look again at part 4
Which phrase in the story means 'being built'?
a
Of construction
VGhhdCdzIG5vdCByaWdodC4gVGhlIGNvcnJlY3QgcGhyYXNlIGlzICd1bmRlciBjb25zdHJ1Y3Rpb24nLg==
b
Under construction
VGhhdCdzIHJpZ2h0Lg==
c
To construction
VGhhdCdzIG5vdCByaWdodC4gVGhlIGNvcnJlY3QgcGhyYXNlIGlzICd1bmRlciBjb25zdHJ1Y3Rpb24nLg==
Actividad
How much did you understand? Test your comprehension of the story - and your knowledge of this week's grammar and vocabulary.
Dame una pista
Which phrase means that Mark can achieve anything he wants?
Which idiom goes in the gap: Mark is so talented, I think he can become a really famous actor. ______.
a
It's just pie in the sky
VGhhdCdzIHRoZSBvcHBvc2l0ZSBvZiB0aGUgbWVhbmluZyB3ZSBuZWVkLiBXZSdyZSBzYXlpbmcgdGhhdCBNYXJrIGNhbiBhY2hpZXZlIGFueXRoaW5nIGhlIHdhbnRzLCBzbyB3ZSBzaG91bGQgY2hvb3NlOiAnVGhlIHNreSdzIHRoZSBsaW1pdCcu
b
The bigger they are, the harder they fall
VGhhdCdzIG5vdCByaWdodCBoZXJlLiBXZSdyZSBzYXlpbmcgdGhhdCBNYXJrIGNhbiBhY2hpZXZlIGFueXRoaW5nIGhlIHdhbnRzLCBzbyB3ZSBzaG91bGQgY2hvb3NlOiAnVGhlIHNreSdzIHRoZSBsaW1pdCcu
c
The sky's the limit
V2VsbCBkb25lLiBXZSdyZSBzYXlpbmcgTWFyayBjYW4gYWNoaWV2ZSBhbnl0aGluZyBoZSB3YW50cywgc28gd2Ugc2hvdWxkIGNob29zZTogJ1RoZSBza3kncyB0aGUgbGltaXQnLg==
Felicitaciones. Has completado el quiz.
Excellent!
¡Muy bien!
Bad luck!
Tu puntaje
:
Excellent!
¡Muy bien!
Bad luck!
Tu puntaje
:
x

/

y
Which is the highest building in the world at the moment?
How high is the tallest building in Shanghai?
Why have people noticed Mini Sky City?
Can you work out the meaning of 'ever higher' from the context?
Which phrase in the story means 'being built'?
Which idiom goes in the gap: Mark is so talented, I think he can become a really famous actor. ______.
What do you think?
Would you like to live in a skyscraper? Maybe you already live in a very tall building. Is life in the skies better than living on the ground? Try to use some comparatives and superlatives in your answer.
Thank you for emailing your comments to us. We enjoyed reading them. This task is now closed.
Here are some of the comments that we received:
Uyen, Vietnam
I am living in three-storey house. Most of houses in my neighborhood are three-storey houses. My country acreage is small and Vietnamese population is very much. So, almost people have to build their houses with many storeys. The center buildings which include offices, stores, restaurants, hotels... be usually more than twenty storeys.
I'd like living on the ground than living on the skyscraper. Because of fire is happened, we will evacuate more easily.
Ida
To my mind living on the ground floor is more human, it suits older people, it demands less energy to keep it running, it's environmentally friendly, but no doubt it doesn't suit the huge, each day bigger, city population, mostly in countries like China, or in those which jobs are restricted to few cities, such as Brazil Rio and São Paulo.
Airin, Japan
There are pros and cons of living in a skysclaper. If you live in the sky, you would not come across annoying bugs, like mosquitoes or flies. And you can see a breathtakingly beautiful sunrise and sunset without disturebed by other buildings if you live in the highest building in the area.
On the other hand, you would face difficulties if natural disasters happen. You can't use a lift when the electricity supply is cut. In that case, you have to go down more than a thousand steps to evacuate, or go up the same number of steps to go back to your home. What is worse, you may not be able to use tap water. Water can not be supplied to upper floors without motor pumps.
If you are in a region where natural disasters hit frequently, it may be better to live on the ground.
Ngọc Linh, Vietnam
I think it would be fantastic to stand on the top of the loftiest towers. I can see everything on the ground like houses, buildings, trees, traffic, etc. It looks like I'm using a map but this one is much livelier and more realistic than any other map drawn on a paper or provided by a satellite. Besides, watching the sun rising or going down on the horizon would make me more relaxed. But living in a skyscraper may not be a good idea. Although I'm not a victim of any fire or terrorist attack, I'm haunted by these things. How can I survive? Until I become an expert in escape, the closer to the ground I live, the safer I feel.
Manuel Angel, Madrid
I've never really lived in a skyscraper. I've been working in a small one, not high enough to be known for its height and it doesn't exist any long. I was working for an American company as an accountancy auditor, consultant and tax specialist close to El Corte Inglés in Madrid. It was burned by night and with several people inside. Nobody died. Nobody knows what happened and has been written a lot about it. Lots of confidential information was kept there. Banks, corporate finance, goverment related names, politics, political parties, bank of Spain presidents, ... All disapeared.
Lucas
Although many people love to living in the tall building, but I prefer to live on the ground. Some people think that it's more easier to viewing the vision of sky city, and also can fill with their vanity, but living in the skyscraper still has some problems such as cost more expense living and more busier in general.
I love to living on the ground, because it is more quite and more relax compare to living in the tall tower. You don't put much more pressure on your shoulder to handle the expense living so that you can save some wages to plan a trip with your family, friends or relatives. That is my opinion about this article.
Franco
I think that a skyscrapers are very comfortable than a common city because the school, shopping centre and the park lot is there, but the skyscrapers are less environmental friendly than the common city because this building uses more energy for heater than the city.
The most important thing is this construction, the people live where they work and study for example.
Robson, Brazil
I have never lived in a skyscraper but I would like to live in. There are a lot of Skyscraper in my city and the Highest has 400 meters.
Last week I went to visit a skyscraper, Wow my god! It was amazing! My friend invited me to take the lift and we went to the top of building. There was very windy and we were very afraid, but at the end was very good because we could see a beautiful sunset.
Jurate, Lithuania
Reading news about higher and higher towers being built around the World I sometimes wonder what it would feel like to be living in a skyscraper around 300 meters high which would be already 10 meters higher than the highest mountain in my country. My home country Lithuania could rank among the most plane places on Earth. And its tallest residential building reaches only 112 meters (367 feet) high. It is far away from reaching the sky. But does higher mean safer more luxurious and more comfortable? I used to live at a university hall which was 56 meters high and my room was on the 16th floor. The view from the window at night, when the city lit up, was the most impressive. We didn't use curtains or blinds. But there were inconveniences. The lifts usually shut down at about 10 at night, the rubbish chute clogged and there were accidents with drunk students who fell down from balconies at the parties.
Nadia, France
Living in a skyscraper is difficult. At the highest storey, anyone can be attracted to the ground and fall.
There must be several reasons to build its skyskrapers. Many people are more attracted by the town than by the countryside. Public transport are more numerous and libraries, schools, shops are nearer.
Living on the ground hasn't ever advantages. In the countrysides, there are more or less a compulsory to own a car or another vehicle to move in. Public transports are scarer and drivers of busses complain as much as drivers in subways.
Angela Ronchi, Italy
I live in a small village, in one of the smallest Italian regions, very far from the biggest towns, such as Milan or Bologna or Rome. So, it's difficult there to find out how living in the highest building of your town is...
But, according to my experience - at the moment I live in a country house that is wider than tall - I think that living in "vanity" buildings is far too expensive for common citizens: it's not economic - because of the number of parts this buildings are composed of, because of the energy they require in winter and summer, the coldest and the hottest seasons of the year. Most of all, houses like these "eat" your time! Time... to be cleaned and tidied up, to be repaired, time to join rooms from the ground to the upper floor, from the eastern to western rooms...
When I go on journeys or tours that take me into big towns, I don't like staying in big hotels, I'm a bit scared of wide castles and I stare at the longest walls of the main palace in capital cities! I'm concerned in terms of human work and environmental impact, of course!
For other reasons, I don't even like the highest bell towers of ancient times in our Italian towns: have you ever climbed those narrow stairs - fifty centimeters wide and high - with only the strongest heart beating of yours and the shortest breath of your lungs, thinking : "Well, I'll be out before it falls!"?
When I saw on the internet the loftiest constructions in the world, I contemplated them more astonished than ever, as I had seen the Babylon tower, or mountains of concrete, contemporary temples of ambition. Although I thought of the energy supplies they had required to be built or they would have for the turnover of the stuff they are made of, I admire human being when they want to demonstrate that the sky's the limit! But, this is one of the hottest next generation concerns!
Howerver, how can we justify this human desire of magnificence with the need to preserve our soil, water, air and energy for the future? What can I say to my school children, when they take turns to switch off the lights in their classroom, if I'm aware of the economic crisis and at the same time I'm no more confident in "locally acting for globally preserving"?
Is being environmentally friendly still a "must" in education or just a pie in the sky?
Anastasiya, Russia
People always want to subdue lands where they live. So I think they would build higher and higher buildings. As for me, I'm destined to live on the ground. I used to have a bad headache on last floors of skyscrapers. Some months ago I visited a friend of mine in her new flat on the twenty-fifth floor. She had a house-warning party, and we bought plenty of food and drinks. Two elevators in her new housing weren't worked and we were forced to go upstairs with our heavy bags. The higher I climbed, the heavier my bags became. We needed rest on tenth and twentieth floors. After all, she said, that it was a common situation for her and it helped her to be lean without gym and fitness. When I'd gone to the balcony, I was really shocked. There were no trees and green lawns around the house. Only tall buildings were everywhere. They were much closer, than it seemed outside. I saw the boy playing computer game behind the nearest window. And there were several buildings under construction. Some of them were taller than my friend's house. I think it's terrible. I hate to live among concrete walls and building sites. It is their profit that concern developers. The more expensive become a square meter living space the higher and higher and closer and closer they build. In my humble opinion the problem is not in people's vanity. The sky is the limit for their pursuit of profit.
Uyen, Vietnam
In my opinion. I'd love living on the ground because 3 reason below:
First of all, The Sky normally is very high; Consequently, it took you a lot of times to went to your house in the high building by elevator. Sometimes, The evelator will be crash or are being fix; therefore, its waste of our time.
Secondly. As a result of the building might be at risk of the bad weather like: storm, wind, earthquake, High building is taller than the other.
The last. Living on the ground is more easier to earn money than living on the skies because you can open the shop or something without hire with the high cost. In my countries, Vietnam, it said: "The more nearer you live on the ground, the more money you can earn."
Actually, I have been living on the 5th floor in the old building for 20 years. I really want to living on the ground owing to I was really exhausted when I went to my house by foot without elevator.
Dzung, Hanoi, Vietnam
I've lived in Hanoi since 1998. It's an ancient city and it's well known with thirty six old streets where we just have small houses and very old. Many tourists come here every year to learn about its history and about our beautiful country.
We want to keep it because of history. Today, Hanoi was protracted and much larger than before. And in the new areas where we have the tallest buiding in the country. The loftiest one is Keangnam. For many people it's like a development symbol. The richest try to buy its flats which is one of the highest price in the world for one meter square.
Our country is under developt and I think it will be have many loftiest edifices in early future. And I think it's good if it's envirmontally friendly and have quality green space for kids enjoy their life. We dream in the green future and fresh not for the tallest building. Whatever we do, we always want to protect the enviroment for the better life. Tall buiding can not resolve the climate change and I myself don't like it at all.
Melody, Taiwan
I was absolutely amazed by the brilliant building skills the company uses, but I'm not so sure the necessaries for building the world's tallest tower. I can't understand why sometimes human tend to make things more complicate than before, we even create problems to bother ourselves. In my opinion, I don't think life in the skies is better than living on the ground. Although technical changes become faster and faster, I believe the simpler live we live, the happier life we have. The whole world is the biggest playground we can have, I think the more wider we can see, the more flexible we are.
Maria, Russia​
Today population is rapidly growing worldwide. Owing to the urbanisation, many cities and several towns are fast becoming much larger than one hundred year ago. The process, when people move to the urban areas for jobs, convinces officials to think seriously about launching of large-scale projects on building new houses, office buildings and objects of social housing.
In Russia dwellers were mostly concentrated in a few major cities. The contemporary urban society lives in flats. You may see skyscapers in the centre of cities where they are essential type of town architecture.
To live in skyscraper appears to be not such good as in a cosy house with a garden. In this case, you have a wonderful opportunity to breathe fresh air and to admire the excellent view.
Raul
I don't like the skyscrapers because I think they are a problema for the earth. Only big cities have big skyscrapers and these cities have much people, the big cities are concrete jungles.
I prefere the simple life, our earth is limit and we cannot mistreating.
Khalid, Yemen
The skyscraper's construction is one of competitive fields between companies, countries, and nations, so we're keeping hear people build taller and taller, they work faster and faster there is no limit of human ambition. When I look at my country even the whole world I see variety in buildings' style and that what gives our world the beauty.
I prefer living on the ground house than higher, because I love open houses which have yards and gardens, also I love the soil and it's smell especially in raining times it make me happier. I think the reason of why I love the soil or ground is that it's the source of life.
N.B.: Shibam is a Yemeni city called "the oldest skyscraper city in the world" or "the Manhattan of the desert", which is now a UNESCO World Heritage Site. The houses of Shibam are all made out of mud brick and about 500 of them are tower blocks.
Manuel Juan, Spain
I think I wouldn't like to live in a skyscraper for long periods of time. Maybe a couple of weeks would be enough living higher than usual in order to satisfy our natural curiosity. After that I would come back to the ground which really is our best habitat as our body is made for walking, no flying.
Environmentally speaking I don't believe that skyscraper or small sky cities would be the more confortable solution. So many people living in such a reduced space would mean more stressed people than living in spacious cities with smaller building. Cheaper and faster public means of transport could be the best option instead private cars which produce a great deal of exhaust fumes.
Mario, Italy
I think that the more populous cities are, the more need there is for tall buildings. And besides, I think that the richer you are, the more you are likely to live in a skyscraper. I live in a six-storey building and there are no skyscrapers nearby. I don't know whether it is better living in a skyscraper or not, but anyway I am not so curious to know. Personally, I am afraid of heights although the sight of a very tall building is always spectacular.
Lineda, France
I can't bear living in a tall building for many reasons:
On the one hand I am afraid of heights and I feel dizzy and sick when I am at the top of a tall building and on the other hand what would happen if the safest building was struck by a earthquake or if a fire broke out. Besides how many steps I would go up if the lift didn't work.
Apart from these troubles I admit that we can get a stunning bird's eye view of a tall skyscraper. The taller the building is the more amazing view you get.
Taras, Ukraine
I'm not sure I'd like to live in a skyscraper all time. There are advantages and disadvantages. For example, if I lived on the hundredth floor, I'd be forced to get to my apartment by lift. But it isn't always reliably. I'd could to stuck there and as result be late for work. But also it has its advantages. On this height likely I wouldn't hear a street noise and breathe a fresher air than on the ground. Therefore to live in higher building isn't bad.
Juan Carlos
At the beginning all we were very happy. We were going to live and work in a mini-city-skyscraper, the first one in the metropolis. Inside and out of the big built there were big electric power plants, giant water tanks, and a satellite supplied communication and internet for all the inhabitants. Into the tower we don't need cars, there is a system of horizontal movement to travel from a part to other of the same level, then you have the elevators, you can select your floor number with your smartphone before lifting. The electrical light pretends the sun light very well and with the air conditioning and the high roofs you think you are on the street. My wife works in other side and other floor, and our daughter is schooled on the same level.
When they finished the big tower the problems began. We noticed that the highest floors had different facilities and the access was different too.
They can go to the hospital directly from their flats or can receive their medicines or their packs with drones. The airport is on the top and we need and special card to get there.
Last month we filled up an application to come back to the ground but we don't have any answer yet.
Manoel Gomes, Brazil
I think we shouldn't live in skyscraper. We don't have wings! Life in houses with a garden where we can plant roses or cultivate a vegetable garden is the best thing for us.
Pawan Bhandari, Nepal
I would've loved to live in sky scraper if my country, Nepal, hadn't been prone to earthquakes.Nepalese pride themselves living in the country of Mt .Everest(8848m), loftiest among all the mountains. But, it comes with a downside, the rugged topography falls in the seismic range, being vulnerable to earthquakes.
The recent earthquake is the testimony to the fact that Nepal isn't suitable for tall constructions. Most of the tall buildings roughly 20 storied, were severely damaged resulting in a catastrophic event. This led people to believe , life in the ground is much better than in skies.
Furthermore, I would like to reminisce the sep 11 attack in USA and give condolence to the people of France. The tall buildings were the target of the terrorist; this atrocious and barbaric act made people fear the height - the taller the building, the more apprehensive people became.
José, France
I have never visited a skyscraper but, in fact, it would be great to do so. In my opinion, living in one of the loftiest tower is thoroughly thinkable. That can permit to have a better outlook on the city for instance, and to feel safer, because when you live on the ground, you are much more likely to be annoyed by the noise of the cars, or to be burgled than if you dwell in the skies.
Currently, I'm living at the eighth floor of the building of my residence and admittedly, I would have liked to live higher in the sky.
I hope that in the future, some great buildings will be constructed ever taller and quicker, and thus that a real "skyscrapers craze" will spread all around the world.
End of Session 3
And that's it. We hope your knowledge of comparatives and superlatives is better now! In the next session we look at something completely different: how to chat someone up...
Sesión de vocabulario
timelapse
a technique where a video is made by speeding up a series of still images

loftiest
tallest

turning heads
making people notice (something)

shot up
(here) grew very quickly

construction
building

assembled
made something by putting pieces together

production line
lines of workers and machines in a factory

slotted together
connected pieces by putting them into slots (long holes)

flexible
able to move and bend without breaking

dubbed
called

vanity project
project that someone does because it makes them look good

the bigger they are, the harder they fall
when an important person or thing fails, it is very difficult for them

pie in the sky
something that you hope will happen, but is not likely to happen in reality

the sky's the limit
there is no limit