Сеанс работы

5

Hear part 6 of our drama, Alice In Wonderland, where Alice meets the Duchess, looks after a baby and talks to a smiling cat. After that, test what you learnt in this Unit with our weekly quiz.
Alice in Wonderland Part 6 - Pig and Pepper
Someone inside the Duchess's house is angry - but who? The Duchess's baby is making some very strange sounds and the Cheshire-Cat smiles while the cook throws things. Will Alice meet anyone who isn't mad? While you listen to the audio, see how many examples of the present perfect and past simple you can spot. Then take a look at the transcript to see them in bold.
Прослушать аудио и закончить упражнение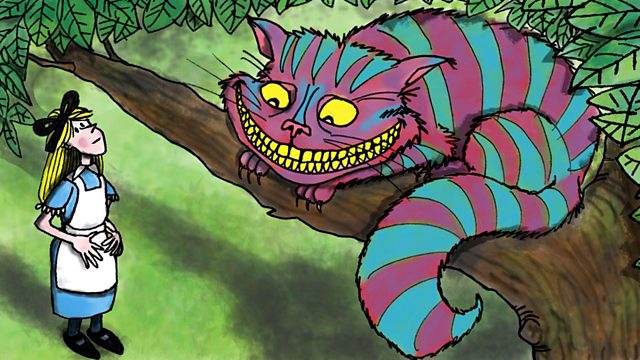 Показать текст
Скрыть текст
Narrator
Hello. Alice is in the woods. She's trying to find her way back to the beautiful garden that she saw when she first arrived in Wonderland. Here she is, outside a little house. She's wondering who lives there.
Alice
I wonder who could live in such a little house!
Narrator
Before she had the chance to wonder for very long, a fish ran out of the woods and knocked on the door. The fish was wearing a footman's uniform. Another footman opened the door. Alice was near enough to hear what the fish said.
Footman
From the Queen. An invitation for the Duchess to play croquet.
Alice
The Duchess!!
Narrator
Alice was so curious she went to knock on the door. But there was no use knocking, because it was so noisy inside the house that no-one could possibly hear her little knock. Alice was even more curious now so she opened the door…
Alice
Hello?
Narrator
And she found herself in a noisy, smoky kitchen. A cook was cooking a pan of soup over the fire and the Duchess was holding a crying baby. There was also a big cat who was sitting above the fire and smiling from ear to ear. Everyone was sneezing except the cook and the cat.
Alice
There's too much pepper in that soup! Please would you tell me why your cat grins like that?
The Duchess
It's a Cheshire-Cat, and that's why.
Alice
I didn't know Cheshire-Cats grinned. In fact, I didn't know cats could grin.
The Duchess
You don't know much, and that's a fact.
Narrator
Just then, the cook took the pan of soup off the fire, and started throwing pots and pans and plates and dishes all around the kitchen. Some of them hit the Duchess, but she didn't seem to notice. Some of them hit the baby, who was crying anyway.
Alice
Oh please! The baby! Be careful!
The Duchess
Here! You hold it if you like!
Narrator
And the Duchess threw the baby at Alice who just managed to catch it.
Alice
Ohhh!!
The Duchess
I must go and get ready to play croquet with the Queen.
Narrator
And, with that, The Duchess left. Alice held the baby and wondered what to do with it.
Alice
What am I going to do with you? You're a strange shape… Oh! You're a not a baby. You're a… you're a pig!
Narrator
It was easy to decide what to do with a pig. Alice took it outside and let it go into the woods. The Cheshire-Cat sat in a tree and watched her.
Alice
Cheshire-Cat, could you tell me which way I should go?
Cheshire-Cat
A Hatter lives over here, and a March Hare lives over there. They're both mad.
Alice
But I don't want to meet mad people.
Cheshire-Cat
Oh, we're all mad here. Are you playing croquet with the Queen today?
Alice
I'd love to play croquet with the Queen… but she hasn't invited me.
Cheshire-Cat
You'll see me there…
Narrator
The cat disappeared. Alice set off in the direction of the March Hare's house and soon she came to a house. Outside the house she saw a tea-party quite unlike any tea-party she had ever seen before. Next time, I'll tell you all about the Tea Party and what happened when Alice met the March Hare and the Hatter. Goodbye.
Download
You can download the Drama from our Unit 26 downloads page or from our BBC Learning English Drama podcast page.
Vocabulary
footman
a male servant who delivers letters and messages
croquet
a traditional English game played on grass. Players use long wooden hammers called mallets to hit wooden balls along the grass and through arches made of curved pieces of metal
grinning; (verb to grin)
smiling very widely
pots and pans
containers that people cook and serve food in
plates and dishes
the flat (usually ceramic) objects that people serve and eat food from
mad
crazy
Alice in Wonderland Quiz
3 Questions
Were you listening carefully to our drama? Test yourself with this quiz.
Упражнение
Were you listening carefully to our drama? Test yourself with this quiz.
намек
Who was throwing dishes?
Who was the angriest in the Duchess's house?
a
The Duchess
V3JvbmcgYW5zd2VyLCBzb3JyeSEgVGhlIER1Y2hlc3Mgd2FzIHF1aXRlIGZyaWVuZGx5Lg==
b
The cook
VGhhdCdzIHJpZ2h0LiBPbmx5IHRoZSBjb29rIHdhcyB0aHJvd2luZyB0aGluZ3MgYW5kIG1ha2luZyBhIG5vaXNlLg==
c
The Cheshire-Cat
V3JvbmcgYW5zd2VyLCBzb3JyeSEgVGhlIENoZXNoaXJlLUNhdCB3YXMgcXVpdGUgaGVscGZ1bC4=
Упражнение
Were you listening carefully to our drama? Test yourself with this quiz.
намек
It was a farm animal.
What did the baby turn into?
a
A pig
V2VsbCBkb25lISBUaGUgYmFieSB0dXJuZWQgaW50byBhIHBpZy4=
b
A cat
U29ycnksIHRoZXJlIHdhcyBhIENoZXNoaXJlLUNhdCBpbiB0aGUgaG91c2UsIGJ1dCB0aGUgYmFieSB0dXJuZWQgaW50byBhIHBpZw==
c
A frog
U29ycnkuIFRoZSBmcm9nIHdhcyBhIGZvb3RtYW4uIFRoZSBiYWJ5IHR1cm5lZCBpbnRvIGEgcGlnLg==
Упражнение
Were you listening carefully to our drama? Test yourself with this quiz.
намек
Alice didn't want to meet people who are like that.
How did the Cheshire-Cat describe the people in Wonderland?
a
They're all invited to a party with the Queen
U29ycnkuIFRoZSBDaGVzaGlyZS1DYXQgc2FpZCAnJ1dlJ3JlIGFsbCBtYWQgaGVyZSEnJw==
b
They all love croquet
U29ycnkuIFRoZSBDaGVzaGlyZS1DYXQgc2FpZCAnJ1dlJ3JlIGFsbCBtYWQgaGVyZSEnJw==
c
They're all mad
VGhhdCdzIHJpZ2h0LiBUaGUgQ2hlc2hpcmUtQ2F0IHNhaWQgJydXZSdyZSBhbGwgbWFkIGhlcmUhJyc=
Поздравления
Excellent!
Отлично!
Bad luck!
Вы набрали
:
Excellent!
Отлично!
Bad luck!
Вы набрали
:
x

/

y
Who was the angriest in the Duchess's house?
What did the baby turn into?
How did the Cheshire-Cat describe the people in Wonderland?
Credits
Produced by Catherine Chapman
Cast: Finn Aberdein, Alice Brown, Rob Carter, Sophie Napleton, BBC Learning English Team
Illustration: Shan Pillay
Scriptwriter: Nicola Prentis
Sound: Paul Scott
Music: Vera Harte
More
You can find all the episodes of Alice in Wonderland and our other BBC Learning English dramas on our Drama page.
Next
You can catch up with part 7 of Alice in Wonderland in Session 5 of Unit 27. Now it's time for the Weekly Quiz. How many questions can you get right?
Сеанс работы над грамматикой
Сеанс работы над лексикой
Vocabulary

footman
a male servant who delivers letters and messages

croquet
a traditional English game played on grass. Players use long wooden hammers called mallets to hit wooden balls along the grass and through arches made of curved pieces of metal

grinning; (verb to grin)
smiling very widely

pots and pans
containers that people cook and serve food in

plates and dishes
the flat (usually ceramic) objects that people serve and eat food from

mad
crazy