Dramas from BBC Learning English
Intermediate and above level
The White Elephant: Episode 21: Clean
Episode 160429 / 29 Apr 2016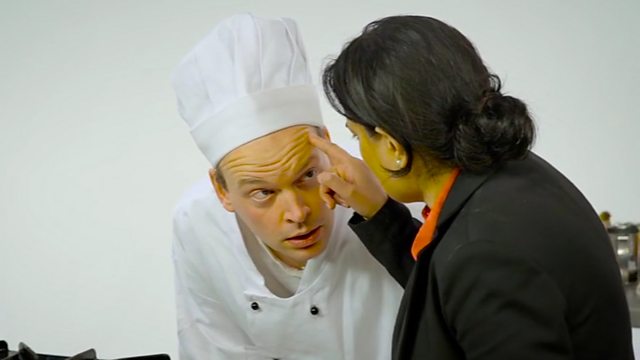 Ceilia
Can I have word with you all, please?
Mary
What's the matter Ceilia? You look worried.
Ceilia
I am. That was the council. They're sending a health inspector here to check the kitchen out.
Gordon
Really! Well there's nothing to worry about where I'm concerned. I think you'll find everything over here is spick and span.
Mary
It's your personal hygiene I'd be worried about, Gordon!
Peter
What time is this health inspector coming?
Ceilia
Don't know. It's a spot check – it could happen at any time. So, let's get to work. I want this place as clean as a whistle. There's a layer of grease on that bit. And on that bit.
Gordon
There you go – spotless! You could eat your dinner off that.
Peter
Why would you eat your dinner off the cooker when we've got plates?
Mary
Look, Gordon – are you going to help us clean the rest of the kitchen?
Gordon
Why? I didn't make that area dirty.
Mary
If we don't get a clean bill of health, the council could shut us down.
Gordon
Ahh, yes, then I could work in a proper restaurant where the chefs cook and the cleaners clean.
Ceilia
A car's just pulled up – it could be the health inspector.
Gordon
Well, we've done our best Ceilia – under the circumstances.
Ceilia
Hmm... doesn't look too bad... oh!
Gordon
Ah... yes, well... I can explain...
Mary
Gordon, looks like you need to clean your act up!
Ceilia
Well said, Mary. Shall we start with a clean slate? Quickly!
Vocabulary
spick and span
very clean and tidy
personal hygiene
ability to keep yourself clean
as clean as a whistle
very clean
spotless
very clean
you could eat your dinner off that
it's very clean
a clean bill of health
officially statement that something is in good condition
clean your act up
start improving your behaviour
a clean slate
forget the past and make a new start
Credits
Gordon Grater: Neil Frost
Ceilia Spatula: Amina Zia
Peter Peppermill: Darren Benedict
Marigold Marcelo (Mary for short): Stacha Hicks
Written, produced and directed by: Rob Carter
Latest Dramas from BBC Learning English
COMEDY DRAMA!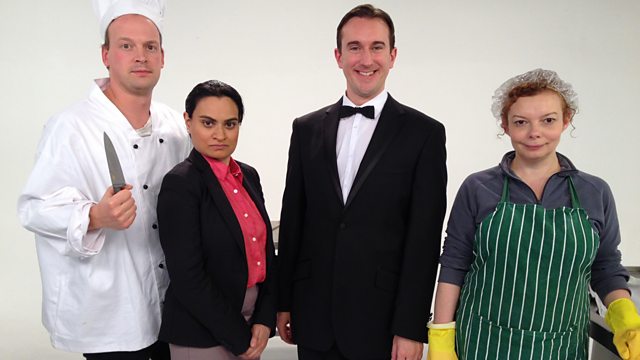 Follow our courses