ਸੈਸ਼ਨ

4

Welcome to The Teachers' Room. The show all about teaching practice. Grab a cup of coffee, pull up an armchair and relax. Learn something new, remember something fundamental or just have a giggle.
ਕਿਰਿਆ/ਕੰਮ

1
The Teachers' Room
Writing a simple progress test
Dan and Sian talk about basic principles for writing a progress test
ਵੀਡੀਓ ਦੇਖੋ ਅਤੇ ਕੰਮ ਪੂਰਾ ਕਰੋ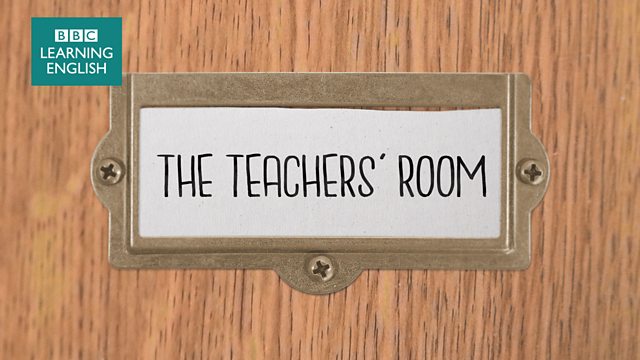 ___________________________________________________________________
Did you like that? Why not try these?

____________________________________________________________________________________
Writing a progress test
Progress tests are a useful way of assessing your students' understanding of a particular language point that you have taught them, and a great way of giving them a little extra practice. Many course books provide pre-printed progress tests, but for one reason or another, such as class personalisation, the teacher may wish to write their own. Here are a few useful tips.

Instructions
Make sure instructions are included with every question section. The language must be graded, clear and explain what the student needs to do, and in some cases how. In order to clarify further, remember to include an example with every question set. In this way, even if students have not fully grasped the instructions, they have a better chance of understanding what to do.
Question sections
When writing questions always keep in mind exactly what you are testing. Try not to test more than one aspect of language per question section. Are you testing form, meaning or use? For example: A gapfill where learners need to conjugate a verb which has been given to them in brackets would test form, but a set of sentences where learners would need to select the correct verb out of a choice of three focuses on meaning.

Include context in your questions and sentences. Students need a clue to be able to help them understand the situation around the sentence. A set of questions about the past should contain past time words. Consider using a second sentence to support the context of the first e.g.'Oh no, I just ________ the bus. Now I will be late for work.'

Make tests more interesting by varying the types of question. This will keep your students working hard and challenge them. Don't mix up activity types within one set of questions. Here are some suggestions:
Gapfill / cloze
Choose the correct word / Find the wrong word
Matching
Sentence transformation
Sentence stems
Error correction
Marking
Include the number of marks on the paper so students know how important that question section is and how much time to spend on that section.
Having a marking scheme is a good idea, but once in while students will suggest something that is correct language but not on the sheet. Don't be afraid to embrace this and congratulate them. Seeing them excel in this way is one of the joys of teaching.
To do
Try our quiz to see if you've picked up our tips.
The Teachers' Room Quiz
4 Questions
Check what you've learned by selecting the correct answer to each question.
ਕਿਰਿਆ/ਕੰਮ
Check what you've learned by selecting the correct answer to each question.
ਸੁਝਾਅ
What two functions do progress tests serve?
Why are progress tests a good idea?
a
They allow us to statistically record a student's understanding
VGhpcyBpcyB0cnVlIGJ1dCBub3QgYWx3YXlzIGltcG9ydGFudC4gTGFuZ3VhZ2UgaXMgb3JnYW5pYyBhbmQgZGlmZmljdWx0IHRvIHF1YW50aWZ5IG9yIGNvdW50LCB3aGljaCBtZWFucyB0aGVzZSBudW1iZXJzIGNhbiBiZSBsZXNzIHZhbHVhYmxlIHRoYW4geW91IHdvdWxkIHRoaW5rLiBXaGF0IGlmIHlvdSBoYXZlIGEgc3R1ZGVudCB3aG8gaXMgdmVyeSBpbnRlbGxpZ2VudCBidXQgd2hvIGhhcyBhIGJhZCBkYXkgb24gdGVzdCBkYXk/V291bGQgdGhlaXIgc2NvcmVzIGFjY3VyYXRlbHkgcmVmbGVjdCB0aGVpciBhYmlsaXRpZXM/IA==
b
They allow students to understand how well they are doing
VGhpcyBpcyB0cnVlIHRvIHNvbWUgZXh0ZW50LiBIb3cgdGhlc2UgcmVzdWx0cyBhcmUgZnJhbWVkIGNhbiBiZSB2ZXJ5IGltcG9ydGFudCx0aG91Z2guIElmIHRoZXNlIHJlc3VsdHMgYmVjb21lIHRoZSBmb2N1cyBvZiB0aGUgY2xhc3Nyb29tIGV4cGVyaWVuY2UgdGhlbiBzb21ldGhpbmcgaGFzIGdvbmUgd3JvbmcgYmVjYXVzZSB0aGUgc3R1ZGVudCdzIGF0dGVudGlvbiB3aWxsIHR1cm4gZnJvbSBhY3F1aXJpbmcgYW5kIHVzaW5nIGxhbmd1YWdlIHRvIGJlaW5nIGFibGUgdG8gcGFzcyB0aGUgd2Vla2x5IHByb2dyZXNzIHRlc3QuIEhvd2V2ZXIsIGlmIHRoZXNlIHJlc3VsdHMgYXJlIHVzZWQgdG8gc2hvdyBhIHN0dWRlbnQgdGhhdCB0aGV5IGFyZSBtYWtpbmcgcG9zaXRpdmUgcHJvZ3Jlc3MsIHRoZXkgY2FuIGJlIHZlcnkgdXNlZnVsLg==
c
They allow the teacher to better understand how well a topic has been absorbed
VGhpcyBpcyBwcm9iYWJseSB0aGUgYmVzdCBqdXN0aWZpY2F0aW9uIGZvciBhIHByb2dyZXNzIHRlc3QuIEhhcyB0aGUgdG9waWMgYmVlbiBmdWxseSBpbnRlZ3JhdGVkIGludG8gYSBzdHVkZW50J3MgYWJpbGl0aWVzPyBPZnRlbiBhIHRvcGljIHdoaWNoIGhhcyBiZWVuIHRhdWdodCB3aWxsIG5lZWQgdG8gYmUgcmV2aXNpdGVkIGFuZCByZXZpc2VkLCBwb3NzaWJseSBtb3JlIHRoYW4gb25jZSwgYmVmb3JlIGl0IGJlY29tZXMgZnVsbHkgaW50ZWdyYXRlZC4gQSBwcm9ncmVzcyB0ZXN0IGlzIGEgZ29vZCBpbmRpY2F0b3Igb2YgdGhhdC4=
ਕਿਰਿਆ/ਕੰਮ
Check what you've learned by selecting the correct answer to each question.
ਸੁਝਾਅ
An example is a real-life version of a set of instructions. Why is this useful?
Why is it a good idea to include an example with each set of questions?
a
It looks nice
RGVzcGl0ZSB0aGUgZmFjdCB0aGF0IHRoZXJlIGlzIGEgYmV0dGVyIGFuc3dlciB0byB0aGlzIHF1ZXN0aW9uLCB0aGlzIGlzIHNvbWV3aGF0IGltcG9ydGFudC4gQSB3ZWxsIHByZXNlbnRlZCB0ZXN0IHRoYXQgbG9va3MgbmljZSBpcyBtb3JlIGFwcGVhbGluZyB0byBhIHN0dWRlbnQgdGhhbiBvbmUgdGhhdCBpcyB2aXN1YWxseSBjb25mdXNpbmcgb3IgdG9vIGZ1bGwuIFVzZSBvZiBjbGVhciBpbnN0cnVjdGlvbnMsIGV4YW1wbGVzIGFuZCBzcGFjZSBtYXR0ZXJzIG1vcmUgdGhhbiB5b3UgbWlnaHQgdGhpbmsu
b
The instructions could be misunderstood
RXhhY3RseS4gRGVzcGl0ZSB0aGUgZmFjdCB0aGF0IHlvdSB3aWxsIGRvIGV2ZXJ5dGhpbmcgaW4geW91ciBwb3dlciB0byBtYWtlIHRoaW5ncyBhcyBjbGVhciBhcyBwb3NzaWJsZSwgc29tZSBzdHVkZW50cyBtYXkgc3RpbGwgbWlzdW5kZXJzdGFuZC4gQSBnb29kIGV4YW1wbGUgaGVscHMgc3R1ZGVudHMgdHVybiB0aGVvcnkgaW50byBwcmFjdGljZSBieSBzZWVpbmcgdGhlIG1ldGhvZCBvZiB3aGF0IHdhcyBkb25lIGluIHRoZSBleGFtcGxlIGFuZCBtaW1pY2tpbmcgaXQu
ਕਿਰਿਆ/ਕੰਮ
Check what you've learned by selecting the correct answer to each question.
ਸੁਝਾਅ
Without context, language is often totally meaningless
Why is it important to include an obvious context in each sentence or question?
a
Context establishes the meaning, without which it is much harder to choose an answer
WWVzLiBMYW5ndWFnZSB3aXRob3V0IGNvbnRleHQgaXMgbWVhbmluZ2xlc3MuIENvbnNpZGVyIHRoZSBzZW50ZW5jZSAnaXQgb3BlbmVkJy4gV2UgaGF2ZSBubyBpZGVhIHdoYXQgaXQgaXMgb3Igd2h5IGl0IGlzIG9wZW5pbmcgLSB3ZSBhcmUgdW5hYmxlIHRvIHVuZGVyc3RhbmQgdGhlIGJyb2FkZXIgc2l0dWF0aW9uLiBJZiBhIHN0dWRlbnQgaXMgZXhwZWN0ZWQgdG8gY2hhbmdlIGEgdmVyYiBpbnRvIHRoZSBjb3JyZWN0IHRlbnNlIGluIG9yZGVyIHRvIGFuc3dlciBhIHF1ZXN0aW9uLCBpdCBpcyBpbXBvcnRhbnQgdGhhdCB0aGVyZSBhcmUgZW5vdWdoIGNsdWVzIGluIHRoZSBzZW50ZW5jZSB0byBhbGxvdyB0aGUgc3R1ZGVudCB0byB1bmRlcnN0YW5kIHdoaWNoIHRpbWUgcGVyaW9kIChwYXN0IC8gcHJlc2VudCAvIGZ1dHVyZSkgIHRoZSBzaXR1YXRpb24gdGFrZXMgcGxhY2UgaW4sIGFuZCB3aGljaCBhc3BlY3QgKHNpbXBsZSAvIGNvbnRpbnVvdXMgLyBwZXJmZWN0KSBuZWVkcyB0byBiZSB1c2VkIC0gYW5kIHRoYXQncyBqdXN0IHRlc3RpbmcgdGVuc2VzIQ==
b
Context provides a situation which makes the test more interesting
VGhpcyBpcyBpbmRlZWQgdHJ1ZS4gU2VudGVuY2VzIGJhc2VkIGFyb3VuZCBhIHNpdHVhdGlvbiBvciBhIG5hcnJhdGl2ZSBhcmUgbW9yZSBpbnRlcmVzdGluZyB0byB3b3JrIHdpdGggYW5kIHNwZWN1bGF0ZSBvbiwgYnV0IHRoZXJlIGlzIGEgbXVjaCBtb3JlIGltcG9ydGFudCByZWFzb24gZm9yIGNvbnRleHQgdGhhbiB0aGF0Lg==
ਕਿਰਿਆ/ਕੰਮ
Check what you've learned by selecting the correct answer to each question.
ਸੁਝਾਅ
Imagine doing 10 questions, one a gapfill, one a find the mistake, one a matching etc. How would you feel?
Why should you not change activity types in a question set?
a
This is a trick question - It's a good idea because it challenges the students more
VGhpcyBpcyB0byBzb21lIGV4dGVudCB0cnVlLiBQcm92aWRlZCB5b3Uga25vdyB0aGF0IHlvdXIgc3R1ZGVudHMgYXJlIGJvdGggZmFtaWxpYXIgd2l0aCB0aGUgdHlwZXMgb2YgYWN0aXZpdHkgc28gdGhhdCB0aGV5IHdvdWxkIHVuZGVyc3RhbmQgd2hhdCB0b2RvaW4gZWFjaCBjYXNlIGp1c3QgYnkgbG9va2luZyBhbmQgY2FwYWJsZSBvZiBkb2luZyBzbywgeW91IGNvdWxkLiBIb3dldmVyLCBpbiBtb3N0IGNhc2VzIHdlIHdvdWxkIHJlY29tbWVuZCBzdGlja2luZyB0byBvbmUgYWN0aXZpdHkgdHlwZSBwZXIgcXVlc3Rpb24gc2V0Lg==
b
It is confusing to the students
WWVzLiBUZXN0cyBjYW4gYmUgaGFyZCBlbm91Z2ggYXMgaXQgaXMgd2l0aG91dCBhZGRpbmcgdG8gdGhlIGNvbmZ1c2lvbi4gQ2hhbmdpbmcgcXVlc3Rpb24gdHlwZXMgbm90IG9ubHkgdW5kZXJtaW5lcyB0aGUgaW5zdHJ1Y3Rpb25zIHlvdSBoYXZlIHdyaXR0ZW4sIGJ1dCBhbHNvIHJlcXVpcmVzIGEgbmV3IGV4YW1wbGUgZm9yIGVhY2ggdHlwZSwgbG9va3MgbWVzc3kgYW5kIG1heSBmcnVzdHJhdGUgdGhlIHN0dWRlbnRzLiBLZWVwIHRvIG9uZSB0eXBlIG9mIGFjdGl2aXR5IHBlciBxdWVzdGlvbiBzZWN0aW9uLg==
c
It's a lot more work for you as a teacher
VGhpcyBpcyB0cnVlISBCdXQgaXQgc2hvdWxkIG5ldmVyIGJlIHlvdXIgbW90aXZhdGlvbiBmb3IgZG9pbmcgb3Igbm90IGRvaW5nIHNvbWV0aGluZy4gVGhhdCBzYWlkLCB3ZXJlIHlvdSB0byBjaGFuZ2UgYWN0aXZpdHkgdHlwZXMgZnJlcXVlbnRseSwgeW91IHdvdWxkIGJlIG9ibGlnYXRlZCB0byBwcm92aWRlIGEgbmV3IGluc3RydWN0aW9uIGFuZCBleGFtcGxlIHBlciBjaGFuZ2UuSW4gYSBzZXQgb2YgMTAgcXVlc3Rpb25zLCB0aGF0IGNvdWxkIG1lYW4gMTAgaW5kaXZpZHVhbCBpbnN0cnVjdGlvbnMgYW5kIDEwIGV4YW1wbGVzISBBdCB0aGUgdmVyeSBsZWFzdCwgdGhpcyBpcyBoYXJkbHkgdGltZSBlZmZpY2llbnQh
ਵਧਾਈ ਹੋਵੇ ਤੁਸੀਂ ਕੁਇਜ਼ ਪੂਰਾ ਕਰ ਲਿਆ
Excellent!
Great job!
Bad luck!
ਤੁਹਾਡੇ ਵੱਲੋਂ ਹਾਸਲ ਕੀਤੇ ਗਏ ਅੰਕ
:
Excellent!
Great job!
Bad luck!
ਤੁਹਾਡੇ ਵੱਲੋਂ ਹਾਸਲ ਕੀਤੇ ਗਏ ਅੰਕ
:
x

/

y
Why are progress tests a good idea?
Why is it a good idea to include an example with each set of questions?
Why is it important to include an obvious context in each sentence or question?
Why should you not change activity types in a question set?
Get involved
Well, those were just a few ideas that we here at BBC Learning English had, but we know that you teachers out there have lots of fantastic ideas too, and we'd like you to share them with us and everybody else.
If you have a great tip or technique about testing, or anything else, please email us at learningenglish@bbc.co.uk. Your email could be posted here on this page, or may even be mentioned in our show.
We are also looking for video tips to include in the programme. You could be rewarded with a T-shirt for your efforts.


End of Session 4
Next up is Learners' Questions. What will this week's Learner Question be? Whatever it is, Dan's here with the answer! Join us in Session 5 to find out.
Session Vocabulary
Writing a progress test

Instructions
Question sections
Marking