Dramas from BBC Learning English
Intermediate and above level
The White Elephant: Episode 27: Fashion
Episode 160610 / 10 Jun 2016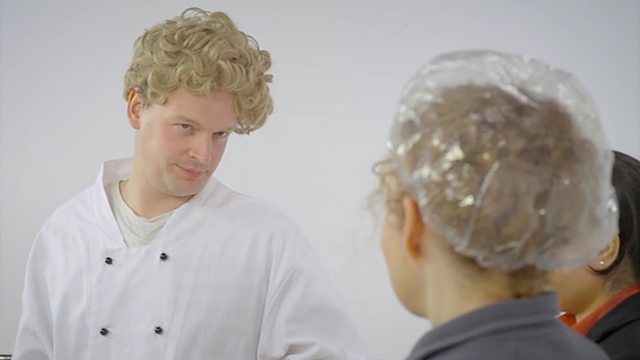 Mary
It's quiet without Gordon today.
Ceilia
It's nice isn't it! He said he was going for a fitting but I'm not sure what for though. Ahh, here he comes now.
Mary
Good morning Gordon. Bad hair day?!
Gordon
Excuse me?
Ceilia
Keep your hair on! Don't forget we've got some students coming in for lunch today so none of your old-fashioned dishes… give them something contemporary – modern.
Gordon
Leave it to me. I'm down with the kids.
Mary
You've got it covered?!
Gordon
Yes I have… oh I see, you're referring to this… my new toupee… my wig. I'm just keeping up with the fashion.
Mary
And what fashion is that then?
Gordon
A new hair style – these are all the rage – the women love it.
Mary
After a fashion.
Ceilia
I thought that wigs were a bit… old hat. And if you are going to cook in that, then wear it under this hat, for now
Gordon
I knew you two couldn't handle my new fashion statement.
Ceilia
You're being a fashion victim – we liked the old you.
Gordon
Well you're stuck with the new me now. Just leave me to cook!
Mary
Ooops, looks like you've made a fashion faux pas…
Ceilia
… there appears to be hair in the soup!
Peter
Hair in the soup? Keep your voice down… everyone will want one.
Vocabulary
old-fashioned
not modern or fashionable
down with the kids
behaving and thinking as a young person would
all the rage
very popular
after a fashion
only to some extent
old hat
not modern; boring
a fashion statement
something you wear to show others you know a lot about fashion
a fashion victim
a person who wears fashionable clothes even if they don't suit them
a fashion faux pas
a mistake related to wearing clothes that look stupid or silly
Credits
Gordon Grater: Neil Frost
Ceilia Spatula: Amina Zia
Peter Peppermill: Darren Benedict
Marigold Marcelo (Mary for short): Stacha Hicks
Written, produced and directed by: Rob Carter
THE DAILY VIDEO - happy language!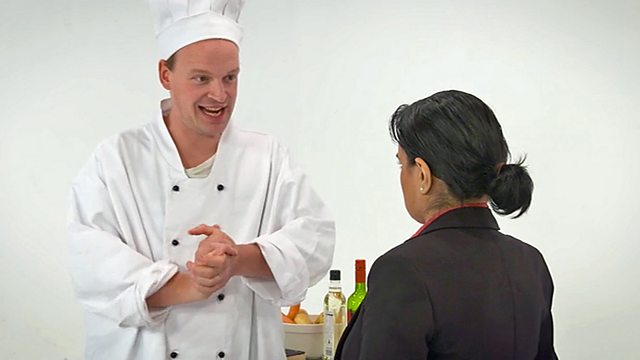 Follow our courses