Dramas from BBC Learning English
Intermediate and above level
The White Elephant: Episode 10: Angry
Episode 160212 / 12 Feb 2016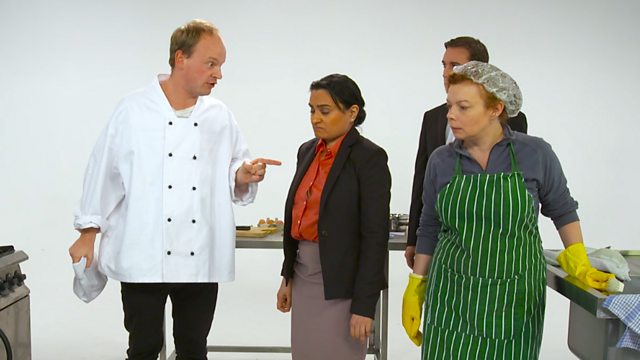 Gordon
That's it... I've had it up to here.
Ceilia
Gordon, you seem angrier than normal?
Gordon
How can I work in these conditions? With stuff everywhere and the noise - it is driving me up the wall! Why can't I work in a professional kitchen like I used to?
Ceilia
Because you got the sack.
Gordon
We had creative differences that's all.
Ceilia
OK, OK... but don't blow a fuse.
Gordon
Anyway I'm fed up to the back teeth with it, I've had enough.
Peter
Oh, he's like a bear with a sore head!
Mary
Yes he does seem to be at the end of his tether. Ceilia, have you got anybody else who can do the cooking tonight?
Ceilia
No! The stand-by chef has got shingles. We can't be open today without a chef.
Peter
I could have a go - I cooked a pizza once - although it was a frozen one from the supermarket.
Mary
It's OK Peter, I'll go and talk to him.
Gordon
I'm sorry for losing it. I just wanted to let you know how I felt.
Ceilia
We understand... OK are you ready to start preparing food?
Gordon
Yes, of course. I'm going to make one of my special beef Wellingtons.
Ceilia
What did you say to him?
Mary
I just told him that a very important food critic had booked a table here tonight and might be writing about his food.
Ceilia
But we don't have any reservations tonight do we?
Mary
He doesn't need to know that!
Vocabulary
I've had it up to here
I have suffered enough because of something or someone
it's driving me up the wall
it's making me very angry
don't blow a fuse!
don't lose your temper
fed up to the back teeth
angry because a situation has continued for too long
like a bear with a sore head!
in a very bad mood
at the end of his tether
so annoyed he can't carry on
losing it
becoming very angry or upset
Credits
Gordon Grater: Neil Frost
Ceilia Spatula: Amina Zia
Peter Peppermill: Darren Benedict
Marigold Marcelo (Mary for short): Stacha Hicks
Written, produced and directed by: Rob Carter
COMEDY DRAMA!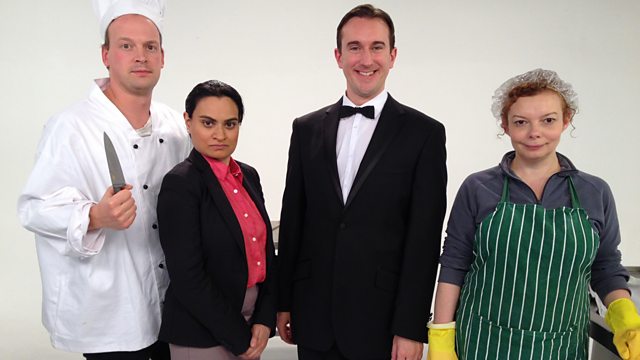 Follow our courses