Lição

13

Listen to find out how to use an everyday English expression.
Jechoota Afaan Ingilizii guyyuu of ibsuuf nu fayyadu akkaataa itti fayyadamnu hubachuuf caqasi.
Pontos alcançados nesta lição
0 / 3
Look at the Session Vocabulary – make sure you know what these words mean:
an employee
redundant
a company
Listen to Neil and Feifei explaining the expression 'to downsize'. As you listen, answer these questions:
1. Why are they talking about the economy?
2. What does Feifei think about Neil's appearance?
Listen to find out the answers. Then check them on the transcript below.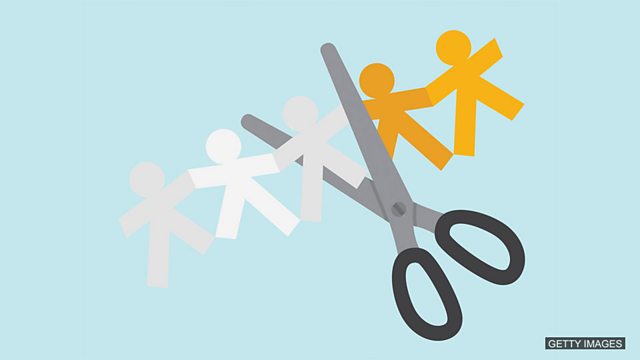 Mostre a transcrição
Oculte a transcrição
Caalii
Yooyyaa! Qophii jechoota Afaan Inglizii keessatti of ibsuuf si fayyadan English Expressions akkasumas kan haaraa ta'an akka bartuu si gargaarrutti baga nagana dhufte.
Har'a, Afaan Inglizii keessattii of ibsuuf kan si fayyadu 'to downsize' jedhu ilaalla. Maal jechuudha jette yaadda? Hinbarree? Tole itti fufii caqasi.
Niilii fi Feifeii caqasi. Waa'ee kaampaaniiwwan xiqqaachaa jiranii fi hojjettoota kaampaniiwwan kanneen keessa hojjetanirra maal akka ga'u dubbachaa jiru. Kampaaniiwwan gad-xiqqaachuutti jiraniifi jechama har'aa gidduu walitti dhufeenya maalitu jira sitti fakkaata?
Neil
The word we are going to focus on today is the verb 'to downsize'. That's the word companies use to describe cutting a number of jobs and making employees redundant. 'Downsizing' is the noun.

Feifei
Yes. When they make workers redundant the companies become smaller in size. They downsize.

Caalii
'Downsize' jechoota 'down' fi 'size' irraa ijaarame. As irratti 'size' akka gochaa'tti kan itti fayyadamamnu wayita ta'u hiika 'to change size' fiduuf gargaara. 'Down' ammoo kallatti jijjirammichaa agarsiisa. Kunis xiqqaachaa deemuu agarsiisa. Yeroo heddu haala hojjiiwwanii xiqqaachaa deeman ibsuuf fayyada.

Neil
You might have heard or read this verb during the economic downturn of the last few years. As most people were short of money, they decided to save the money they did have and it had an impact on businesses all over the world.

Feifei
And some people have started applying the term to their own situations. If you've had to sell your house and move to a smaller flat, for example, you might say you were 'downsizing'.

Caalii
Wayita jecha 'downsize' deemsa hojiiwwaniitiif fayyadamamu, namoonni muraasni hojiisaanii dhaban jiraachuu malu jechuudha - kanaafuu yeroo heddu jecha gaarii hintaanedha. 'Downsizing' yeroo namoonni mana gudda keessaa gara mana xiqqaa ta'etti godaananis itti ni fayyadamna. Haa ta'u malee sababni gara mana xiqaatti nama godaansisu yeroo mara hiika faallaa qabaachuu dhiisu mala. Namoonni tokko tokko sababa qabatamaa ta'eef manneen keessa jiraatan gad-xiqqessuu danda'u - tarii mana guddaa keessa jiraachuu hinfedhan ta'a ykn akkaataa haala jireenyasaanii jijjiiruu ni barbaadu ta'a.
Akkamiin jecha kanatti akka fayyadamamu fakkeenyawwan muraasa mee haa caqasnu.

Examples
The growth of online sales in the U.K. has forced many retail businesses to downsize. Some of them have reduced their number of outlets in the high street.

Now that I am going to university, my parents have decided to downsize. They are selling the house, moving to a flat and using some of the money to travel the world.

Many people are upset about the company's decision to downsize. Their decision will lead to many people losing their jobs.
Feifei
And if you don't mind me saying, Neil, I think you would benefit from downsizing.

Neil
What do you mean? I don't own a company and I'm not selling my house or anything.

Feifei
No but I've noticed you've… well, you know, you really enjoy your food, don't you?

Neil
Are you calling me fat!?

Feifei
Oh no, no, no… well, yes. A little.

Neil
How dare you! And anyway, we don't use 'downsize' for bodies, so you're confusing our audience!

Feifei
Sorry, Neil.

Neil
I am a bit fat, actually…

Feifei
Well, maybe if the company downsizes, you won't be able to afford all those meat pies.

Neil
That's what I like about you, Feifei. You always look on the bright side.

Caalii
Egaa, amma, Feifeiin malawwan Niil ittiin 'downsize' godhu eeraa jirti. Ulfina qaama isaa 'downsize' gochuu qaba jette yaada laachaafi jirti. 'Downsize' yeroo heddu haala akanaan itti hinfayyadamau. Niil Kanaaf tari Feifeiin waliin nu dhahaa ykn bita nutti galchaa jirtii jedhee yaade. Itti fayyadamni jechi downsize inni sirriin garuu gadi xiqqaachaa deemuu kaampaanii tokko ittiin ibsuu akka ta'e yaadachuu qabna. Akkasumas ammo namoonni gara mana xiqqaa ta'e tokkootti godaanuu isaaniis ittin ibsuuf nu fayyada.
Kaampaaniin yeroo dheeraa ati keessa hojjeetaa turte 'downsize' ta'uuf dirqame beekaa? Mana keessa jiraatu 'downsize' gochuu yaadde beekta? Akkamiin godhee jireenyakee irratti dhiibbaa fiduu danda'a jette yaada? English Expressions dabalataan yeroo ittaanutti walitti deebina. Nagaatti.
Answers:
1. Because the economy has caused many people and companies to downsize.
2. Feifei suggests that Neil has put on weight recently.
How do I use it?
'To downsize' means 'to make something smaller in size or number'. It is often used for a company or organisation that is made smaller by reducing the number of workers.
The politicians spoke against government's plans to downsize the military.

'To downsize' is a regular verb, so the past simple and past participle are both made by adding 'd' to the verb.
The TV news producer explained how her network downsized the newsroom and she lost three of the journalists on her team.
Our children are now adults and don't live with us anymore, so this year we have downsized to a smaller house and car.
While the verb is more commonly used, 'downsizing' is the noun form of the word.
There is a trend of corporate downsizing at the moment because of the economy.
To downsize
3 Questions
Choose the correct answer.
Deebii sirrii ta'e fili.
Atividade
Choose the correct answer.
Deebii sirrii ta'e fili.
Dica
Jechi 'down' 'gad' jedhu jecha waa'ee guddina waan tokkoo ibsu kana waliin walitti makamuu qaba.
Which expression means 'to reduce the size of the company, or to move into a smaller home'?
a
To downgrade
U29ycnksIHRoYXQncyBpbmNvcnJlY3QuIFRoaXMgd29yZCBoYXMgYSBkaWZmZXJlbnQgbWVhbmluZy4=
b
To downturn
U29ycnksIHRoYXQncyBpbmNvcnJlY3QuIFRoaXMgd29yZCBoYXMgYSBkaWZmZXJlbnQgbWVhbmluZy4=
c
To downsize
V2VsbCBkb25lISBUaGF04oCZcyBjb3JyZWN0LiBJdCBpbmNsdWRlcyB0aGUgd29yZCAnc2l6ZScu
Atividade
Choose the correct answer.
Deebii sirrii ta'e fili.
Dica
Jechi 'downsize' 'gadxiqqeessuu' jedhu, hanga waan tokko guddisuurra caalaatti xiqeessuuf oola.
Which of these sentences is CORRECT?
a
Many people clapped and cheered when they heard about the plan to downsize the company. They believed it could lead to more jobs.
VGhhdOKAmXMgYW4gaW5jb3JyZWN0IGFuc3dlci4gSWYgYSBjb21wYW55IGlzIGRvd25zaXppbmcsIHNvbWUgcGVvcGxlIGFyZSBsaWtlbHkgdG8gbG9zZSB0aGVpciBqb2JzIGFuZCB0aGVyZWZvcmUgYmUgdW5oYXBweS4=
b
Because of the challenging economic conditions at the moment, the company has decided to downsize to cut costs.
V2VsbCBkb25lLCB0aGF0J3MgY29ycmVjdCE=
c
The couple decided to downsize and move homes as they were expecting another baby, meaning their current house was too small.
U29ycnksIHRoYXQncyBub3QgcmlnaHQuIElmICd0aGVpciBjdXJyZW50IGhvdXNlIHdhcyB0b28gc21hbGwnLCB0aGV5IHdvdWxkIHdhbnQgYSBiaWdnZXIgaG91c2UuIEZvciB0aGlzIHJlYXNvbiwgaXQgaXMgbm90IHBvc3NpYmxlIHRoYXQgdGhleSBhcmUgJ2Rvd25zaXppbmcnLg==
Atividade
Choose the correct answer.
Deebii sirrii ta'e fili.
Dica
Gaalee 'plan to' booda, jecha akkaataa waan tokko ta'e 'downsize' yeroo hunda fayyadamuu qabna.
My company has been planning to ______ for months, but nothing has happened so far.
a
downsizing
U29ycnksIHRoYXQncyBpbmNvcnJlY3QuIEFmdGVyICdwbGFuIHRvJyB3ZSB1c2UgdGhlIGJhc2UgZm9ybSBvZiB0aGUgdmVyYi4=
b
downsized
U29ycnksIHRoYXQncyBpbmNvcnJlY3QuIEFmdGVyICdwbGFuIHRvJyB3ZSB1c2UgdGhlIGJhc2UgZm9ybSBvZiB0aGUgdmVyYi4=
c
downsize
V2VsbCBkb25lISBUaGF04oCZcyBjb3JyZWN0LiBBZnRlciAncGxhbiB0bycgd2UgdXNlIHRoZSBiYXNlIGZvcm0gb2YgdGhlIHZlcmIu
Parabéns! Você completou o exercício.
Excellent!
Excelente!
Bad luck!
Você acertou
:
Sumário dos resultados do exercício
Excellent!
Excelente!
Bad luck!
Você acertou
:
x

/

y
Which expression means 'to reduce the size of the company, or to move into a smaller home'?
Which of these sentences is CORRECT?
My company has been planning to ______ for months, but nothing has happened so far.
Over to you!
Have you ever had to make changes to your living situation and 'downsize'? Can you think of any companies or businesses that have had 'to downsize'? Come and tell us on our Facebook group.
Join us for our next episode of English Expressions, when we will learn more useful language and practise your listening skills.
Barnoota English Expressions ittaanu kan dandeettii caqasuukee ittiin shaakaltuufi qooqa barbaachisoo barannutti walitti deebina.
Vocabulário desta lição
employee
hojjetaa/mindeeffamaa

redundant
hojii dhaabsifamuu

company
Kaampaanii

a downturn
Gad deebi'u (gadadaawuu)

to be short of money
hanqina maallaqaa

retail
Gurgurtaa qinxaaboo