Session

4

Sunny the vlogger has applied for a job – and she's got an interview! She needs you to help her prepare – and answer the interviewer's questions
Wayitii marii qabxii 4
0 / 9
Girl power in Ghana's schools
Getting a good education is difficult for girls in Ghana.
In this News Report, we hear about a project that is helping them with English, maths - and confidence.
While you listen to the report, you'll hear examples of this unit's grammar. If you need extra help, there's a transcript to read while you listen - or if you're feeling brave, listen without the transcript.
After you've listened, why not try being a newsreader yourself? Read the transcript out loud, record yourself and play it back. Try to copy the newsreader's pronunciation - you can do it!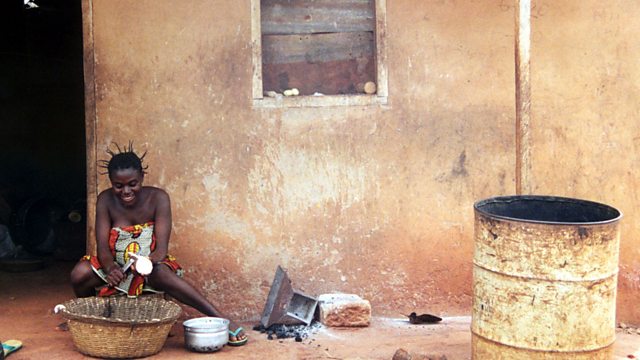 Barreeffama agarsiisi
Barreeffama dhoksi
For young people in Ghana, in West Africa, it's not easy to learn the necessary skills for work and life. The school system has many problems: the quality of teaching is variable, and sometimes teachers don't come to work at all.
It's particularly difficult for Ghanaian girls to get a good education. Normally, they're expected to leave school when they are young, and get married.
A new education project, called Making Ghanaian Girls Great, is trying to improve girls' education, by offering extra lessons in English and maths.
The project provides lessons on television, from a studio in Accra. Teachers in the studio can talk to pupils in their classrooms, and the project also offers after-school lessons - called Wonder Women lessons - designed to increase girls' confidence. In these lessons, girls can ask questions about health, education or careers - and they can also talk to role models.
The project was launched by Nana Ogyedon Tsetsewah, a local leader in central Ghana. Nana says that young people in Ghana are frustrated, and they don't want to work as farmers any more.
Head teacher Vanderwell Augustt Gordor welcomes the extra lessons. It's a much more active style of learning, he says, and the pupils like joining in.
Ghana has invested in education, in order to increase national income. "Education is the key to development," said Anthony Klopka, a local politician. But until now, he says, girls' education has not received enough attention.
Because of projects like Making Ghanaian Girls Great, perhaps this situation is starting to change.
Download
You can download News Report on our Unit 10 Downloads page.
Vocabulary
quality
how good or bad something is
variable
not always the same; sometimes high, sometimes low
studio
(here) a special room where TV programmes are made and broadcast
wonder
(here) something extraordinary, or amazingly good
confidence
belief that you can succeed
role model
someone who you admire, and who you would like to copy
launch
start something officially
local
from this area
frustrated
annoyed or angry because you cannot do something
active
doing things; influencing a situation
join in
take part; become involved
the key to
(here) the only way or the best way to achieve a goal
politician
a person who works in politics or government
Related story
This report is based on an original BBC News story.
End of Session 4
Well done. You have finished this session. Join us again in the next session for the final episode of The Race, our weekly drama serial, where you can catch up with Phil, who's at the end of his journey round the world. Bye for now.
Caasluga kutaa kanaa
When we use two verbs together, what form does the second verb take?

Followed by a gerund
admit, advise, consider, discuss

Followed by an infinitive
agree, appear, choose, decide

Followed by either, same meaning
begin, continue, hate, like

Followed by either, change in meaning
forget, regret, remember, stop
Session Vocabulary
quality
how good or bad something is

variable
not always the same; sometimes high, sometimes low

studio
(here) a special room where TV programmes are made and broadcast

wonder
(here) something extraordinary, or amazingly good

confidence
belief that you can succeed

role model
someone who you admire, and who you would like to copy

launch
start something officially

local
from this area

frustrated
annoyed or angry because you cannot do something

active
doing things; influencing a situation

join in
take part; become involved

the key to
(here) the only way or the best way to achieve a goal

politician
a person who works in politics or government