Dramas from BBC Learning English
Intermediate and above level
Alice in Wonderland: Part 9: Who stole the tarts?
Episode 150424 / 24 Apr 2015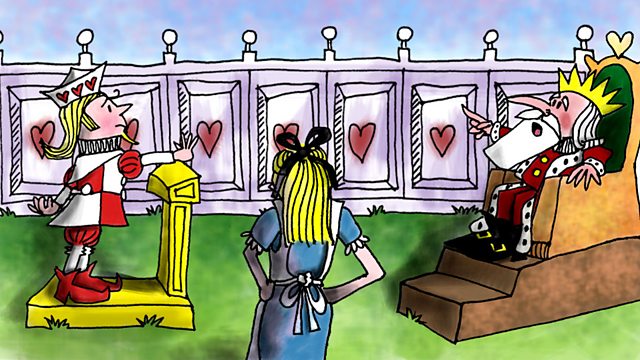 Alice finds herself at a trial. Did the Knave of Hearts steal the Queen's tarts? What does the Hatter know about it - and what's that funny feeling Alice is having?
Transcript
Narrator
Hello. Alice is having lots adventures in Wonderland. Now, she's in a courtroom full of animals. Everybody is waiting for the trial to start. The Queen and King of Hearts have already arrived and they are sitting on their thrones.
Animals
May I sit here? Please do. Who is on trial? What is the crime? Oh dear, I can't find my glasses. Where is the prisoner? Is it that girl? No, I don't think so…
Narrator
The rest of the room was filled with birds and animals and the whole pack of playing-card people. Alice saw the White Rabbit. He was holding a trumpet in one hand and a large piece of paper in the other. The White Rabbit blew the trumpet.
White Rabbit
Silence in court!
Narrator
The trial started. The King was the judge and twelve animals were the jury. The King spoke first.
King
Read the accusation!
White Rabbit
The Queen of Hearts, she made some tarts,
All on a summer day.
The Knave of Hearts, he stole those tarts
And took them quite away.
King
Knave of Hearts, what do you say?
Knave of Hearts
It wasn't me! I didn't do it!
King
Silence! Call the first witness!
White Rabbit
Bring in the first witness!
Narrator
The first witness was the Hatter. He looked very nervous. He came into the court with a cup of tea in one shaking hand and a piece of bread and butter in the other.
King
Give your evidence Hatter, and don't be nervous, or you'll lose your head!
Narrator
The King's words made the Hatter even more frightened. He was so confused and that he took a large bite out of his teacup instead of his bread and butter.
Hatter
I'm a poor man, your Majesty.
King
You're a very poor speaker.
White Rabbit
Poor Hatter. He didn't use to be mad, you know. He used to be quite normal.
Alice
And I used to be taller…
Narrator
Just then, Alice began to have a curious feeling.
Alice
Ohh.. I'm growing again!
Narrator
No-one noticed that Alice was getting taller. Everyone was watching the Hatter, who was too frightened to speak.
King
You may go. Call the next witness!
Narrator
The next witness was the cook.
King
Cook, what are tarts made of?
Cook
Pepper, mostly.
Narrator
Everybody started sneezing. Nobody seemed to notice Alice growing taller and taller. By the time they stopped sneezing, the cook had disappeared.
King
Never mind! Call the next witness!
Narrator
Alice watched as the White Rabbit studied the piece of paper, looking for the name of the next witness. Imagine her surprise when he straightened up, took a deep breath and shouted the name of the next witness…
White Rabbit
Alice!
Narrator
Everybody in the courtroom turned to look at Alice. Alice felt herself grow a little taller, as she took a deep breath, and stepped forward. Next time, I'll tell you what happened when Alice gives her evidence and the White Rabbit reads a letter from the Knave of Hearts. Curiouser and curiouser… Goodbye.
Vocabulary
thrones (singular: throne)
the special chair a King or Queen sits on
trumpet
a musical instrument made of metal that you blow into
scroll
a piece of paper with writing on it, rolled into a tube and used on formal occasions
jury
a group of people in a court who decide if the person on trial is innocent or guilty
judge
the person who is in charge of a court of law
tarts (singular: tart)
a kind of pie made with pastry and fruit, jam, meat or vegetables
witness
a person who saw something and tells the court what they saw
nervous
frightened and anxious
Credits
Produced by Catherine Chapman
Cast: Darren Benedict, Alice Brown, Catherine Chapman, Neil Edgeller, Sophie Napleton, BBC Learning English Team
Illustration: Shan Pillay
Scriptwriter: Nicola Prentis
Sound: Paul Scott
Music: Vera Harte
Latest Dramas from BBC Learning English
COMEDY DRAMA!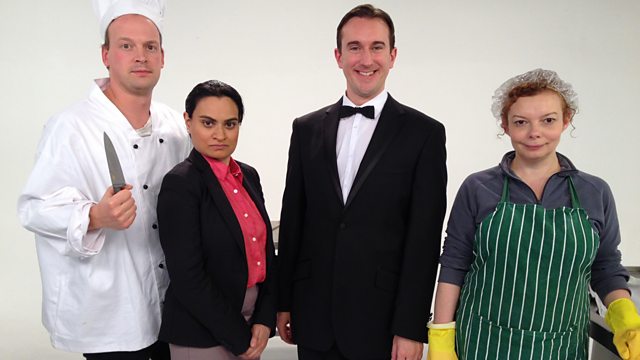 Follow our courses