Dramas from BBC Learning English
Intermediate and above level
The White Elephant: Episode 7: Late!
Episode 160122 / 22 Jan 2016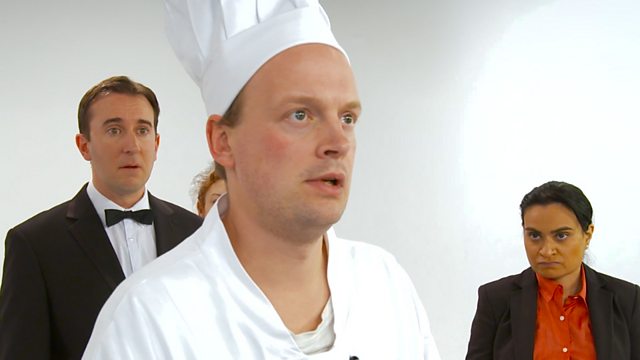 Transcript
Ceilia
Has anyone seen Gordon at all?
Mary
He hasn't arrived yet.
Peter
Oh no! We've got three customers all at once – what are we going to do?
Ceilia
Calm down Peter. Have you given them all menus?
Peter
No! I haven't...
Ceilia
Oh dear - it's 7 o'clock, where is Gordon? (Her mobile phone beeps) Oh he's sent a text... he's broken down and he's going to be late. That's all I need. I'm going to have to call in the emergency chef...
Mary
I'll heat up the oven... and get the plates ready... and offer the customers a free glass of wine...
Ceilia
Great idea. And I'll hold the fort. Oh come on Gordon... this feels like an eternity.
Peter
They've already chosen what they want - 1 beef, 2 duck, 1 salad... or is it 1 duck, 2 beef...? Where is Gordon? What am I going to say to them? Oh dear.
Mary
Wine... (she gives a glass of wine to Peter)
Peter
Thank you (he drinks it).
Mary
That was for the customer.
Peter
Oh sorry.
Mary
Take this one to them... and tell them there'll be a slight delay while we search for the freshest ingredients.
Ceilia
Better late than never - we've got a big order on. You're going to have to make up for lost time.
Gordon
I know. I know. All in good time. Now I'll make one of my special chef sauces shall I?
Peter
It's a bit late in the day for that.
Gordon
Why?
Peter
Everyone's gone. They said 'time is money', and they've run out of time.
Ceilia
And we're going to run out of money! Can't you just get on the bus next time you come to work Gordon - it's much more reliable.
Peter
You can borrow my bike if you like?
Vocabulary
hold the fort
look after something while someone else is away
feels like an eternity
feels like a long time
better late than never
it is good someone has arrived rather than not at all
to make up for lost time
spend lots of time doing something now because it wasn't done earlier
all in good time
there is no need to hurry
late in the day
too late to do anything about it
time is money
time wasted could be used earning money
Credits
Gordon Grater: Neil Frost
Ceilia Spatula: Amina Zia
Peter Peppermill: Darren Benedict
Marigold Marcelo (Mary for short): Stacha Hicks
Written, produced and directed by: Rob Carter
최신 Dramas from BBC Learning English
THE DAILY VIDEO - Cleaning verbs!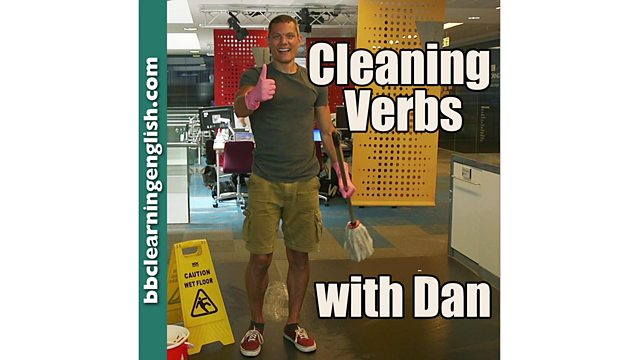 Follow our courses