Session

5
Set sail for adventure
The Race Episode 2: Will it be plain sailing for Phil in his 80 day challenge? Plus, find out what you've learnt from unit 2 in our weekly quiz.
Activity

3
The Race: Pete's video diary
Episode 2
Meet Pete - also nicknamed Passepartout. He's been persuaded to join Phil on his round the world adventure. Luckily he knows a few things about sailing, as you can see here in his video diary...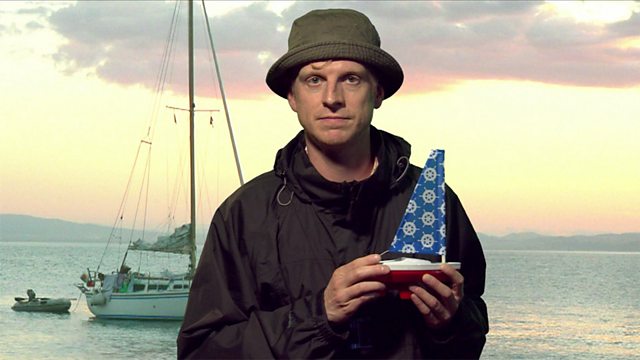 Show transcript
Hide transcript
Pete
Hello I'm Pete - but Phil has given me the nickname 'Passepartout'. I know a bit about sailing so I'm here to help Phil learn the ropes.
Here is my guide to the main parts of a yacht, a boat or a ship.
The bow is the front. The stern is the back.
The rudder is for steering.
The deck is the standing area.
The boom is the moving support for the sail. The mast is the stick thing for attaching the sail. The mainsail is the big sail.
The galley is the kitchen area down below.
The port side is the left side, and the starboard is the right side.
There you go.
Vocabulary: Parts of a boat
bow
front end of the boat
stern
back end of the boat
rudder
a flat piece of wood or metal at the back of a boat that controls the direction of travel (by moving from side to side)
deck
outside part of the boat that people can walk on
boom
a pole that supports the bottom of the sail and can move from side to side
mast
a tall pole that supports the sail on a boat
mainsail
the largest sail on a boat
galley
kitchen area
Next
So, what have you learnt in this Unit? Find out now by testing yourself with our weekly quiz.
Session Vocabulary
bow
front end of the boat

stern
back end of the boat

rudder
a flat piece of wood or metal at the back of a boat that controls the direction of travel (by moving from side to side)

deck
outside part of the boat that people can walk on

boom
a pole that supports the bottom of the sail and can move from side to side

mast
a tall pole that supports the sail on a boat

mainsail
the largest sail on a boat

galley
kitchen area