Session

4

Do you like gardens and gardening? In this session you can read a blog post about choosing the right tree to grow to give you a beautiful garden all year round. You'll also see a lot of language for giving instructions, suggestions and advice. And in this Unit's News Report, we uncover the truth about some commonly-held beliefs and ideas about diet and health – some of which might shock you: can carrots really help you see better in the dark?
Health stories
Do carrots help you see in the dark? Can vitamins cure a cold? And does too much sugar make children go crazy?
These are just some of the ideas about health that are believed by large numbers of people. But are they true? In this News Report, we find out if some of these popular thoughts about healthy living are right or wrong.
Listen to the audio and complete the activity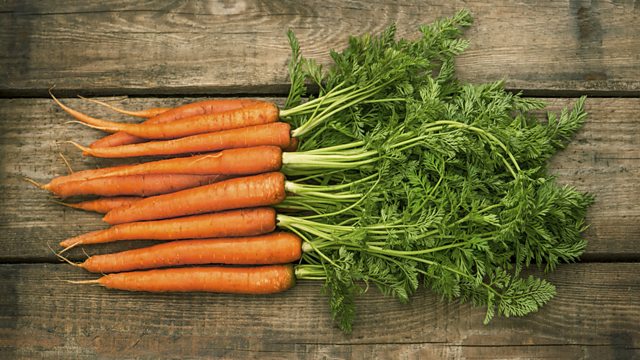 Show transcript
Hide transcript
The world of health is full of old wives' tales.
Over the years many of these have been debunked as our knowledge of the world has developed. Some still persist though and may even contain a modicum of truth.
Take Vitamin C, for example. It used to be said that taking regular doses could ward off colds.
Recent research has shown though that for most people, taking vitamin C does nothing to prevent us from catching a cold.
There is some evidence that it might slightly shorten the length of time we feel under the weather when we have a cold, but this is not conclusive.
Another myth that used to be popular was that eating carrots could help you see better at night.
This one does have some basis in fact. Carrots are a good source of Vitamin A, which is essential for healthy night vision.
However, increasing your carrot consumption won't give you exceptional vision at night. It only has an effect if you have a Vitamin A deficiency to start with. Night vision can only improve to the level of a healthy person.
Another popularly held belief is that giving children sugary drinks and snacks makes them hyperactive. This might seem common sense when you look at the behaviour of children at parties, for example.
However, the way our bodies process sugar does not result in excess energy that has to be worked off. Children get hyperactive because they are children and get excited. Sugar-filled treats might fuel their activity, but it doesn't cause it.
Download
You can download News Report on our Unit 29 Downloads page.
Vocabulary
debunked
proved to be untrue
a modicum of
a small amount of
ward off
fight off, protect against
under the weather
unwell, ill
conclusive
proven beyond doubt
myth
old story that people believe to be true, but isn't
consumption
eating
exceptional
excellent, super
deficiency
medical condition of not having enough of something that the body needs, such as vitamins or minerals
popularly held belief
something that a lot of people think is true
snacks
small items of food eaten between meals or at parties, for example
hyperactive
very energetic and unable to concentrate or sit still
treats
(here) food that is nice to eat but not usually very healthy
Related story
This is a recent BBC News story about health.
End of Session 4
Well done - you've reached the end of this session. In Session 5 you can test everything you've learnt in this unit and catch the next episode of Alice in Wonderland: the Mad Hatter gives evidence at the trial of the Knave of Hearts. You don't want to miss it!
Session Vocabulary
debunked
proved to be untrue

a modicum of
a small amount of

ward off
fight off, protect against

under the weather
unwell, ill

conclusive
proven beyond doubt

myth
old story that people believe to be true, but isn't

consumption
eating

exceptional
excellent, super

deficiency
medical condition of not having enough of something that the body needs, such as vitamins or minerals

popularly held belief
something that a lot of people think is true

snacks
small items of food eaten between meals or at parties, for example

hyperactive
very energetic and unable to concentrate or sit still

treats
(here) food that is nice to eat but not usually very healthy