Session

4

Find out about Britain's Great Storm, listen to weather reports, practise grammar and vocabulary and write a report about the weather where you are.
Talk about your weather

Right! It's your turn to talk about the weather and climate change.
Read the text and complete the activity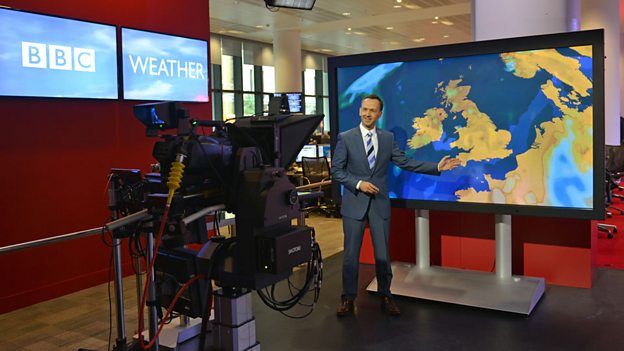 Write about extreme weather events you have experienced - or which have happened in your country.
Write about what the weather conditions are like where you are, today and what the forecast is for the next few days. Remember to use words like may, might and could and weather words like windy, sunny, rainy, etc.
Talk about your long-term predictions and feelings about climate change, discussing possible, probable and definite outcomes for the future.
If you can, write and present a weather report and record your voice or film yourself.
Thank you for emailing your comments to us. We enjoyed reading them. This task is now closed.
Here are a few of the comments that we received.
Aili, Finland
The most extreme weather events I've experienced ever was: - an winter day with -47°C in Finland few decades ago. I went for a walk at a wonderful day. It was overall very silent and the snow was so beautiful. Suddenly I got frightened, there was a big bang. And again one more. I stopped to walk and listened to. Finally I realised that the trees had banged by that could.
It's sommer time right now but the summer was very rainy until to this day. The weather might possibly be variable, off and on windy, rainy, sunny, thunderous... but you can't tell any more that the summer here may be often sunny and lovely too in our region.
I'm thinking it could be a climate change influence the weather overall around the world. Too many severe weather disasters are causing horrible damages.
Scientists ask the people to use less the energy up and save the environment for future generations but it is a big problem because every one may have the material prosperity for one's self.
Pilar, Mozambique, South East Africa
I live in Pemba, the province country's northeast. Here we know only two seasons: the rain-season and the drought-season. More and more the drought-season is longer and the people wait anxiously the rain. But now the downpours are frequent and they destroy the crops. Two months are windy: November and August but might be quiet. The temperature is tropical during all the year. Now we are in winter, the drought-season, and may be between 20º and 29º Celsius and drier. In October - April this could be between 26º and 35º Celsius and might be 60-80% humidity.
Rafael, San Cristóbal, Venezuela
Hello my name is Rafael I'm from San Cristóbal, Venezuela, this is a city in the Andes, so the weather is not that hot as it is in the rest of the country, the temperatures are usually between 20 and 35 Celsius, here rain can fall suddenly and there is no valid forecast, just be prepared every single day for a hot sunny day or a rainy day.
When I was little the weather was cooler, but now the weather changed, and it's getting hotter and hotter every year, I remember people here were never buying air conditioners, because there was no need for any... But everything is changing for worst.
I have never experienced extreme weather, but there have been really long rain seasons with flooding, that happens at least once or two times per year.
Ivana Durante, Piedmont, Italy
Hello! I live in the Northern Italy, in Piedmont. Today the weather is wet; it has been raining for half an hour and now is very cloudy but it's no longer raining. As it's also windy, clouds could go away and tomorrow it might be sunny, I hope.
Temperature is not too low, about 8 degrees. It's a temperature not so typical for Northern Italy's winters. I remember some past winters that were much colder and much snowier than this one.
Some extreme weather's events, such as storms, tornados, extra-high and extra-low temperatures in certain countries, in particular where such events are unusual, might be evidence of a climate change.
I think we'll have to take more care in respecting the nature and to be prepared for coping with extreme weather.
Thanks for reading.
Christina, Parla, Spain (9 years old!)
Hello! I'm Cristina. I'm Spanish and I live in Parla. I'm 9 years old. Here you are my weather report: The weather is snowy, wet and windy. It's 9 degrees. I go skiing and snowboarding in winter. Put on your scarf and gloves! Don't get wet! Bye, bye!
Paula, Parla, Spain (10 years old!)
Hi! I'm Paula. I'm ten years old. I live in Parla and I'm from Spain. This is my weather forecast: The weather today is cloudy and windy. It's cold and the temperature is 10 degrees. I love the weather. I go snowboarding in winter. I love winter!
Thomas, Zamosc, Poland
Hi. My name is Thomas. I live in Zamosc on east of Poland.
I'd like to tell you about the weather changes. In my observation the weather has strongly changed for over 30 years. The winters are more warmer. Amount of snow is littleness. At this moment here is no snow at all. Temperature +4 C. I remember when I was young a lot of snow and very low temperature through all this season from November to March.
The summers are very hot, much more than before. They are also more stormy. Storms are very violent and dangerous. I think my climate might change from temperate to tropical :)
Jolanta, Poland
I'm sending my own version of weather forecast:
"Good morning, this is the weather forecast for next week. The weather is typical for winter. Snowfalls will be heavy in the north of Poland. There might be a lot of snow in the south of Poland.
Temperature will drop below 0 degrees. Around -1 or - 2 degrees in Crocow and -3 degrees in Zielona Góra. There won't be any sunshine for the next few days. Dense clouds will cover the sky. High pressure from Russia across Poland and into Germany will improve the weather at least next week. Remember if you are travelling, roads are slippery. That's all from me."
Have a good afternoon
Manuel Juan, Andalusia,Spain
I live close to Guadalquivir river, Northeast of Andalusia, far from the Mediterranean Sea and farther from the Atlantic Ocean. So the climate is essentially continental: quite dry in general(400-500 millimeters rain average per year), a lot of hot in summer, medium temperatures in spring and autumn and colder in the winter time.
These general conditions admit a good number of variations or changes. For example we may have periods of drought, 4-5 years with less rain than usually, and they happen cyclically.
I think that climate in this area has normally been the same, more or less, during the last 60 years. Nevertheless in the last decades meteorologist and other scientists have found worrying signals about Earth's climate. For one, polar ice has reduced a big amount and similarly has occurred to glaciers. The increasing temperatures could lead to rising sea levels and coastian people might need to move to the interior of the continent. That wouldn't be a minor issue.
Thank you for show us English.
Philippe Laval, Belgium
In Belgium the weather is almost like as in Britain: it often rains, because this is a maritime climate.
We have got four seasons:
Spring, that could be sometimes wonderful and sunny, but also rainy and really awful,Summer, that may be hot and dry especially in July and August, but there are more and more often thunderstorms that can be very severe !Autumn, that gives wonderful colors in the trees, is often mild on September, but might become windy and wet around equinox. And last but not least:Winter, that can be sometimes rather mild with temperatures around 5 ou 7 degrees, or downright cold and Snowy. Then temperatures could drop down minus 10 degrees or even less !
I think, we also suffer from global warming, but perhaps less than other countries around the world.
Mohammed, Jordan
Hello, I am Mohammed from Jordan, I live in Amman and I'd like to talk about forecast weather here, I think it amazing weather in spring so I like go journey with my friend in weekend, the weather haze and the temperature about 12 •c now. In next few days temperature might increase and sunny.
I completely confident in weather application in my iPhone, It send me forecast wether and help me to ready in the climate change.
In summer the weather is hot and we use air condition but in the winter the weather is cold, it could snowy like the winter in this year.
Paolo, Italy
Hi I am Paolo I am from Ancona Italy. The winter this year hasn't arrived yet (unforunately for me). I like skiing and hiking in the mountain but there is little snow and the temperature is mild.
Gashtasp, Iran
Hi. I am Gashtasp from Iran I live in central part of the Iran .Ten years ago and more,there was a lot of rain and snow in this province but all over this land. Unfortunately nowadays deserts are expanded. NASA anticipated 30 years later most of the country could be drought land. In the past center and west parts of Iran in winter were very cold, with one meter snow on the ground.
In addition bad management of the government destroyed water sources of this country. Disaster could be come in later. What will be happened for Persian people? Lake of rain and snow might be bad effects. There were 3 big lakes in my country: Hamoon, Parishan, Oroomieh, but this time all those are destroyed.
Tuong Nguyen, Vietnam
Hi, I'm Tuong Nguyen. I come from Vietnam and I am living in Ho Chi Minh city which is a south and the largest city in Vietnam.
There are only two seasons here. They are called rainy and sunny season. The rainy season often starts in April and finishes in November every year. In these days, there are a lot of rainy and somewhere has floods and thunderstorm. Water floods on the streets and sometime people is flooded out their houses. The temperature is often between 23 to 30 degree. The sunny season is in other months in year. It's very hot and the temperature can reaches at 40 degree. But sometimes it still rain in sunny days and it's one of the causes for sick of people.
Now the weather is very cold for me. It's the coldest for 8 years recently. The temperature downs at 18 degree. People have to keep eye on the weather prediction to wear enough clothes for avoiding cold sicks. I thinks, it might last to the next days and can quick after Vietnamese Lunar Tet.
I have lived in HCM city for over 7 years. I realize that the weather is getting worse. It's hotter in the sunny season and colder in the rainy season. Hope the weather does not change a lot.
Manuel, Spain
I live in a small town in the south of Spain, called Ubeda. It´s a historic and ancient city with, at least 35,000 inhabitants and more than 2000 years of history. This location was quite famous in the XVI Century. Its buildings, palaces and University, the first in the Spanish Empire Baeza, located a few kilometres away.
The weather is extreme, continental type, cold and dry in winter and hot and dry in summer with almost no spring or autumn at all. It doesn´t mean it never rains at all; there are also weeks when heavy rain never stops. Due to climate change, it almost never snows and the temperature can change from 40º to -2º C in the same month.
What I like the most is getting out from home with blue sky and see the sun brightens up there with no clouds on your horizon. The problems look smaller then
Ayla, Ivory Coast
Hi, I'm Ayla and I'm living in Ivory Coast (Abidjan) for almost one year.
Here, the weather is relatively good with no big variations in temperature (generally between 25° and 35°) and the sun is regularly shining.
During the dry season (January to March), the temperature is a little hotter for me (between 30° and 37°), we have to use air conditioning.
June to August is the rainy season, it's raining a lot and in some places there could have floodings and sometimes thunderstorm. It's really impressive.
Finally, in the end of the year (november and decembre), there is dry and dusty wind which is coming from the Sahara and the Sahel.
FJ Criado, Spain
Greetings from the South-East of Spain! Today, a very cold wind has blown in this sunny morning but in the midday the weather has rolled over to be quite and calm during the rest of the day. Tonight is blowing a slight and fresh breeze, that you can feel in your skin, and the temperature is 9°C.
Antony from Italy
Hi, I'm Anthony, I'm from Italy and I live in Messina ( Sicily). In the last years, generally, in Italy there have been more extreme climate condition, with floods and heatwaves, also with a lot of damage. But, for me, in Italy is not only the climate change, but the fault is of the italians politicians and of the Italian citizen. Often, it build too close on the river banks ( and also on the riverbed :dry rivers for years (until a heavy rainfall does revive the river, especially on the Southern Italy ) and too close to sea.
Usually, here the climate is mild, with warm summers and enough mild winters, and windy. The weather for the next days may be rainy, but with temperature not too low ( min 9°). My long term prediction is dark, if the countries and the firms continue to look for only short-term profit at the expense of the nature.
Dariio Bernardi, Italy
1994 Alluvione sud Piemonte, Cuneo Asti e Alessandria.
On 5 and 6 November 1994 exactly seventeen years ago, the provinces of Cuneo, Asti and Alessandria were affected by the worst flooding ever recorded in Piedmont. The cause of the disaster was the flooding of the Po, the Tanaro and some tributaries such as, for example, the river Belbo. The victims were 68, the homeless 2226. In two days on 40% of the region fell 200 mm of rain, even 450 in some areas. On the day of 5 November flood wave is formed in the first section of the Tanaro, in the area of Garessio, and swept the next two days all of the towns places on its banks Today it snowed and there are about 5 cm of snow and cold weather.
The forecast is an improvement since last night think that we need to reduce greenhouse gases contain climate disasters.
Thank you for your valuable work.
Antonio from Brazil
Hello, I am Antonio from Brazil. I live in the city of Teresina, state of Piaui, Northeastern Brazil. Here the weather is very dry and hot. I would say we have three seasons: rainy hot, hot dry and mild dry. In the two hot seasons, temperature can reaches 40º. In the mild season we are happy with 30º, but in some days temperatures can reaches 35º in the afternoon. I think 30º is very hot for British but nice for us. Late at night and early morning it can reach 20º, quite cold for local people.
Climate change and global warming for me is a truth nobody can deny. Brazilian larger city - São Paulo - is facing a serious water shortage. The rains in the last two years are well below the historic average and the water reservoirs is drying up. If doesn't rain enough the situation may became hopeless.
Angelika from Germany
My name is Angelika. I live in Germany where I was born. The weather has changed a lot in our area over the decades since my childhood. While I went to school in the 60th of the last century we could relay on the seasons. There was a mild, bright spring. The summer was warm and sunny mostly up to 25 degree. Lightning with thunderstorm and rain showers occurred from time to time but less heavy and less dangerous than nowadays. Fall/autumn was connected with lower temperature, fog, rain and windy weather. While the winter season the temperatures dropped down below zero. It became icy and snowy. We could spend our leisure time on ski slopes or on ponds ice-skating every year.
Nowadays our weather is much more erratic. Predictions have become more precisely because of modern, digital equipment but nevertheless even more dramatically.
This year's so called winter hasn't been a real one up to now. But it might grow colder over the next weeks. The weather forecasters predict that it could become more winter-like. But their technical equipment hasn't allowed a serious prognostication for a long period yet. The following summer in 2015 might get very hot. We may get heat waves connected with drought.
We have to keep an eye on the weather conditions every day for avoiding severe damages. It's very important to get well informed. To learn what's going to happen in the hours and days ahead is a must for everybody these days.
Our area around Dresden was repeatedly hit by devastating floods in the last decade. Such terrible events did never occur in the distant past here! That's why I believe in the unavoidable necessity to stop the climate change which is causing chaos all over the world day by day.
Taras, Ukraine
Lately the weather changed sharply here. We have on calendar January but winter isn't typical as usual. No have snow and temperature above zero. The last days it is rainy, windy and from 1 to 3 degrees centigrade. In future the weather forecasters don't predict a good weather. It will be rain again in the next few days. "Frost could be in February" – they said. So hopefully, finally might be a real winter.
Juan Ramon, Canary Islands
The weather here is very pleasant a bit cool and rainy in winter and a bit hot in summer. There isn't a huge change of temperature like in the old continent althougt its climate could be different depending on the place where you are due to the fact that this island is very montainous.
The top of the island more than 2400 metres may be snowed in winter however you might have a walk on the beach whitout any coat in the same season. The autumns could be windy and could have tropical storms even the airport may be closed during one or two days because of these storms.
In the other seasons the weather is warm thought it might have fogs in the centre and south of the island in the morning and this fogs might be thicker at night on the north.
Angel, Spain
I'm from Spain and live in Zaragoza, between Madrid and Barcelona.
This winter the weather was cold and sweet. The nearest mountains have a lot of snow, and also huge rains. And suddenly the snow wast melt, and the mountain rivers go down with a lot of water. When this rivers take on the Ebro we have flooded, very important floods. The water folding the landscape and some small villages.
I was listed the loud noise of the river fully of water. It rules relly quickly. It's an authentic spectacle.
I think the weather is changing and there are higher temperatures and unusual huge rains and it will more folding events.
Antonio, Spain
I live in Madrid in the center of Spain.
The climate type in this zone it's between Continental and Mediterranean.
We have cold winters and warm summers. Autumn and spring could be intermediate, with climate and temperatures changing by day to day.
Today in my city it's cloudy but with nice temperature. In the next days could be rainy and stormy.
When I have travelled to the South of Spain, to Andalusia, I've seen the worst climate changes. In a day it was sunny in the morning but in the afternoon it changed to a big thunderstorm with a lot of shower and light bolts.
I think the climate change is a big problem for the Earth and we should make an effort to resolve it. If we don't stop the carbon dioxide emissions, the temperatures and the sea level could grow and the environment will be damaged.
Bruno, Brazil, Canada
São Paulo is well known from brazilian as drizzle land, but in the last 10 years that has been changing.
In the summer there are high temperatures in the morning and strong rainfalls in the afternoon which might cause floods and power lost all around the city. In the other seasons there's no rain and São Paulo have been facing the worst shortage of water that the city have ever seen.
Today I live in Winnipeg, Cadana and I really like the weather here. Summers are Summers, hot and sunny all day. Winters could be severe and long, snowy days may cause lots of trouble but the cold temperature, which could reach more than -40 degrees, is something really tough to pass through. However, I like to be in a country that you can see all the diferents colors of the seasons.
I've been checking the weather in São Paulo constantly and I think those extreme climate changes, from a drizzle land to the land of water shortage with downpour, is just the beging of warnings that nature has been showing us and we need to be aware of the world climate changes and how to be prepared to change ours lives with them.
Roberta, Sicily (Italy)
The worst event I remember is a tremendous flood occured on November 2011 in my town, causing a lot of demages.
Streets and houses was entirely covered by mud requiring a lot of work to figure out all demages. I was trapped in my house for more than 48 hours because of the massive amount of mud that prevented me and my family to get out.
I noticed how the weather is changing since ten or fifteen years ago.
Today is a sunny day with about 20 degrees, but it might be different, not so hot in October. We could see it changing rapidly and it might be vioent downpour.
Temperature may lessen overnight.
This is not normal and clearly is a sign that global warming is on action, calling for a stroger commitment by everyone. Everyone could and should do something for the enviroment.
That's all.
Thanks for reading.
Katharina, Toulouse, South France
It's 16 degrees and the sun is shining. The weather promises us a cloudless afternoon. So small walk outside could be a nice pastime. But be carefully because the weather might change tonight. Strong wind could come from the Great Britain and might blow the whole night until tomorrow afternoon. So please take seriously this warning and come home after the walk. Although this warning, the beginning of October announces a mild month of autumn. Let's hope that the weather will stay as it is and we could enjoy many more days like today.
Next
We hope you enjoyed that. Our forecast for the next activity is a news story about a project to help entrereneurs. It's become very successful. Read all about it on the next page!
Session Grammar
We use might / may / could + verb: for present & future possiblitites; for guesses about the present; when we aren't sure if something will happen in the future.

I might go to the exhibition this afternoon. (future)
He's in Eastern Europe. He may be in Ukraine. (present)
We could have some problems next year. (future)

We use might not / mightn't and may not to talk about negative possibility. We cannot use could not / couldn't for possibility in the same way as might not and may not.

We might not move into the new offices next year.
Our client may not agree with us.