Dramas from BBC Learning English
Intermediate and above level
The White Elephant: Episode 2: Quick!
Episode 151211 / 11 Dec 2015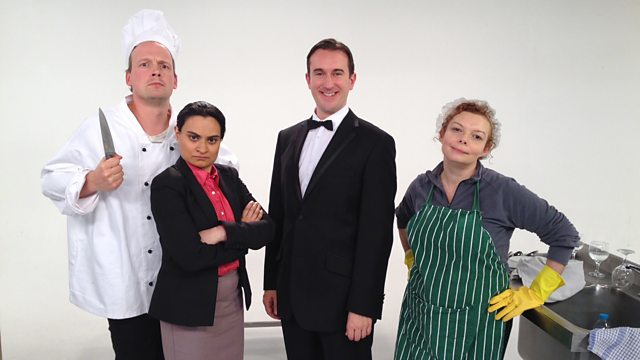 Peter
Quick! Quick!
Gordon
What?! Is it a fire? Right, everybody calm down! Calm down!
Peter
What? It's not a fire. We've got a customer…
Ceilia
A customer?! At last.
Gordon
Well, what does he want? I haven't got all day.
Peter
He wants the… 'Spatchcocked peasant with lemon and herbs.'
Gordon
Pheasant, not peasant. Call yourself a waiter? Honestly...
Ceilia
Come on then Gordon, get a move on, we can't let another customer get away.
Gordon
I know, I know. Now where did I put the pheasant…
Mary
I'll give you a hand if you like.
Gordon
You stick to washing up, love. Cooking pheasant is a job for a professional chef… now where is that stupid pheasant?
Peter
…the customer says 'pull your finger out' – he's off to the theatre soon.
Gordon
I'll tell him where he can stick his finger…
Ceilia
Gordon, stay here and cook – come on, quick as a flash.
Gordon
I need a pheasant!
Mary
I've found the pheasant - and it doesn't smell too fresh.
Ceilia
Can't we get a fresh one A.S.A.P.?
Gordon
Where are we going to get a pheasant at this time of night? – anyway, I cook, not go shopping.
Mary
OK, I'll go and tell the customer shall I?
Ceilia
We need a quick fix… can't we use a chicken?
Gordon
Chicken isn't pheasant.
Mary
Listen, listen… we don't need a pheasant.
Ceilia
Why?
Mary
He's gone.
Vocabulary
I haven't got all day
do it quickly; hurry up

get a move on
do it more quickly

pull your finger out
start working harder (and more quickly)

(as) quick as a flash
very quickly

A.S.A.P.
(abbreviation) as soon as possible

a quick fix
fast and easy solution
Credits
Gordon Grater: Neil Frost
Ceilia Spatula: Amina Zia
Peter Peppermill: Darren Benedict
Marigold Marcelo (Mary for short): Stacha Hicks
Written, produced and directed by: Rob Carter
最新 Dramas from BBC Learning English
COMEDY DRAMA!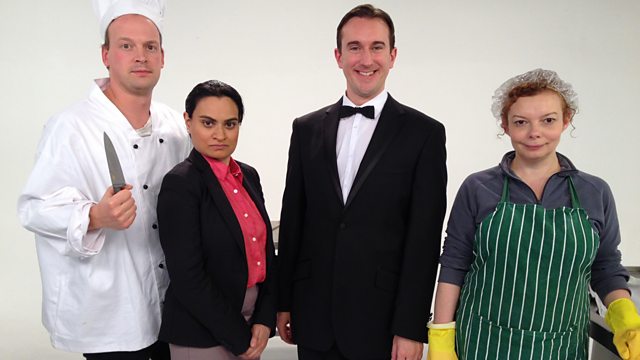 Follow our courses