The English We Speak
Intermediate level
Pull a fast one
Episode 170411 / 11 Apr 2017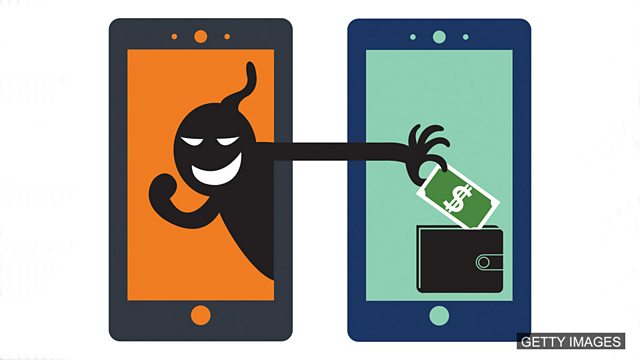 Summary
Neil has just bought a fancy new phone from a man on the street. But when it stops working, Feifei is thinks the phone seller has pulled a fast one. What does this mean?
Transcript
Feifei
Welcome to The English We Speak, I'm Feifei.
Neil
And I'm Neil. Feifei – what do you think of my new phone?
Feifei
Let's have a look – hmm… it looks… unusual.
Neil
It's great. This guy sold it to me. He said it was a top-secret new model – it's not been released in the shops yet. Here, look…
Feifei
How do I… unlock it?
Neil
You just… err… it's frozen. Let me just… no.
Feifei
Who did you say you bought it from?
Neil
A guy on the street.
Feifei
I hate to say it Neil, but I think he pulled a fast one on you!
Neil
But he… oh no.
Feifei
Sorry. To pull a fast one means to deceive or play a trick on someone. We say you pull a fast one on or with somebody. The phone seller pulled a fast one on Neil. Listen to these examples:
Examples
The shopkeeper tried to pull a fast one on me. He gave me a £5 note as change instead of a £20 note.
Don't you try and pull a fast one with me! I know you're not really sick. Get back to work.
Neil
So, that's it. All that money wasted. What an idiot. Oh, is that my phone?
Feifei
Sorry, it's mine. Hello? Yes… No, I don't think so… Thanks!
Neil
Who was it?
Feifei
The guy called to say I've won a million pounds. All I have to do is give him my bank details and he'll pay me.
Neil
Someone else trying to pull a fast one!
Feifei
Sadly, yes! I could do with a million pounds. I'd even buy you a new phone, Neil.
Neil
You're too kind.
Feifei
And that's it for this edition of The English We Speak. Bye.
Neil
Bye.
የቅርብ The English We Speak