Dramas from BBC Learning English
Intermediate and above level
The White Elephant: Episode 29: Competition
Episode 160624 / 24 Jun 2016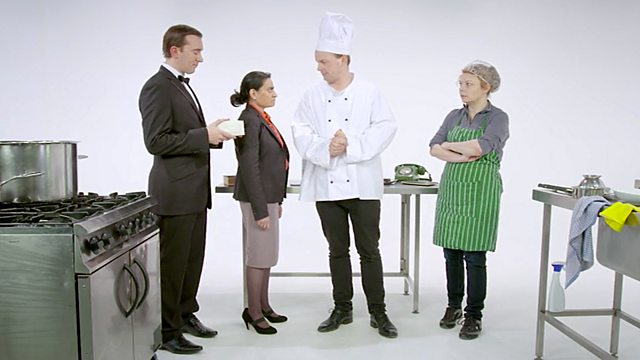 Ceilia
So I was at the bus stop but then I decided to walk, but these shoes - they're just not designed for... oh, what's this?
Mary
Goodness. It looks like Gordon has finally pulled out all of the stops and actually made something amazing!
Ceilia
It must be the bake-off competition - always makes an effort when there's something to win! The first prize is £500.
Mary
Hi Gordon. Fantastic cake.
Gordon
Cake? What cake?
Mary
This one. Did you make it for the competition?
Ceilia
The bake-off. The first prize is £500.
Gordon
Oh... the competition... yes, that's my cake. It's rather good isn't it? Yes, I think the attention to detail will put me ahead of the game.
Ceilia
It is amazing how much effort you can put in when there's big money up for grabs.
Gordon
It's not about the money, Ceilia, but this should really blow the competition away.

Mary
But don't forget you'll be in competition with some of the best bakers in the business.

Gordon
Don't worry about that. I had better just go and put this in a box so we can send it off to the judges - we don't want to miss the deadline.
Mary
May the best man win!
Peter
Best man? Is someone getting married?

Mary
No, I was just wishing him luck for the bake-off competition.
Peter
Oh is he entering too? I've been baking all night to make a cake for the competition. I put it over... here. Has anyone seen my cake?
Ceilia
Was it a chocolate cake with a cream top?
Peter
Yes!
Mary
Gordon, I think you've got Peter's cake.
Gordon
Yes... I was going to help him deliver it. There you go Peter, and - nice cake, probably needs a little bit more cream.
Peter
Thank you.
Ceilia
You win some, you lose some. And this time you definitely lost!
Vocabulary
pulled out all the stops
made a special effort
ahead of the game
in an advantageous position
up for grabs
available
blow the competition away
surprise the other competitors by being much better than them
in competition with
trying hard to beat an opponent
may the best man win!
hopefully, the person who deserves to win, will win
you win some, you lose some
bad luck; too bad
Credits
Gordon Grater: Neil Frost
Ceilia Spatula: Amina Zia
Peter Peppermill: Darren Benedict
Marigold Marcelo (Mary for short): Stacha Hicks
Written, produced and directed by: Rob Carter
የቅርብ Dramas from BBC Learning English
Cancer survivor swims Channel four times non-stop

Follow our courses