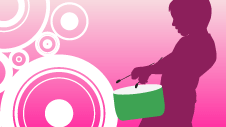 School Radio Music offers resources across the primary school for both Key Stages 1 and 2.
Although firmly based on the National Curriculum guidelines for music the programmes are also directly relevant to the Music and Expressive arts curricula throughout the UK.
Key to each series is that they support the non-specialist teacher by offering a mix of materials chosen especially to appeal to each age group with clear instructions on how and what to do.
In conjunction with the Teacher's Notes (which include the words and music for each of the songs) each series can provide the busy teacher with all they need to confidently deliver a term's worth of class music.