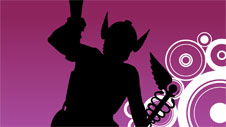 Listen to Ancient Greek myths and legends for KS2.
This collection of stories includes some of the best-known tales from Ancient Greek mythology - among them you'll find Persephone, King Midas, the Minotaur, Medusa and Orpheus and Eurydice.
Each story is a full-cast dramatisation, featuring Hermes - winged messenger of the gods - as our guide.
The style of the stories is lively and engaging and particularly suited to young listeners aged 9 to 11.