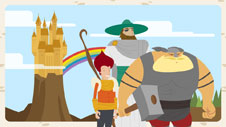 This collection of Viking Sagas is told by Loki, Viking god of fire...and expert mischief-maker.
First Loki relates how Odin creates the world - making Jotunheim for the giants, Midgard for humans and Asgard for the gods themselves and finally connecting Asgard to Midgard with a rainbow bridge.
In Freya and the goblins Loki relates how the goddess Freya strays into the underworld home of the gods' enemies the goblins. Then in Thor and the giants Loki relates a rip-roaring adventure in the frozen land of Jotunheim. The last story is about the Apples of Iduna Loki tells the tale of a time when Iduna is stolen by the King of the Giants.
These stories have cross-curricular links to History and the study of Vikings at Key Stage 2. They also appear in our Music pages alongside several songs to learn.