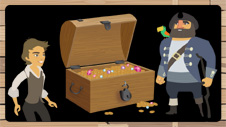 R L Stevenson's classic tale Treasure Island is brought to life in 10 short video episodes, in a new adaptation for 9 to 11 year olds.
Each video is accompanied by a transcript of the text. There is also a set of Teacher's Notes (4.65 MB) mapping the content to the curriculum and offering follow-up activities.
The story also features in our Music pages where it is presented alongside seven songs.