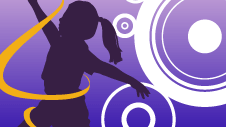 School Radio offers three co-ordinated series that provide a comprehensive Dance resource for KS1 and KS2 PE lessons.
Each of the series provides opportunities to respond to a range of stimuli including specially-composed music, stories and poetry.
The series develop from simple movements based on the children's everyday experiences through to enabling them to create their own dances - as individuals, as groups and as a whole class. In each series the elements include composing, performing and appraising.