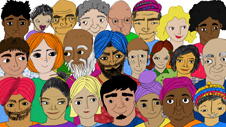 A selection of inspiring stories grouped by theme, which are suitable for supporting the delivery of Collective Worship in the primary classroom.
The stories reflect a wide range of sources, including the traditions of faith groups around the world.
The stories have been grouped by the following themes: Festivals, Special Days and Events, and SMSC (Spiritual, Moral, Social, Cultural).
Each story is typically between 5 and 7 minutes long and will have a broad appeal across primary age groups.