Media Player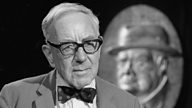 The War Lords
-
3. Winston Churchill
Series in which historian AJP Taylor describes the careers of the 'war lords' who dominated WWII. In this episode, he examines the role of Winston Churchill.
AJP Taylor tells the story of Winston Churchill's wartime career, and analyses his character and achievements. He is controversially outspoken about some of Churchill's failings: 'I suppose his greatest mistake was his refusal to take the dangers in the Far East seriously'. Taylor is equally frank in his assessments of Churchill's heroic successes: 'There have been two great war heroes in our history - Nelson and Wellington. Both in their different ways were the saviours of their country. Churchill will be added unto them'.
First shown: 18 Aug 1976
Available for over a year
Why?
Duration

30 mins
Ways to watch and tools